As I wrote in my last article, a recent USMC award announcement triggered an important shift in investor sentiment which can be seen in the recent rally of TeleCommunication Systems' (NASDAQ:TSYS) stock. The company is currently guiding C10 revenues to a range of $410-420m with street consensus at around $405m. The confidence in the management to deliver these results still appears to be affecting the stock price which makes the September quarterly earnings an important barometer. However, the concerns over government spending going forward were somewhat lessened by this award. Wedbush referenced this when explaining its TSYS upgrade a few days ago.

There are still many compelling drivers to the TSYS story that have yet to be reflected in the stock price including:
Operating cash flow generation that the company projects to be more that 3x the GAAP net income for C10 and C11;

June backlog of $343m of which $202m is expected to be recognized during the next 12 months plus customer options totaling an additional $268m;

A pipeline of 30 government "major capture opportunities" that the company says has award potential around $40B.
All that for a company with a market cap below $300m. What is most compelling to me though is their burgeoning business in the Location Based Services (LBS) market.

A helpful white paper is available on the company website for anyone who provides an email address. This paper cites an ABI Research study which sizes the market opportunity for LBS. The authors believe this market will experience compounded annual growth over 70% through 2014 to $14.7B. TSYS already has an impressive product portfolio in this space which led Frost & Sullivan to recognize TSYS as the only single provider of every element in the LBS value chain. TSYS products include:
E-911 services
Friend and family finder
Navigation/GPS (2009 product of the year)
Mobile Resource Management also called asset tracker
Enterprising mapping svc with geocoding and dynamic routing
Infrastructure and ongoing service including call center
This rapidly growing market meshes well into TSYS's commercial business segment. A Sprint-sponsored (NYSE:S) white paper which includes a discussion of some of the current challenges currently being addressed is an interesting read.

Two of these challenges are:
the overwhelming amount of data generated

the impact on battery life from the GPS handset chip that continuously calculates and triggers transmission of location coordinates.
This transmission process turns on a radio which requires substantial energy usage. Privacy concerns are also increasingly becoming an issue. TSYS has recently announced availability of two products: Xypoint Gateway and Xypoint Agent. These new product releases to wireless carriers are pretty significant as they give the consumers the ability to set their own location privacy settings and to enable geofencing and alerts based on a subscriber's location. They even enable time based restrictions which among other things should help conserve battery life.

Another development to watch is the potential for the legacy SMS business to become a growth driver again. TSYS has been a leading infrastructure, licensing and services company for SMS for many years. The volume of text messages is still growing albeit at a slower rate. TSYS saw an unexpected slow down in SMS revenues in C10 which was a primary reason for the earnings disappointment and guidance reduction per the June conference call.
The good news going forward is that the combined C10 revenues for the SMS business is now only only around $40m per the company. The better news is that the services component of that revenue was reported to be about 50% and continuing to grow. The best news here is that the company hinted that they were currently studying the business and are optimistic about the chances of a resurgence of licensing in the future because of SMS's minimal bandwidth transmission footprint. I may be reading too much into this vague reference but it wouldn't be a surprise to see this become another piece of the solution to the LBS positioning hurdle. Even if this doesn't materialize, the SMS licensing downside is now pretty contained currently representing around 5% of revenues.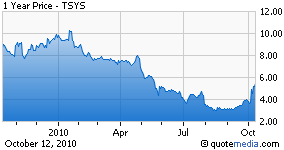 This stock has clearly been through the wringer this year. Some of it was the failure of the team to execute and communicate. Some of it was the macro sentiment at the time of bad news. It didn't help that TSYS's market cap dropped under $250m bringing it below the threshold for many funds Looking forward, however, I believe this has provided investors an opportunity to take advantage of an irrational valuation that occurs from time to time in the market. And this opportunity is just starting to show its potential.

Disclosure: Long TSYS