Virtus Oil and Gas Corp. (OTCPK:VOIL) is a name that I believe is currently the target of a penny stock promotion scheme. It is my view that the stock's intrinsic value is somewhere near $0, and it is with conviction that I recommend that any investors currently in the name sell the entirety of their stakes immediately. I also believe that Virtus Oil and Gas Corp. is a stock definitely worth shorting. My track record of identifying and publicly exposing such highly overvalued equities is excellent:
Little Revenue. Debts. No Business. Bright Future?
As is usually the case with these types of hyped-up scams, it takes only one quick glance at the balance sheet to realize that the $70M market capitalization that this equity commands is beyond ludicrous, with $162,419 current assets and $101,083 in current liabilities. It's my suspicion that the purpose of this company is not to succeed, but to sell stock. The recent volume is due to overly bullish promotion piece.
Picture of $VOIL Chart
You can see that trading in Virtus Oil and Gas Corp. started seeing really increased volume on June 23, 2014. You can see it was around this time the landing page went up. Coincidence with the time of the landing page and increased volume in Virtus Oil and Gas Corp.? Absolutely not.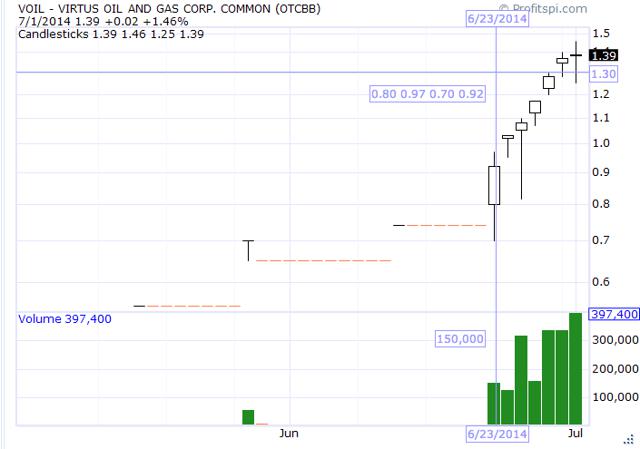 Online Landing Page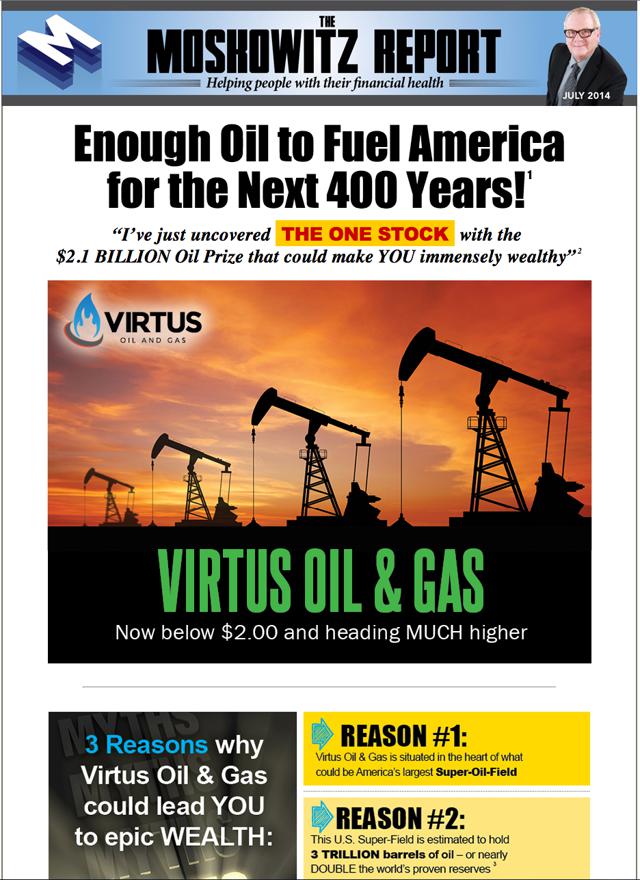 Disclaimer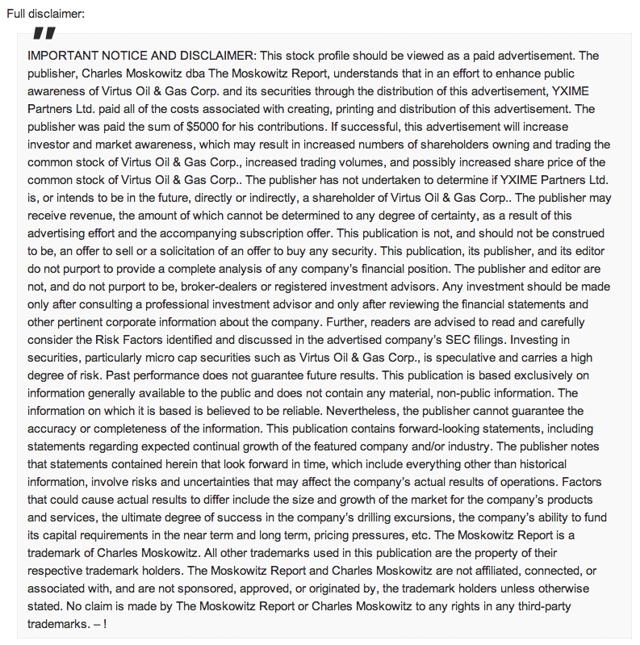 Emails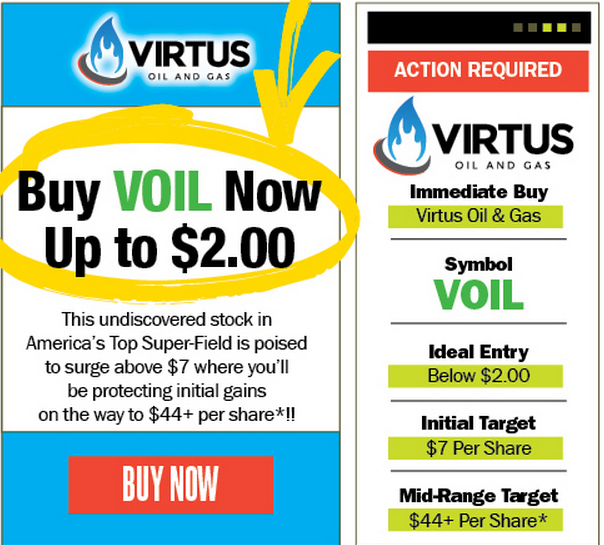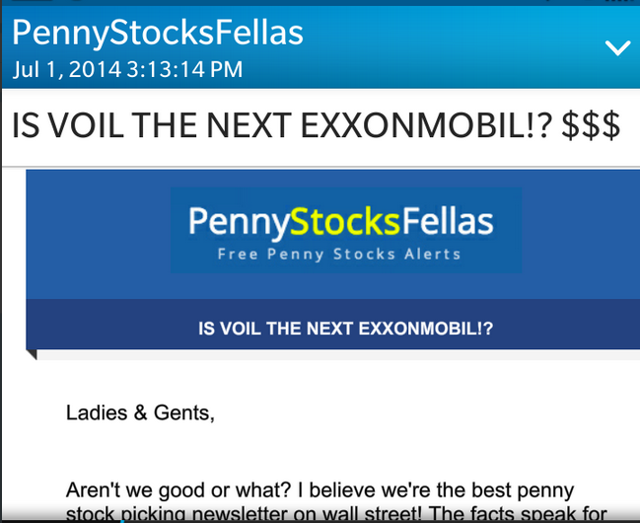 Next Exxon Mobil? Price target $44 per share? That is insane and borderline illegal.
Go here to see details about the landing page.
"YXIME Partners Ltd. paid all of the costs associated with creating, printing and distribution of this advertisement. The publisher was paid the sum of $5000 for his contributions. If successful, this advertisement will increase investor and market awareness, which may result in increased numbers of shareholders owning and trading the common stock of Virtus Oil & Gas Corp., increased trading volumes, and possibly increased share price of the common stock of Virtus Oil & Gas Corp.. The publisher has not undertaken to determine if YXIME Partners Ltd. is, or intends to be in the future, directly or indirectly, a shareholder of Virtus Oil & Gas Corp."
You can see obviously someone is interested in increasing public awareness for Virtus Oil and Gas Corp. Most likely the insiders, who own millions 21,000,000 free trading shares in Virtus Oil and Gas Corp. Why else would someone spend cash to increase public awareness? I also find it suspicious they have not listed a promotion budget. Telling by the trading volume lately there must be a decent sized promotional budget. I do not think the SEC will appreciate that. At these levels, those shares are worth about 27 million! It is worth it to them, because if they can bring in buyers and liquidate their shares around these prices, that can mean millions in profits! Running pump and dump schemes is a lucrative business, and that is why we see it way too often. My job is to wake you up.
Shady Past CEO and Marshall Entity Involved.
To really see how Virtus Oil and Gas Corp. was set up to become a pump and dump read this great research report here. I'll look to get into some of the key points. The previous CEO Daniel M Ferris is the one that really got this set up for this promotion. Daniel M Ferries was involved with Lone Star Gold Inc. that was subject to illegal Stock Castle stock promotion. I have written articles on some of the past Stock Castle promotions so you should be familiar with them. What I also found funny is a suspicious financing agreement.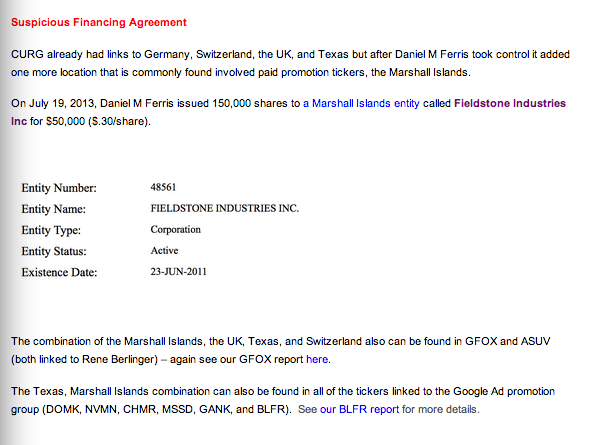 This of course was before the forward split. They now have 2,100,000 million shares at a cost of .02/share. What a deal. For 50k now they own shares that are worth 3 million dollars. However, they can't sell without creating a market first. That's where the stock promotion comes in.
Past Promotions
I cannot find any landing pages from Moskowitz Report before. However, going through my past articles you can see how ugly all the stock promotions ended up no matter who it was from so expect the same from this one. My past article I wrote on WindStream Technologies, Inc. is already down 65%+ after 3 days since my article was published. When these promotions go south, they go south quick as you can see below.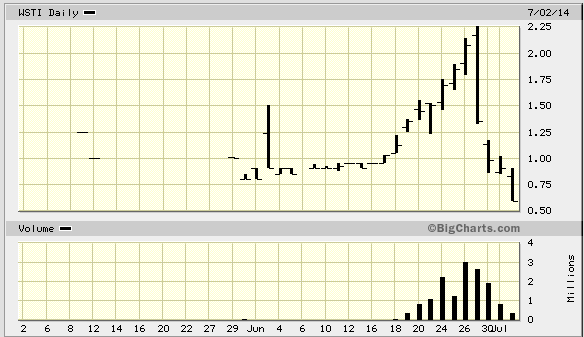 My Recommendation
If you own shares of this company, get out now. Do not hope that you can hang on to sell them to a greater fool. These shares are worthless. I have showed you that the reason for the promotional mailers indicates that the individuals behind this stock scam are trying desperately to unload their worthless shares onto the unsuspecting public and book a huge profit before the inevitable collapse. If you are a more sophisticated investor and can get a borrow on these shares, then I believe that shorting this name will be highly lucrative for you. In this stage of the promotion, with the stock halt risk, it is not worth staying long overnight to make $.05-$.10 more in gains when there is a risk of 70% in losses. You have been warned.
Disclosure: The author is short VOIL. The author wrote this article themselves, and it expresses their own opinions. The author is not receiving compensation for it (other than from Seeking Alpha). The author has no business relationship with any company whose stock is mentioned in this article.
Editor's Note: This article covers one or more stocks trading at less than $1 per share and/or with less than a $100 million market cap. Please be aware of the risks associated with these stocks.