Economic Common Sense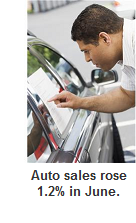 Assume a person who is concerned about the possibility of an imminent pink slip answered the following questions:
Are you likely to buy a new car in the next six weeks?
Are you likely to book a $3,000 Disney family vacation in the next eight weeks?
Are you likely to add new premium movie channels to your cable package in the next four weeks?
If we were economically rational and simultaneously concerned about job security, the answers to all three questions would be "no".
Strength In Consumer Discretionary Stocks
Consumer discretionary stocks include automakers, such as Ford (NYSE:F), entertainment companies, such as Disney (NYSE:DIS), and media companies, such as Comcast (NASDAQ:CMCSA) (CMCSK). When investors have a desire to own consumer discretionary companies, it speaks to a positive impression of future economic outcomes. What are these "I am confident enough to buy a car" stocks telling us now about the economy and financial markets? For the answer, we will look at a chart of the consumer discretionary ETF (NYSEARCA:XLY).
A Breakout The Bears Desperately Want To See Fail
When a stock or ETF reaches a new all-time high, it tells us conviction to own the security is greater than the conviction to sell the security. The weekly chart of consumer discretionary stocks is trying to nail down a new all-time weekly closing high this week, which speaks to improving economic confidence.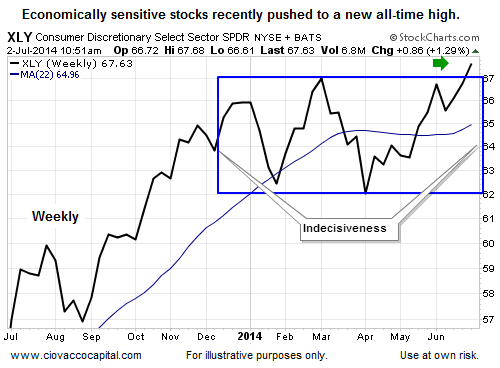 Chart Pattern Is Bullish For Stocks And Economy
Breakouts can fail. Therefore, the stock market bears still have some hope relative to the potentially bullish pattern below. The concept of the pattern shown in the chart below aligns with investor fear. The "cup" represents a fairly significant increase in economic fear, as XLY dropped into mid-April. The handle "shakes out" the last bit of pessimism, but this time with a lower spike in fear. The push above the "rim" of the teacup, represents a win for bullish conviction. If the breakout holds, then the odds of consumer discretionary stocks pushing higher are favorable. If the breakout fails, it tells us bullish conviction is questionable. Therefore, we will learn something about the economy and markets under both outcomes.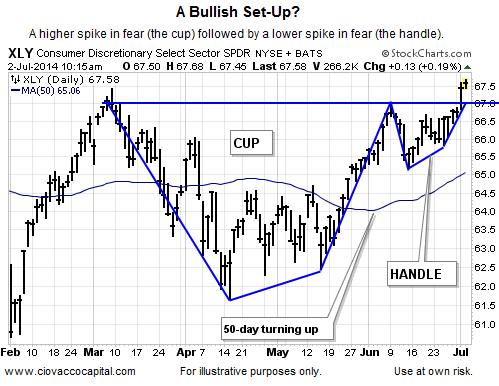 Economic Data Aligns With Move In XLY
With a monthly read on the labor markets due to be released Thursday morning, things can change quickly. However, recent economic data has been favorable for stocks. From CNBC:
Evidence is accumulating that the U.S. economy is improving, and that may be the biggest ally the stock market rally has. The ADP report released on Wednesday showed the biggest jump in private payrolls since November 2012. Meanwhile, the June ISM report yesterday showed an increase in new orders, and new and existing home sales figures has been stronger as well. Auto sales are robust. This morning ISI noted that its truckers survey, which they say has the highest correlation with GDP, ticked up to its highest level since December 2005.
Investment Implications - Patient Until Evidence Changes
Based on observable evidence, the last defensive chess move made by our market model was to add to our bond (NYSEARCA:TLT) allocation on April 11. Since then, the S&P 500 has tacked on 159 points. Cash has not been rewarding during the move; even TLT has moved from $110.77 to $111.36 since April 11.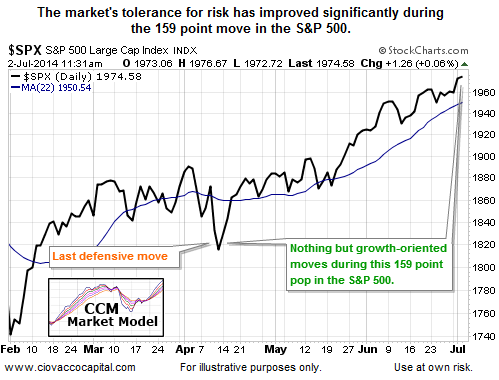 As we prepare for the holiday weekend, ask yourself:
"How helpful have all the bearish forecasts and top-callers been during the S&P 500's 159 point gain over the past eleven weeks?"
If you answer honestly, the response is "not very helpful, in fact they have been harmful". The last eleven weeks have shown the difficulty of predicting the future. Therefore, you may want to consider an alternative approach of paying attention and adjusting as needed, as outlined in detail in The Best 2014 Investment Advice. A tweet from Wednesday's session summarizes the approach:

A common objection is what about the Flash Crash or 1987? Those periods are more difficult, but as shown in this 1987 video and this Flash Crash video, even under those rare circumstances, weakness did not come out of nowhere, meaning there were prudent ways to mitigate, not eliminate, investment risk. The evidence in hand continues to call for a heavy allocation to stocks (NYSEARCA:SPY), and leading sectors, such as technology (NYSEARCA:XLK). We will evaluate our small stake in bonds as conditions continue to evolve.
Disclosure: The author is long SPY, XLK, TLT. The author wrote this article themselves, and it expresses their own opinions. The author is not receiving compensation for it. The author has no business relationship with any company whose stock is mentioned in this article.