Alcoa (NYSE:AA) the iconic aluminum producer and alumina and bauxite miner, reports their calendar q2 '14 financial results after the close on Tuesday, July 8th, 2014.
Per Thomson Reuters, analyst consensus today is expecting $0.12 in earnings per share (NYSEARCA:EPS) on $5.67 billion in revenue, for expected year-over-year growth of 71% and -3% respectively.
Since the early April, Q1 '14 earnings report, the 2nd quarter consensus EPS and revenue number have remained relatively stable, with EPS ticking slightly higher and revenue being revised slightly lower.
Alcoa's stock is up 40% YTD, excluding the dividend, after getting unceremoniously dumped from the Dow 30 last year.
In Q1 '14, revenue fell 6%, operating income fell 53% and EPS fell 18% y/y as more smelting capacity was shuttered, even as demand seemed to improve for aluminum as a steel-substitute (note the auto OEM announcements).
Using Investmentmine.com's, excellent price graphs for aluminum, here is the trend in aluminum prices for the last week, one month, six months and one year time frames.
Although aluminum has been soft the last week, note the one-year chart. A break over $0.85 per pound might be a catalyst for the stock since that price was the peak in mid '13 as well.
Without re-hashing a lot of the obvious, our biggest uncertainty around Alcoa remains "normalized" EPS and the intrinsic value estimate for the stock.
In calendar 2006, Alcoa printed $2.96 in EPS and the stock peaked at $48.77 in July, 2007. This was a time when global growth was robust, China GDP was growing 15% a year (supposedly, if you believe that data), real estate lending and valuations were on fire, and global bank's were flush with capital and lending aggressively.
Today, after the 2008 Recession, the conservatism and regulation of the banking system and the near collapse of Greece and the EU, the world is 180 degrees different than just 8 - 10 years ago.
If we simply use the arithmetic average of the 2006 record EPS of $2.06 and the record low EPS in 2012 and 2013 of $0.30 and $0.33 respectively, we get between $1 and $1.25 per share in EPS, and given the growth rates, then $20 would likely be the first reasonable price target for the stock.
Technically, in April, 2011, AA rallied to $18.47 only to give up the ghost and fall back to a series of lows around $7.60 and $7.70 in late 2013.
From a valuation perspective, AA is trading at 32(x) expected 2014 EPS of $0.46 per share, with expected growth of 37% this year. Obviously we are coming off record low EPS estimates so the growth looks good in terms of percentages.
Here is the trend in historical EPS and revenue consensus for Alcoa since early 2013: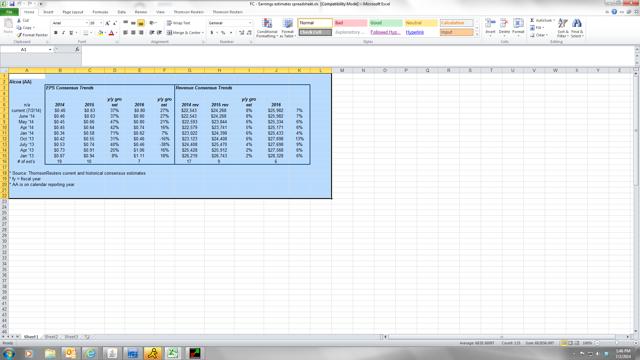 * Source: internal spreadsheet from ThomsonReuter's estimate detail
I really like the fact that 2015 and 2016 consensus estimates continue to march higher.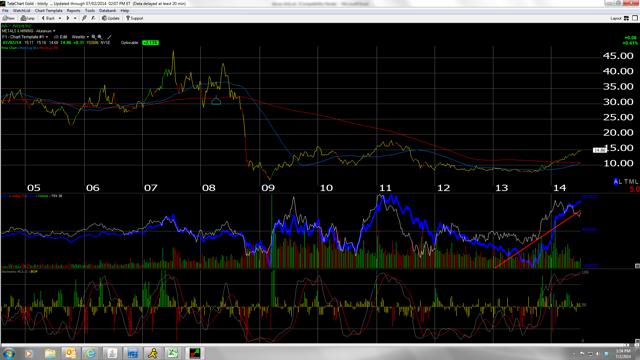 We've written extensively about Alcoa over the last 3 years, particularly as the stock traded below tangible-book-value in 2012 and 2013.
Our recent article on the Basic Materials sector and Alcoa is here.
The valuation at 12(x) cash-flow means the stock isn't nearly as attractive as it was at $8 per share, but that doesn't mean that the Alcoa has stopped appreciating.
Our internal intrinsic value model puts an intrinsic value estimate on Alcoa of $46 per share. I don't think that is even remotely realistic at this point. Morningstar's estimates intrinsic value estimate is $15, which is down from $19 a few years ago.
While the truth is likely somewhere in between, Morningstar's estimate is likely closer to reality than our own at this point.
Watch how the stock trades around that April, 2011 high of $18.47. If AA can push through that level on volume, the stock could run into the low $20s.
In this new world, "normalized EPS" is the big question mark. My best guess is that $1.50 - $2.00 per share is realistic if we get a global, synchronized recovery.
We remain long AA, and will watch that April, 2011 high print of $18.47 - $18.50. That is the first litmus test.
The Firth Rexson acquisition isn't accretive until 2016, but isn't heavily dilutive either. Strategically it makes some sense as it moves AA away from the smelting business and further into value-added segments.
Disclosure: The author is long AA. The author wrote this article themselves, and it expresses their own opinions. The author is not receiving compensation for it (other than from Seeking Alpha). The author has no business relationship with any company whose stock is mentioned in this article.