Exxon Mobil (NYSE:XOM) is an interesting energy bet for investors seeking both capital appreciation and recurring dividend income. Investing in one of the top 100 global companies is something all investors eye, especially if the company is ranked among the top two of the illustrious list. Exxon Mobil is an attractive company for investors with dividends increasing at an average rate of 6.3% per annum for the past 31 years, according Exxon Mobil's statistics. The company seems to be doing fairly well, reporting higher earnings per share over the past few years and has several major expansion plans that promise precipitous acceleration in the years to come. The question, however, is: would the company be able to maintain this momentum? Is the company actually progressing or are higher dividends simply an attempt by the company to maintain its popularity in the stock exchange?
What do the trends suggest?
Examining the company's dividend payout ratio can help determine whether or not the company will be able to pay the same, or higher, dividends in the future. A relatively low ratio is preferable over a higher ratio as a ratio over 100% means that the company is paying more dividends than its net income i.e. it is using its reserves to pay dividends thus indicating that the dividends are not sustainable in the long run. Over the years 2009-2013, Exxon Mobil's dividends per share have been increasing steadily.
At the same time, however, it can be seen that the company's earnings per share have been increasing as well, with the exception of the earnings per share in the year 2013 which fell from $9.70 in 2012 to $7.37 in 2013.
| | | | |
| --- | --- | --- | --- |
| Year | Earnings Per Share ($) | Dividend Per Share ($) | Dividend Payout Ratio |
| 2009 | 4.01 | 1.66 | 41.39% |
| 2010 | 6.22 | 1.74 | 27.97% |
| 2011 | 8.42 | 1.85 | 21.97% |
| 2012 | 9.70 | 2.18 | 22.47% |
| 2013 | 7.37 | 2.46 | 33.33% |
What does this mean in terms of stock value?
From what the trends show, it can be seen that the company is not fabricating its financial position to make it look attractive. It is actually growing as a result of which the returns to investors are higher. This is therefore resulting in the company's stock becoming more attractive in the market, thus increasing its value, dividend per share may grow at single digit CAGR in the next few years due to lower EPS growth relative to free cash flow growth.
Exxon Mobil consistently outperforms competitors with respect to returns on capital. An overdue pullback in Exxon Mobil's share price could offer an interesting buying opportunity. Returns are high even when using the Chevron and Shell definitions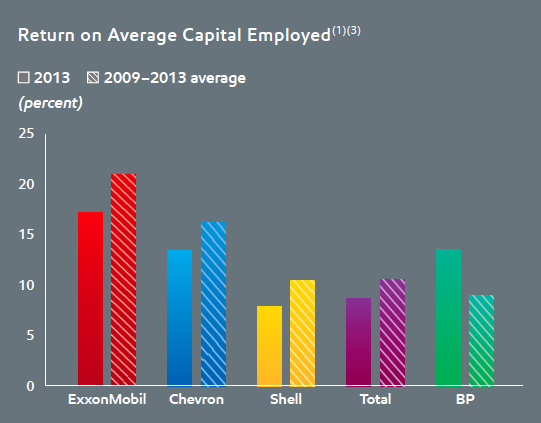 Source: 2013 Exxon Mobil Annual Report Page 4
XOM calculates things a little differently than Chevron (NYSE:CVX) and Shell (NYSE:RDS.A) (NYSE:RDS.B) with respect to equity companies, but their number still comes close to the number using the CVX/RDS.
Current impacts of future plans
From the year 2010 till present, it can be seen that the company's dividend payout ratio has been increasing. However, it is still well below the point where the sustainability of these dividends can be questioned. The company's high capital spending peaked in the year 2013 owing to its investment in several new oil and gas projects, but this spending is now going to be reduced. This brings us to another way of determining whether or not a company's dividends are sustainable: via a company's Free Cash Flow. A company's FCF is the amount of money it has left to distribute amongst its shareholders in the form of dividends. A company's free cash flow is reduced if capital expenditure is high. In this case, the capital expenditure of Exxon Mobil has been high owing to the fact that it has been investing in new projects. However, this capital expenditure is expected to decrease significantly and at the same time, the company's earnings are expected to increase due to the fact that these new projects will be operational. This, therefore, suggests that the company will continue to be able to increase its dividends. Exxon Mobil has placed itself in a very perilous situation by getting into bed with Vladimir Putin. Political realities in the U.S. make sanctions against Russia or Exxon Mobil unlikely.
So, is it a good idea to invest in this stock?
Overall, the historical data, along with future expectations suggest that Exxon Mobil is paying its investors dividends that are sustainable and that the company's investors do not have to fear the fact that the company may reach a point where it is no longer able to pay dividends. Despite high capital expenditure, the company managed to pay its investors good dividends without exceeding its net income. Since the capital expenditure is expected to decrease in the future and the net income is expected to increase, the company is very likely going to pay its investors higher dividends and will be able to sustain the trend.
Disclosure: The author has no positions in any stocks mentioned, and no plans to initiate any positions within the next 72 hours. The author wrote this article themselves, and it expresses their own opinions. The author is not receiving compensation for it (other than from Seeking Alpha). The author has no business relationship with any company whose stock is mentioned in this article.