The world's financial leaders did their best to save face. Lucky for them, very few investors were paying attention to the latest, usually 'boring' round of IMF talks in Washington.
Trouble is, the talks were anything but boring. Instead, there were warnings of a looming global currency war. China, for its part, also warned of potential economic disaster.
Why didn't you hear about this? Because leaders like Dominique Strauss-Kahn, the IMF's managing director, couched the rising tensions in muffled comments. Try to decipher his ho-hum quote.
The idea that there is an absolute need in a globalised world to work together may lose some steam.
In plain English, the International Monetary Fund is saying it fears that world cooperation is breaking down.
The legendary George Soros put it much more bluntly. He also warned of coming currency wars and a potential for global collapse. He put the responsibility on China's shoulders in this quote.
China has emerged as a leader of the world. If it fails to live up to the responsibilities of leadership, the global currency system is liable to break down and take the global economy with it.
The Chinese response provided absolutely no reassurance at all.
Chinese Premier Wen Jiabao warned leaders of the European Union not to criticize what many perceive to be China's undervalued currency. In a speech he said:
If the yuan is not stable, it will bring disaster to China and the world.
The Chinese claim that their currency is rising as rapidly as it should. It has risen about 2 percent since it was "unpegged" from the dollar.
U.S. lawmakers meet this week to consider punitive measures against China for undervaluing the yuan. Congress will vote on the "Currency Reform for Fair Trade Act". The Act is intended to make it much harder for the Commerce Department to avoid imposing "remedial tariffs" on Chinese goods deemed to be benefiting from a weak currency.
That's more bad news according to Stephen Roach, Morgan Stanley's Asian chairman who worries about a trade war.
I think that's a very bad piece of legislation, and one that would have devastating consequences for China and the United States. This is lose-lose. It's bad for everyone.
Roach does agree that China must boost domestic consumption. But he doesn't believe China's currency alone has any real effect on America's habit of spending beyond its means.
Race To The Bottom
You may be wondering what a currency war looks like. Well, we're in the early stages of one already. Every nation involved is trying to drive the value of its currency down to gain a competitive edge.
Japan intervened in currency markets to slow the rise of the yen, spending two trillion yen in the process. But the Japanese were foiled by the U.S. which announced "quantitative easing" to drive down the value of the dollar.
click to enlarge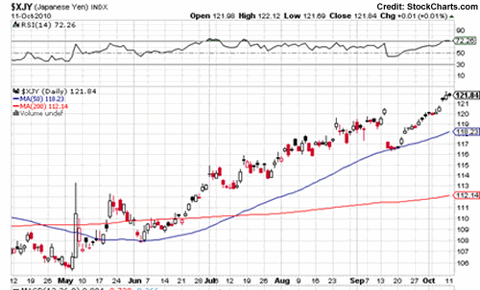 The dollar fell last week to its lowest in 15 years against the yen.
The dollar has lost about seven percent of its value through this latest "QE2" push. You might want to check my last blog explaining Quantitative Easing, or just think of it as printing money to deflate a currency.
Brazil dived into the markets on Friday with billions of dollars used to weaken the real. The Swiss have been devaluing the franc for months, accumulating reserves equal to 40 percent of GDP.
The Brazilian finance minister already describes the rising tensions as a currency war.
Edwin Truman, a former U.S. Treasury official and a senior fellow at the Peterson Institute says, the tensions don't quite rise to the level of a currency war. He says, "You might call it more of a police action. But it has the potential for getting completely out of control."
That's because each exporting country sees its own currency value rise when its competitors devalue their money. Japan, Brazil, the Swiss and the U.S. are deflating their currencies to give their exporters a competitive edge.
Many other nations are considering joining this race to the bottom. If the race becomes a stampede, currency chaos could ensue.
What's an Investor to Do?
As I said in my previous article on quantitative easing, there are a few safe havens. The dollar is the world's main reserve currency and commodities are denominated in dollars.
Therefore it makes sense to hedge one's portfolio with a variety of commodity holdings. Their value will go up as the dollar and other currencies go down.
Investments in China seem relatively safe in the short term as new figures show the nation's currency reserves rising to $2.5 trillion. At the same time, long-awaited increases in internal consumption are materializing.
What about the worst case scenario? What if the dark warnings of George Soros and Premier Wen come to pass?
In a world where paper currencies might become increasingly suspect and valueless, proxies must appear. The most obvious currency substitute is gold.
Although gold has enjoyed an enormous run-up in value, further increases are not out of the question if the currency wars pick up steam.
All eyes will be on the upcoming G-20 summit in Korea to see if global tensions over currency get any worse. If they do, you might consider reaching for those safe investment havens.
Disclosure: No positions