2010 has been notable for the massive amount of money flooding into bonds and bond funds. The money flows are similar in volume to the amount of money invested in equities just prior to the internet crash of 2000.
Most troubling to me is that many of the investors flocking into bonds are doing so because, scarred by the recent stock market crash, they believe bonds are a safe haven. Sadly, the idea that bonds almost always protect wealth has become somewhat of an urban myth. While a bond investor that holds a bond until maturity will most likely get all their principal back, the key question is what that $1000 principal will buy you 30 years from now when you cash in the bond. If historic average US inflation rates of around 3.1% are a guide, it may be worth only $400 in 2040 money. If my fear is realized that the Federal Reserve will continue to push massive amounts of money into the economy to keep our debt load from imploding, the investor may be lucky if they can buy a pizza with their end principal.
Even if the investor decides not to hold the bond to maturity, a rise in interest rates or in inflation could cause a sudden decrease in the market value of the bond. It has happened before – between 1977 and 1980, 10 year Treasury bond holders lost over 30 percent of their investment in just three years, and that's after interest payments received by them. Even if the decrease in value doesn't come so rapidly, holding bonds can be a wealth destroyer over time.
According to data issued by the St. Louis Fed, between 1940 and 1981, investing in 10 year Treasury bonds would have lost you a whopping 55% of your investment in real terms (i.e. after inflation), even when interest payments are included.
Buying Treasury bonds now poses a particular risk considering that US government debt is at historic highs and bond yields are at historic lows, as can be seen from the chart below. In my opinion, the investor is getting poor compensation in terms of interest payments when you consider the risks they are taking in holding those bonds.
click to enlarge images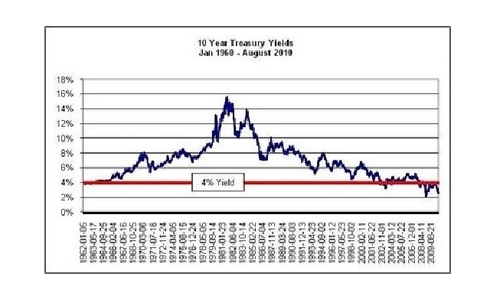 Many retirees, some of whom could be in retirement for 30 years or more, have 80 percent plus of their portfolios in fixed income. That is a lot of time for inflation to possibly eat away a big chunk of their wealth.
While I'm not saying that bonds don't have a place in an investor's portfolio (after all they are an excellent diversifier), I do believe investors could be making a major mistake if they swap much of their stock holdings for the false safety of bonds.
As a final point, the chart below puts in perspective the extent to which bonds have underperformed equities over the long run.
Considering that bonds have outperformed stocks over the last several years, if history is any guide, there is a good probability that stocks should again leave bonds in the dust over the next twenty years.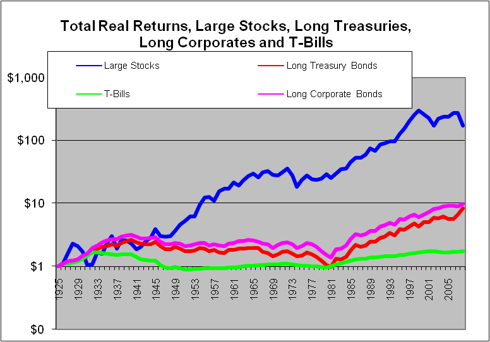 Disclosure: Author is flat Treasury bonds