Raytheon (NYSE: RTN) is an aerospace and defense company with a $29 billion market cap, and it could be next year's blow-out stock. The 92-year-old company is a pro at mission systems integration and state-of-the-art sensing systems and severely underpriced.
High Earnings Versus Price
Last fiscal year, Raytheon "increased its bottom line by earning $5.96 versus $5.66 in the prior year," writes TheStreet. "This year, the market expects an improvement in earnings ($6.95 versus $5.96)." But its share price isn't keeping pace.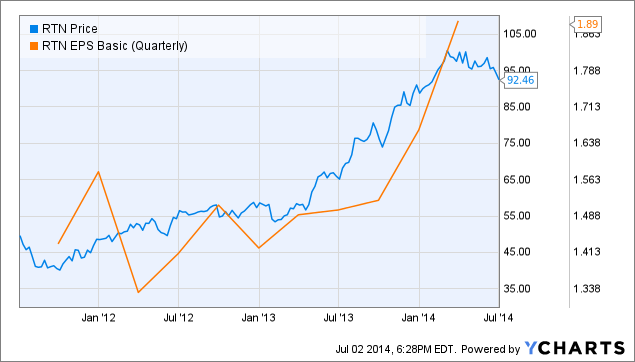 Raytheon is trading at $92.47 on a 52-week range of $64.53 to $102.33. At this price, the company has a price to earnings ratio of just 14.36 - despite the fact that its share price is up over 40% compared to last year.
Even Better Compared to the Competition
This fact is even more impressive looking at its competitors. Boeing (NYSE:BA) is priced at $127.62 on a 52-week range of $98.99 to $144.57. Analysts are enthusiastic, giving the company a one-year target estimate of $153.91 but it is still priced at 22 times its earnings, which is in line with the industry average of 21.54. Lockheed Martin (NYSE:LMT) is in roughly the same position as Boeing. The company is priced a little less. It is currently trading at $158.98, or 16.44 times its earnings, but its lookout isn't as encouraging. Consensus estimates put Lockheed Martin at just $170.56 next year.
Strong Foundation
Raytheon also has a strong foundation. According to its 2013 Annual Report, the company's net debt is only $204 million and it has increased its dividends in the past 10 consecutive years, including a 10% dividend increase in 2014.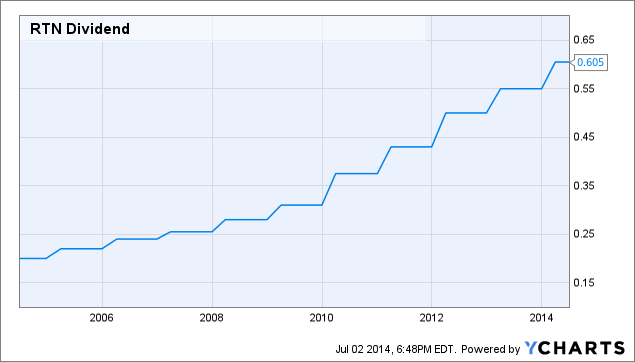 RTN Dividend data by YCharts
Raytheon has also been active in share repurchases, spending $8.7 billion in 2009 to 2013 on share repurchases and dividends. The company also has a good eye on building things up for its future, spending $3.4 billion on capital investments and acquisitions from 2009 to 2013 and, on top of that, its operating margins have been climbing steadily, moving to 13.4% in 2013 from 12% in 2009.
Contract with Boeing
Raytheon recently celebrated its 35th successful space intercept using its missile kill vehicle technology, and it is attracting the right sort of attention. Raytheon is a subcontractor for Boeing on its $41 billion project to establish a defense system against long-range ballistic missiles, called ground-based Midcourse Defense (GMD) system.
Strategic Thinking
However, despite such higher level involvement, Raytheon is strategic. The company keeps its business hedged pretty evenly across the field. According to its 2013 Annual Report, Raytheon's business is roughly divided in quarters - space and airborne systems, integrated defense systems, missile systems, and intelligence systems - and those are further divided up between more than 15,000 contracts. The advantage here is that if one is canceled, the company doesn't risk losing a large chunk of its income.
Industry Outlook
"Global defense spending is declining, resulting mainly from reduced armed conflict in Iraq and Afghanistan and affordability concerns in many traditional militarily active governments," according to Deloitte. "However, defense spending is increasing in several areas of the globe, especially in the Middle East, India, China, Russia, South Korea, Brazil, and Japan." Overall, the aerospace and defense industry is expected to grow at a rate of 5% in 2014.
Conclusion
Raytheon has strong earnings and ebbing share price. Its business is hedged across divisions and divided amongst tens of thousands of projects, providing security against fluctuations in aerospace and defense spending. Add to this increasing dividends and a growing industry, Raytheon is a solid long position.
Disclosure: The author has no positions in any stocks mentioned, and no plans to initiate any positions within the next 72 hours. The author wrote this article themselves, and it expresses their own opinions. The author is not receiving compensation for it (other than from Seeking Alpha). The author has no business relationship with any company whose stock is mentioned in this article.