In an article published in 2011, I first analyzed the possibility of lithium-ion battery massification by referring to A123 Systems' intention to introduce 12-Volt Li-ion batteries as a substitute for lead-acid starter/stop-start batteries in micro-hybrid cars. As I indicated in a subsequent piece, however, the company's efforts to implement its original strategy turned out to be "too little and too late" and didn't prevent it from being overtaken by the Wanxiang Group, a big Chinese auto supplier.
In retrospect, the first thought that comes to my mind is that A123's 12-V starter/stop-start battery option was probably not ready for prime-time. This is the kind of conclusion I reached after knowing of its recent acquisition of Leyden Energy's intellectual property in battery materials covering lithium titanate (LTO) and non-flammable electrolyte (Li-imide) developments, including in the deal the agreement of key technical staff to join A123 Systems' R&D division.
Following the Green Car Congress (GCC), Leyden is purported to have made important advancements on a technology suitable for start-stop vehicle applications in the automotive industry. In addition to its particular properties of extended cycle life and extraordinary power capability, Leyden technology was developed to function over a wider range of temperatures. Furthermore, the company's Li-imide electrolyte has made its batteries more resistant to heat enabling "the development of new chemistries with high energy density active materials, including silicon anodes."
Notwithstanding other qualities and advantages of this technology, such as rapid recharging, low-cost, simplicity, smallness and lightness, it has also been argued that it will complement the lithium iron phosphate (LFP) advanced energy storage systems that over the last decade or so A123 has developed and introduced into the market under the Nanophosphate and the UltraPhosphate trade names.
A second argument that reinforces my preliminary conclusion is that even though GS Yuasa has too recently announced (following also the GCC) that it has developed a 12-V Li-ion battery for a start-stop application, it's not offering it yet to the public, which can be taken as an indication that it's not ready for commercialization. Incidentally, I tried to enquire more details about this announcement and encountered only a scientific paper in Japanese, which I wasn't able to translate and understand.
A third element that provides additional support to my contention is that, according to a recent scientific article published in the prestigious Journal of Power Sources available online in January 2014, while LFP/LTO should be the correct way to go about the low-temperature issue in Li-ion batteries, there still seems to be more research work necessary pertaining in particular to the improvement of electrolyte conductivity before this product can acquire commercial status.
This finding is particularly striking considering that two of the eight authors of this study happen to be part of General Motors' (NYSE:GM) Global Vehicle Engineering and Research and Development technical staff. I´m tempted to argue here that perhaps back in October 2013 a preliminary version of that article justified GM's decision not to use Li-ion batteries in its 2014 Malibu mild hybrid model, which would clarify an argument I advanced in this regard in an EVWorld blog published at the time. It's important to remember at this point that about two months ago GM started to produce in-house all the batteries (previously outsourced by A123 Systems) for its 2015 all-electric Spark model, which means that as time passes A123 is being left almost without any clients.
But if this product is not ready for commercialization, why is A123 currently offering it to customers as a finished good on its web site? Did those two contracts with McLaren Automotive for the MP4-12C and a major German OEM it referred to in March 2012 ever materialize? Is this just part of some sort of advertisement aimed at re-launching the company? These are indeed only some of the questions floating around that don't allow us to ascertain the real prospects of A123 Systems in the years to come. One thing I can say for sure, though, is that time is once again running out for the new A123 Systems management staff, which most certainly is beginning to make its new Chinese managers very nervous.
Meanwhile, BYD (OTCPK:BYDDF), another Chinese firm that over a year ago offered 48-Volt Lithium batteries for the same market, seems to have forgotten about its promise. After reviewing over 600 news posts on BYD published since May 17, 2013 by specialized web sites such as the Green Car Congress, EVWorld and Seeking Alpha, I concluded that BYD was rather busy selling, as well as channeling new orders, deployments and trials particularly of electric buses in different parts of the world and did practically nothing to advance its battery project. As shown in the following figure, since my writing, BYD was able to sell, get new orders and/or deploy 4,772 all-electric buses in China, Uruguay, USA, The Netherlands, and Aruba; 1,045 e6 all-electric cars in China, the United Kingdom and The Netherlands; and 6,000 Qin plug-in hybrid electric vehicles in China, totaling 11,817 EVs. In addition, it either put in operation or successfully completed trials of its electric buses in the United Kingdom, Colombia, Turkey, Brazil and Canada.
Figure 1
BYD: EV Sales, New Orders and Deployments
(May 17, 2013 - July 01, 2014)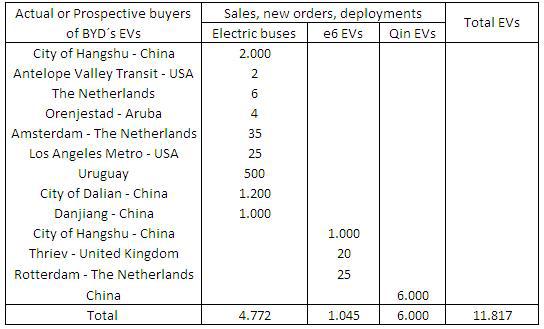 Source: Green Car Congress
As it turns out, though, these incredible results were achieved at the expense of BYD's intention to become a leader in the micro and mild hybrid segment of the emerging electric vehicle industry. Time will tell if BYD will try to make good on its battery promise once it is settled down with its recent accomplishments. I would suggest that it would be an error on BYD's part should the Chinese company finally decide not to pursue this project. Perhaps it needs a little organizational restructuring at this point to implement the strategic vision that it put forward last year.
Of course, while BYD sets back on its battery project, other OEMs have taken recourse to the obvious (albeit less efficient) alternative such as using a 12-Volt Lead-Acid battery for the starter function and a 48-Volt Li-ion Battery for the Stop-Start and regenerative braking functions in micro and mild hybrids. In this connection, the dual battery system just announced by Ford (NYSE:F) in association with Samsung (OTC:SSNLF) falls into the same kind of solution suggested by Johnson Controls Inc. (NYSE:JCI) over a year ago. However, to the extent that Ford may have the advantage of controlling the whole production chain of micro or mild hybrids, chances are it will beat JCI in this segment of the advanced energy storage system market. Needless to say, all of these developments will only contribute to delaying but not canceling out the inexorable arrival of the lithium era in the world.
Disclosure: The author has no positions in any stocks mentioned, and no plans to initiate any positions within the next 72 hours. The author wrote this article themselves, and it expresses their own opinions. The author is not receiving compensation for it (other than from Seeking Alpha). The author has no business relationship with any company whose stock is mentioned in this article.
Editor's Note: This article discusses one or more securities that do not trade on a major U.S. exchange. Please be aware of the risks associated with these stocks.