Ensco plc (NYSE:ESV) is increasing its ultra-deepwater rigs fleet; three new drillships will be delivered this year and in 2015. The company maintains a strong financial position, and has $10 billion of contracted revenue backlog. Ensco has compelling valuation metrics and strong earnings growth prospects. Furthermore, ESV's forward annual dividend yield is extremely high at 5.48%, and the annual rate of dividend growth over the past three years was also very high at 27.7%. In this article, I will explain why, in my opinion, Ensco stock is a smart investment right now.
The Company
Ensco plc provides offshore contract drilling services to the oil and gas industry worldwide. The company owns the world's second largest offshore drilling rig fleet, and its ultra-deepwater fleet is the newest in the industry. Ensco currently owns and operates an offshore drilling rig fleet of 74 rigs, including six rigs under construction, spanning most of the strategic, high-growth markets around the globe. Ensco plc was founded in 1975 and is headquartered in London, the United Kingdom.
Valuation Metrics
The table below presents the valuation metrics of ESV; the data were taken from Yahoo Finance and finviz.com.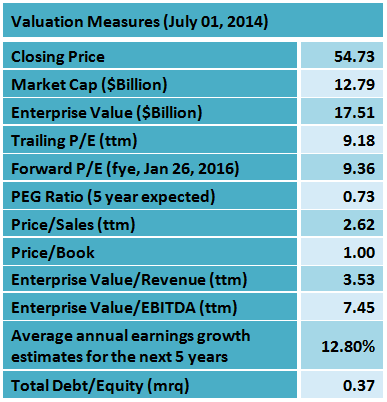 Ensco's valuation metrics are very good. The enterprise value-to-EBITDA ratio is very low at 7.45. According to Yahoo Finance, ESV's next financial year forward P/E is very low at 9.36, and the average annual earnings growth estimates for the next five years is high at 12.80%. These give an extremely low PEG ratio of 0.73. The PEG Ratio - price/earnings to growth ratio is a widely used indicator of a stock's potential value. It is favored by many investors over the P/E ratio because it also accounts for growth. A lower PEG means that the stock is more undervalued.
Latest Quarter Results
On April 28, Ensco reported its first-quarter 2014 financial results, which beat EPS expectations by $0.01. The company reported that diluted earnings per share were $1.25 in first quarter 2014 compared to $1.36 in first quarter 2013. Adjusted for $13 million, $0.06 per share, of certain discrete tax items, first quarter 2014 diluted earnings per share were $1.31. Revenues grew 3% to $1.187 billion in first quarter 2014, up from $1.150 billion a year ago, due to an increase in the average day rate that more than offset a decline in reported utilization. The average day rate for the fleet increased 14% to $239,000, mostly from the addition of ENSCO DS-7 to the active fleet and a full quarter of operations for ENSCO DS-6, plus higher day rates for several floaters and an increase in the jackup segment average day rate.
In the report, Chairman, President and Chief Executive Officer Dan Rabun stated:
While earnings per share declined year to year due to lower utilization as certain rigs rolled off contract and planned upgrade projects and surveys increased, we expect to grow earnings per share in future quarters as fleet-wide utilization improves. Major shipyard projects for certain floaters will be completed later this year and our marketing teams are focused on contracting our available rig time. Future earnings will also benefit from the delivery of eight new build rigs, which will help to offset recent market pressure that has led to lower floater utilization and market day rate.
Next Quarter Results
Ensco will report its second-quarter 2014 financial results on July 28. ESV is expected to post a profit of $1.33 a share, a 14.2% decline from the company's actual earnings for the same quarter a year ago.
Dividend
Ensco has been paying uninterrupted dividends since 1997. The forward annual dividend yield is very high at 5.48% and the payout ratio at 42%. The annual rate of dividend growth over the past three years was very high at 27.7%, over the past five years was extremely high at 86.4%, and over the past ten years was also very high at 36.5%. I consider that besides dividend yield, the consistency and the rate of raising dividend payments are the most crucial factors for dividend-seeking investors, and ESV's performance in the last years has been impressive in this respect.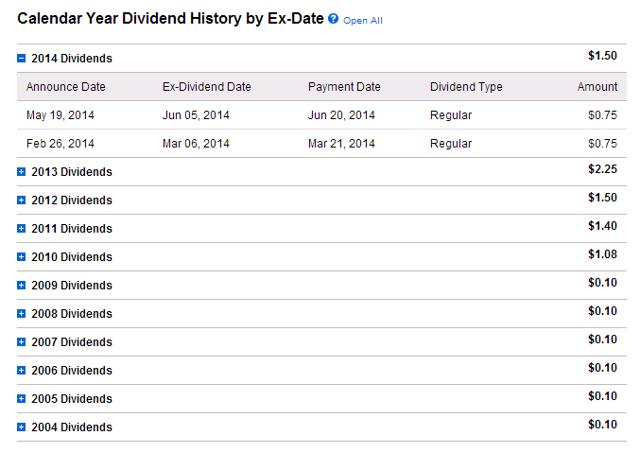 Source: Charles Schwab
In the company's latest report, Chief Financial Officer Jay Swent said that despite recent floater market day rate declines, ESV is committed to its $3.00 per share annualized dividend and the company maintains its positive long-term market outlook given industry fundamentals, including favorable commodity prices.
Competitors
A comparison of key fundamental data between Ensco and its main competitors is shown in the table below.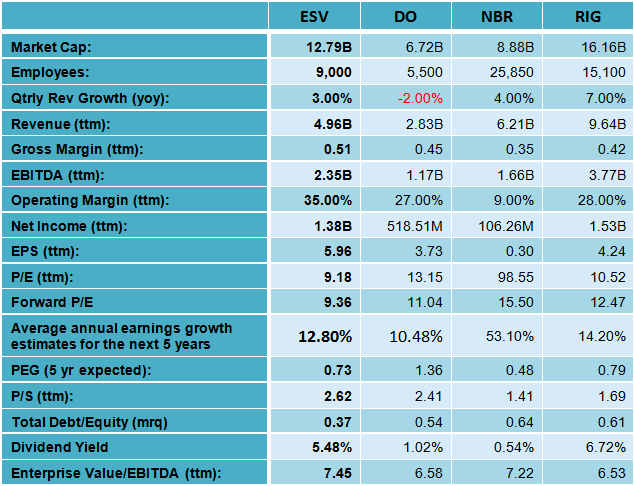 Ensco has the lowest P/E ratio and the lowest debt-to-equity ratio among the stocks in the group, however, its price-to-sales ratio is the highest.
ESV's Margins have been much better than its industry median, its sector median and the S&P 500 median, and its competitors as shown in the charts below.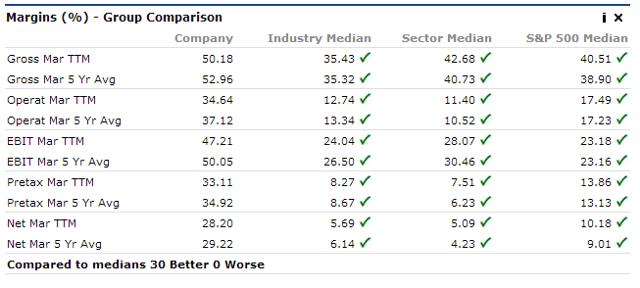 Source: Portfolio123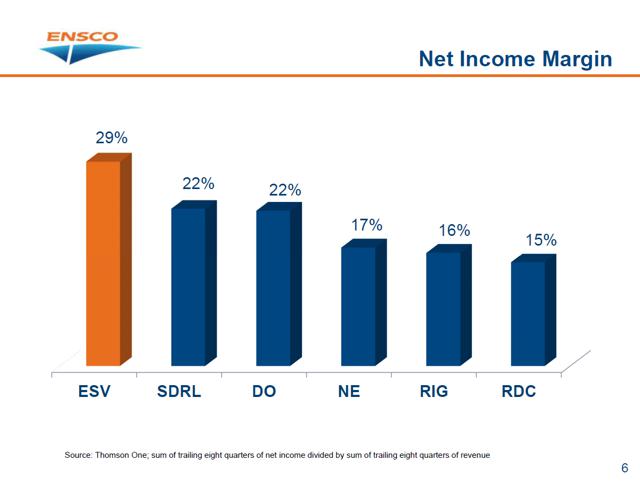 Source: Investor Presentation
Ranking
According to Portfolio123's "All-Stars: Buffett" powerful ranking system, ESV's stock is ranked second among all S&P 500 energy stocks, only Chevron Corporation (NYSE:CVX) has a better ranking (see my SA article about CVX).
The "All-Stars: Buffett" ranking system is based on investing principles of the well-known investor Warren Buffett. The ranking system is quite complex, and it takes into account many factors like book value growth, operational P/E, price-to-book value, trailing P/E, price to tangible book value, price to cash flow and EPS stability. Back-testing over fifteen years has proved that this ranking system is very useful.
Technical Analysis
The charts below give some technical analysis information.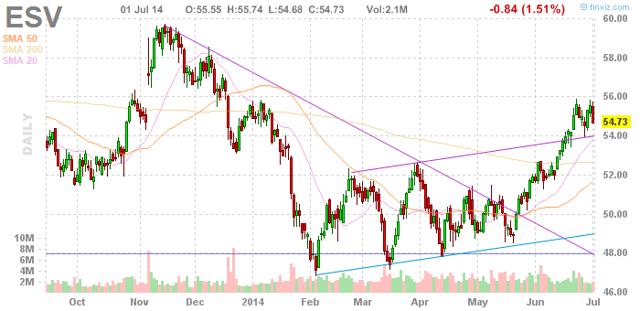 Chart: finviz.com
The ESV stock price is 1.91% above its 20-day simple moving average, 6.08% above its 50-day simple moving average and 3.92% above its 200-day simple moving average. That indicates a short-term, mid-term, and a long-term uptrend.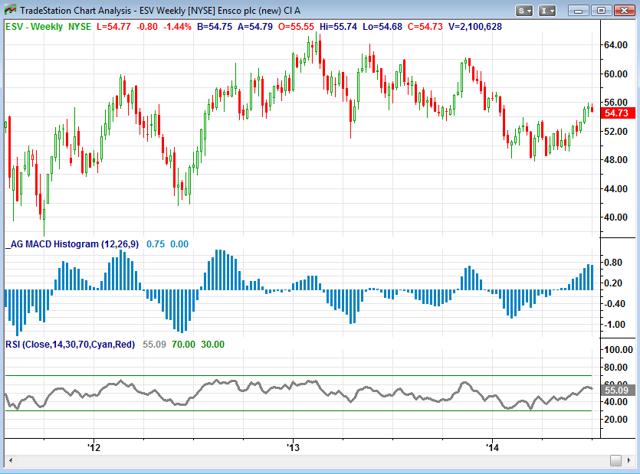 Chart: TradeStation Group, Inc.
The weekly MACD histogram, a particularly valuable indicator by technicians, is at 0.75 and ascending, which is a bullish signal (a rising MACD histogram and crossing the zero line from below is considered an extremely bullish signal). The RSI oscillator is at 55.09 which do not indicate oversold or overbought conditions.
Analyst Opinion
Many Analysts are covering the company but their opinion is extremely divided. Among the 36 analysts, only two analysts rate it as a strong buy, 3 rate it as a buy, 24 analysts rate it as a hold, 6 rate it as an underperform, and one analyst rates it as a sell.
TipRanks is a website that ranks experts (analysts and bloggers) according to their performance. According to TipRanks, among the analysts covering ESV stock there are only nine analysts who have the four or five star rating, one of them recommends the stock, and eight analysts have a hold rating on the stocks.
Major Developments
Although Ensco's stock has gained 13.1% from this year low of $48.14 on March 17, it has significantly underperformed the market in the last years. Since the beginning of the year, ESV's stock has declined 4.8%, while the S&P 500 index has increased 6.8%, and the Nasdaq Composite Index has risen 6.7%. Moreover, since the start of 2013, ESV's stock has lost 8.1%, while the S&P 500 index has increased 38.5%, and the Nasdaq Composite Index has risen 47.6%.
In June 2014, ESV ordered another new build drillship, due for delivery in 2015, at a total projected cost of $625 million. The new unit is of the same design as two others due in 2014. Ensco has the second newest ultra-deepwater fleet among its competitors, as shown in the chart below, even without considering the rigs under construction or on order.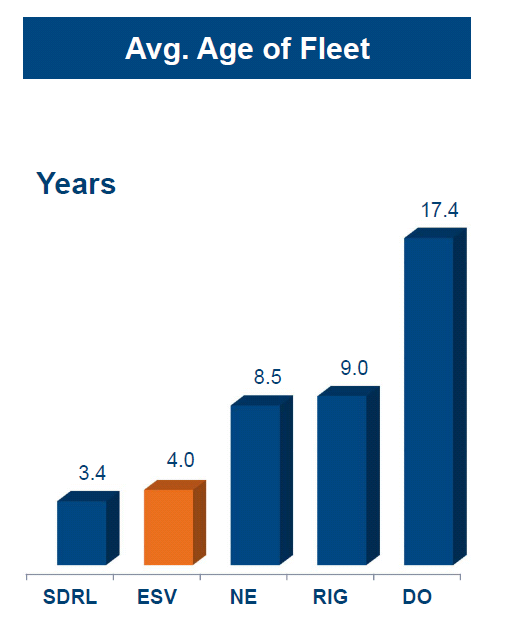 Source: Investor Presentation
Since new drillships are much more efficient and are getting better daily rate, this is a significant advantage for the company.
Oil and natural gas prices have been rising from the beginning of the year which should promote an increase in the demand for new explorations. WTI crude price has risen 15.6% from its low of $90.02 per barrel on January 09, 2014, to $104.02 per barrel on July 02, while Henry Hub natural gas price has risen 4.8% since the beginning of the year to $4.357 per Million Btu. Moreover, the turmoil in these days in Iraq can put in danger Iraq's 2.5 million barrels a day of exports and to cause another rise in the price of oil.
Since a greater percentage of oil is being discovered in extremely deep waters, where Ensco thrives, this will cause an increase in the demand for Ensco's ultra-deepwater rigs where the rental price is the highest (about $447,000 daily rate in Q1 2014). As for now, Ensco has $10 billion of contracted revenue backlog.
WTI crude August 2014 leading contract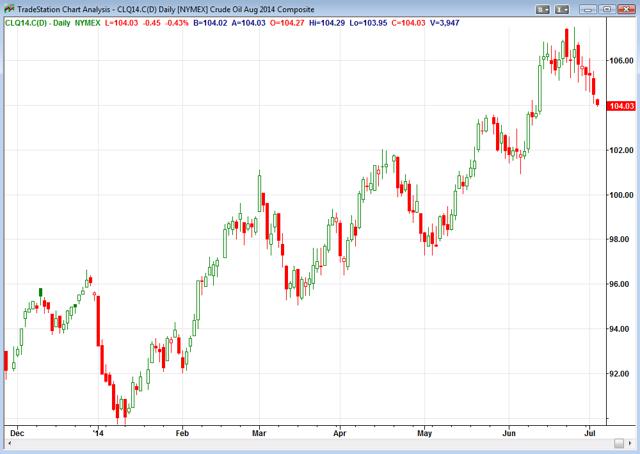 Henry Hub natural gas August 2014 leading contract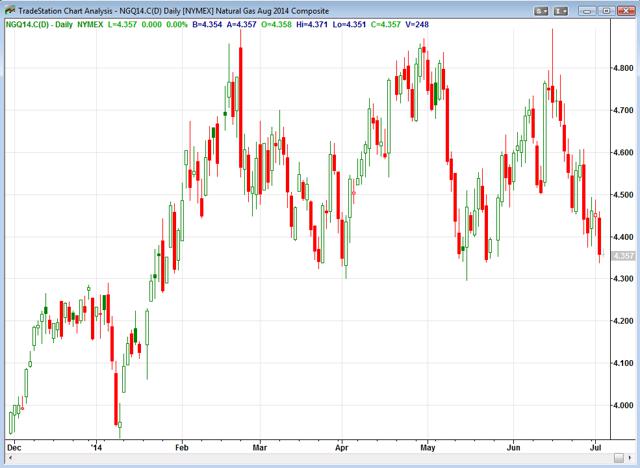 Charts: TradeStation Group, Inc.
Conclusion
Ensco will benefit from the rising prices of oil and natural gas. Ensco has compelling valuation metrics and strong earnings growth prospects; its PEG ratio is extremely low at 0.73, one of the lowest among high-yielding S&P 500 companies. Furthermore, it has the lowest trailing and forward P/E and the lowest leverage among its peers. All these factors lead me to the conclusion that ESV stock is a smart investment right now. Furthermore, the very rich growing dividend represents a gratifying income.
Disclosure: The author is long ESV. The author wrote this article themselves, and it expresses their own opinions. The author is not receiving compensation for it (other than from Seeking Alpha). The author has no business relationship with any company whose stock is mentioned in this article.