The Bureau of Labor Statistics may be getting ready to give traders an early Independence Day gift at 8:30AM EST on Thursday. A report from ADP Wednesday morning suggests that a huge jobs report could be around the corner tomorrow morning.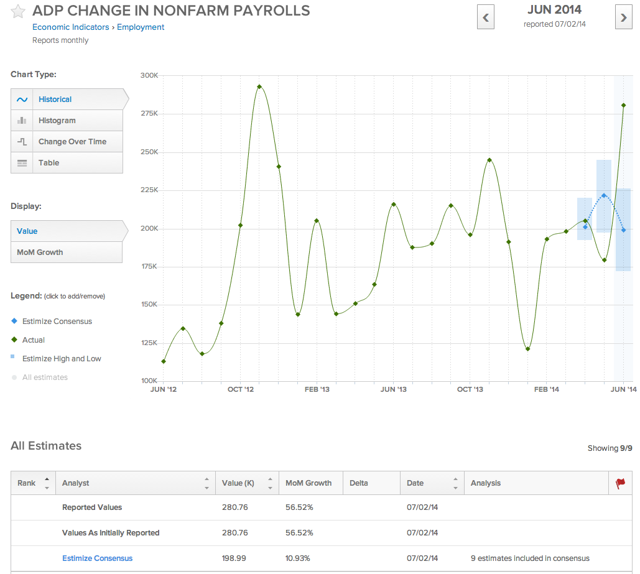 Source: Estimize.com
ADP released its jobs report Wednesday morning, estimating that 281K private non-farm jobs were added to the economy during June. The consensus from Bloomberg was for 213K additions to private payrolls while the Estimize consensus was 199k.
According to data from BullionVault since January 2011 the jobs report from ADP has been on average 33% higher than the report from the Bureau of Labor Statistics. Last quarter, however, the BLS reported 217K new jobs while ADP only accounted for 179k. This quarter contributing economic analysts on the Estimize.com platform are expecting an increase of 246K jobs in Thursday's report. The range of analyst estimates for the change in NFP spans from 190K to 323K.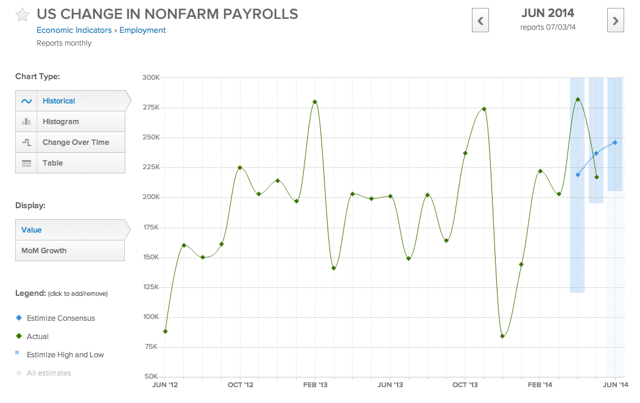 Source: Estimize.com
Analyst revisions on Tuesday morning were mostly bullish, with the consensus rising gradually from where it ended on Monday. The consensus expectation from Bloomberg for the BLS jobs report is for only 211K jobs to be added, an estimate well below the Estimize consensus of 246K. At 8:30 we will see if BLS jobs number can surpass the ADP report for the second consecutive quarter. Click here to submit your own prediction for this morning's jobs report.