The price of gold has bounced back nicely since hitting lows of $1,180 an ounce in July of 2013, and then testing that bottom in January of 2014. Since then, the price has more or less traded in a range of $1,200 to $1,400 an ounce, but currently threatens to break out of that trading range and burst higher.
Here are a few reasons why I think gold is due for a further rally, and a few of my favorite mining stocks that provide leverage to an increase in the price of gold. If gold does in fact break out to $1,500 an ounce, I believe these stocks will provide investors with returns of at least 50-75%, providing 5x leverage to gold.
1. Strong technicals: Gold has risen back over its 200-day moving average, with the 50-day moving average also crossing over the 200-day - this is known as the "golden cross," and it is considered a very bullish technical indicator.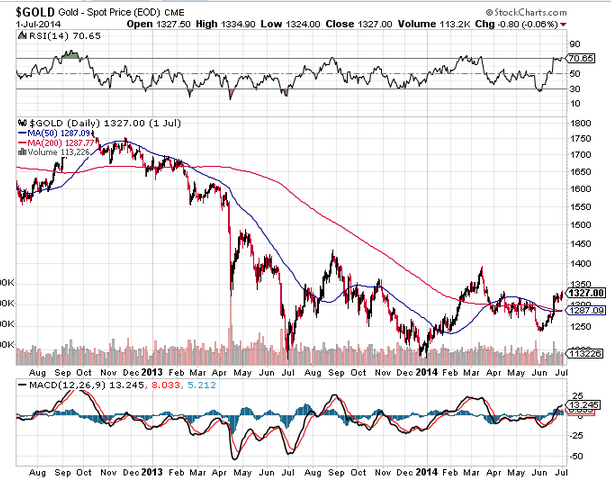 While gold is nearing overbought territory in the short term and a small pullback could be in store to the $1,300 region, I believe that the technicals are telling us a bigger rally is in store.
According to Investing.com's technical analysis, gold is currently rated as a "strong buy" in the daily column - on the moving averages, there are 12 buy signals and 0 sell signals, and on the technical indicators, there are 9 buy signals and 0 sell signals.
Another person who is bullish on gold based on the technicals is John Bollinger, who created the "Bollinger Bands" technical analysis. In an interview with Yahoo Finance, Bollinger said he thinks gold has been building a base since 2011 and said there's been "a lot of bullishness building up."
2. Entering a Period of Strength for Gold Prices
Have you ever wondered how gold performs, on average, each month of the year? Gold finished June up more than 6%, but June has historically been a weak month for the yellow metal, with an average monthly negative gain since 1975.
As you'll see in the chart below, we are about to enter one of the strongest seasons for the gold price. On average, gold has risen slightly in July, .6% in the month of August, and more than 2% in the month of September (its strongest month, on average). December also happens to be a very strong month for gold, rising 1.53%, on average, from 1969-2010. Gold investors could be looking at some big gains in the coming months, if history is any guide.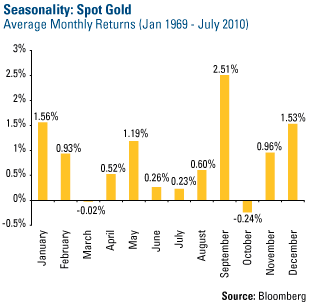 3. Gold Demand in Asia Will Rise
China and India alone account for 70% of the world's gold demand - last year, China's gold demand topped 1,000 tonnes for the first time, making them the world's #1 gold buyer, while India imported 975 tonnes.
Last year, China consumed 1,176.40 tonnes of gold, which was more than double the previous year. However, in the first quarter of this year, China imported "only" 263.2 tonnes, or 1,052 tonnes of gold on an annualized basis.
This is an incredible amount of gold to import, but some reports took this small decrease in demand compared to last year as a negative for gold. In reality, this is only due to the incredible amount of demand for physical gold in China in the first quarter of 2013, as the price dropped to less than $1,220 an ounce, hitting a low of $1,180 an ounce, while gold hit $1,350 in the first quarter of this year. There is only less demand this quarter because the price is higher - so if the price of gold drops, gold investors should expect demand to pick up, as the Chinese see it as a buying opportunity.
Here's a simpler way to put it: if you had $1 million to invest in gold in both the first quarter of this year and last year, how much gold could you buy? At $1,350 an ounce, you could buy roughly 74,000 ounces. At $1,200 an ounce, however, you could buy more than 83,000 ounces - the same dollar amount was invested, but at different prices.
As the Chinese middle class continues to grow, I only expect demand for gold to grow as well. According to the World Gold Council, gold demand in China should rise about 25% over the next four years. This would put China's total gold imports per year over 1,250 tonnes.
3 Gold Miners to Play a $1,500 Gold Rally
Here are three gold miners that could outperform both the metal and other gold miners (NYSEARCA:GDX).
#1 Allied Nevada Gold Corp. (NYSEMKT:ANV)
Allied Nevada Corp. is a Nevada-based gold and silver producer operating the Hycroft Mine. For the full-year 2014, production of 230,000 to 250,000 ounces of gold and 1.7 to 2 million ounces of silver is expected. The Hycroft mine is massive, containing reserves of 10.6 million ounces of gold and 467 million ounces of silver (or 45 million gold equivalent ounces).
Allied Nevada currently has a market cap of just $396 million, which seems very small given the company's massive resource base. In fact, the market is currently placing a value of $31 per ounce on its resources (EV/total resource ounce), which is far lower than its peers, as you'll see in the chart below.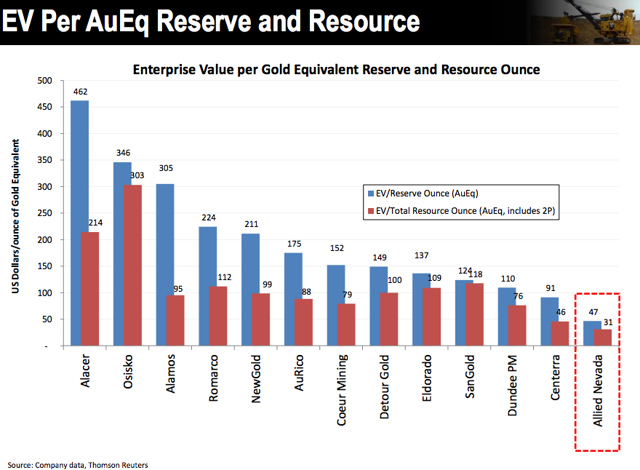 Perhaps the biggest reason for the undervaluation is due to the company's very high debt balance, with $494 million in non-current debt and $699 million in total liabilities.
A higher debt loan means more leverage, plain and simple. Allied Nevada also has a pretty tight share structure, with just 104 million shares outstanding. This means if gold were to rise much higher, it is likely that the share price should also follow suit.
You'll see from the stock chart below that Allied Nevada is trading just under its 200-day moving average. However, if gold breaks out to $1,400 or higher, I have no doubt that Allied Nevada would follow, perhaps trading as high as $6-$7 a share.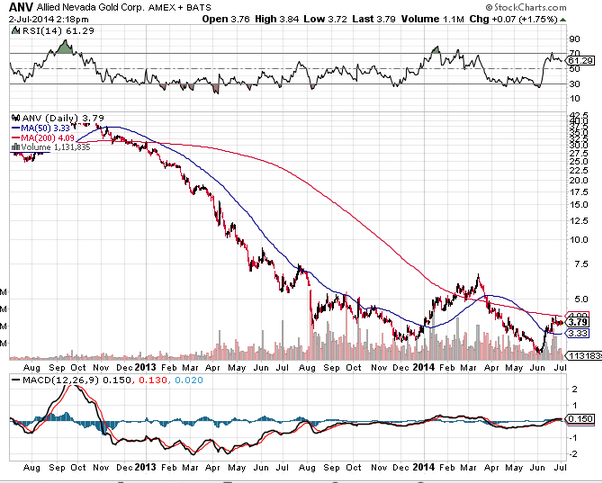 In the long term, Allied Nevada's debt is certainly a risk; however, with $49 million in cash and a revolving credit facility of $75 million, plus the recent sale of non-core assets of $20 million, the company should not be in any danger in the short term, in my view. In total, the company has a total of $365 million in current assets, compared to just $151 million in current liabilities.
Cash costs at Hycroft are somewhat high, with adjusted costs expected in the range of $825 to $850. However, for the first quarter of 2014, Allied Nevada reported cash from operating activities of $23.7 million, reporting positive net income of $332,000. With a higher gold price, Allied Nevada could surprise some analysts and report increased profitability and better-than-expected earnings.
Another possible catalyst for an increase in the share price is the completion of a feasibility study on the expansion of the company's mill, due in the fourth quarter of this year. The expansion pre-feasibility showed positive results, with production estimated at 449K ounces of gold for the first five years and 21 million silver ounces, for a total gold equivalent production of 799K ounces, with projected all-in sustaining costs of just $775-$800 an ounce.
#2 Alacer Gold Corp. (OTCPK:ALIAF)
Alacer Gold Corp. carries much less risk than Allied Nevada, in my opinion - the company has a very conservative balance sheet, with $292 million in cash and $357 million in current assets, compared to just $49 million in current liabilities and zero long-term debt. Alacer's total assets equals $700 million, minus total liabilities of $79.5 million for shareholders' equity of $621.1 million. The company also pays an annual dividend to shareholders, of $.02 per share.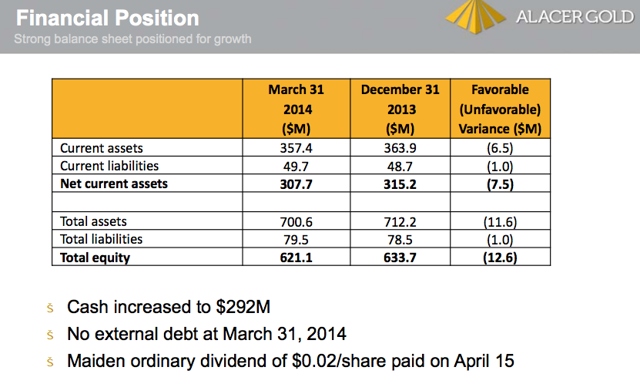 Alacer owns and operates the world-class, heap-leach Copler gold mine, which contains measured and indicated ounces of 8.5 million (of which 3.6 million is in the higher-confidence proven and probable category) and inferred resources of 1.4 million ounces.
In 2013, the Copler mine produced 216,850 gold ounces at very low all-in sustaining costs of $864 per ounce. For 2014, the company is estimating 160,000 to 180,000 ounces, at impressive all-in costs between $730 to $780. This means that even if I'm wrong and gold plummets from current prices, Alacer will still be profitable. For the first quarter of 2014, Alacer reported net profit from operations of $14.8 million, at a realized gold price of $1,302.
Alacer recently announced the results of its definitive feasibility study at the Copler mine, for the processing of sulfide ore (in addition to the existing heap-leach operation). The results were fantastic, in my view; the company estimates life-of-mine production of 3.2 million ounces of gold at low all-in costs of $801 per ounce. The project requires initial capital of $660 million, so the company might have to take on some debt to complete it. However, the company expects payback to be achieved in 1.7 years and $1.6 billion in free cash flow generated over the life of the mine, so it would be worth the cost, in my opinion.
These estimates are all based on $1,300 gold; at this price, the project carries a net present value of $724 million (5% discount), which is nearly the company's entire market cap. However, any further increase in the gold price would just further increase the case for an investment: at $1,400 gold, the project has a net present value of $1.1 billion, and at $1,500 gold, the value jumps to $1.28 billion.
A construction decision on the sulfide project is expected in the first quarter of 2015; construction would then start the following quarter, with first production as soon as late 2017/early 2018. Alacer remains one of my favorite gold miners because of its low operating costs, solid balance sheet and future potential.
3. Goldcorp (NYSE:GG)
With a market cap of $22.18 billion, Goldcorp is by far the largest gold miner on this list. The company is forecasted to produce 2.95 to 3.1 million gold ounces in 2014; by 2016, that number is expected to jump to 3.7 to 4 million ounces.
The company is focused on producing gold at low cash costs in politically stable mining jurisdictions; as of 2014, 35% of the company's production comes from Canada and 33% from Mexico, which are two of the best places to mine gold in the world.
Like Alacer Gold, Goldcorp is a mining company with an exceptional balance sheet: the company has $1 billion in cash and equivalents, in addition to a $1.4 billion undrawn revolving credit facility, for total liquidity of $2.4 billion. According to the company, Goldcorp's net debt as a percentage of its market cap is the lowest among its peers, at just 12%. This puts Goldcorp in a terrific position to make accretive acquisitions going forward.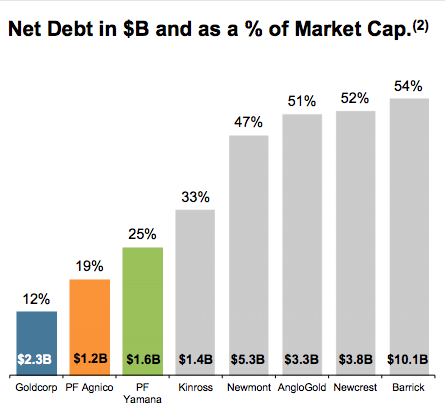 For the first quarter of 2014, Goldcorp produced outstanding results: the company reported all-in sustaining costs of just $840 an ounce on total production of 679,000 ounces. Adjusted net earnings were $634 million, or $.78 per share for 2013, with adjusted operating cash flow from operations of $1.6 billion for the year.
I like Goldcorp in the short term as the company builds its Eleonore project, which is targeted for first production in late 2014. Eleonore will only produce 40,000 to 60,000 ounces of gold this year, but that will increase to at least 575,000 ounces annually beginning in 2015. The project has a huge reserve and resource base, with 4.03 million ounces of gold in reserves and 4.10 million ounces in the inferred category, and considerable exploration potential still remains.
Another reason to like Goldcorp is the company's monthly dividend policy. Goldcorp pays out a dividend of $.05 per month, or $.60 per year, giving the company a current yield of 2.2%. In 2013, the company paid out $486 million in dividends to shareholders. By receiving a monthly dividend payment, you are basically being paid to wait for a higher gold price; smart investors should opt to re-invest that dividend every month for bigger gains.
Disclosure: The author is long ALIAF. The author wrote this article themselves, and it expresses their own opinions. The author is not receiving compensation for it (other than from Seeking Alpha). The author has no business relationship with any company whose stock is mentioned in this article.
Editor's Note: This article discusses one or more securities that do not trade on a major U.S. exchange. Please be aware of the risks associated with these stocks.