Buy Pick of the Day: Safeway Inc. (NYSE:SWY)
Analysis: This one is not super difficult to figure out for us. For one, the market is looking extremely strong to open higher among many sectors after surprisingly good earnings from a number of companies. Only one company out of the thirteen that reported today and last night missed their EPS estimates. Early signs look positive for another round of positive quarterly earnings in QE3. The strong market has drove up futures for most companies and should take them higher throughout the day.
In addition, the market should continue to be boosted by the Fed's commentary that there will be quantitative easing. One company that should benefit from the market's movement and has its own abilities is Safeway. The company is a discount grocer that operates throughout the country. They are scheduled to report earnings tomorrow morning with an EPS of 0.31. Of all the reporting companies tomorrow, they are the only one that has an RSI below 50. They should be able to get some nice movement off of pre-earnings movement throughout today since things are looking positive.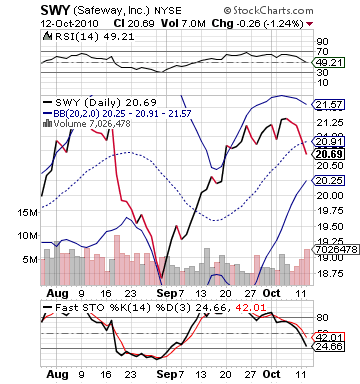 The company does not trade in pre-market, so it is tough to tell where it opens. If the company opens 1-2% higher, it will still have 3-4% movement to its upper bollinger band. The company is note expecting year-over-year EPS growth, but that does not mean that investors won't enter the stock today. The stock is undervalued on RSI, closer to its lower bollinger band, and heavily oversold. The stock has declined for four straight sessions, and most sellers are now on the sidelines.
I like Safeway to make a move this morning and break out of its current slump with the surprising numbers we saw this morning.
Get in early and watch for early movement followed by slow movement throughout the rest of the day.
Entry: We are looking to enter at 20.75 - 20.95.
Exit: We are looking to exit for a 2-3% gain.
Stop Loss: 3% on bottom.
Disclosure: No position