I originally wrote about Marathon Patent Group (NASDAQ:MARA) about a year ago when the stock was around $5/share. Since that time, the stock price has done extremely well and recently hit a record high of $11.75. While some people would be thrilled with that type of return over the last year, I believe it is just the start of what is most likely going to become a huge multi-bagger over the next few years. For those not familiar with Marathon, there is an excellent June Investor Presentation on their website that is very informative. Here are a few of the highlights from the presentation:
Owns 13 unique portfolios that covers the following technology areas and industry sectors: natural language processing, automotive, chip design/configuration, cable and satellite, medical tech, chemical/pharma, search, network detection/intrusion prevention
Diversified portfolio owning 71 US and 90 foreign patents
Generating revenue with 5 of the initial 7 enforcement campaigns and now has 12 active enforcement campaigns with about 90 active suits (defendants) including Microsoft, LinkedIn, Twitter, Mercedes, Porsche, and BMW among many others large corporations.
According to their website, "Marathon Patent Group is a patent and patent rights acquisition and licensing company. The company acquires patents and patent rights from patent holders ranging from individual inventors to Fortune 500 companies. The company's strategy consists of acquiring patents that cover a varied scope of subject matter that allows them to achieve diversity within their patent asset portfolio. They generate revenue with their diversified portfolio through actively managed concurrent licensing campaigns. This unique approach is intended to lead to a long-term, diversified revenue stream."
In its peer group are companies like Acacia Research (NASDAQ:ACTG), VirnetX (NYSEMKT:VHC) and Vringo (VRNG). Of those three, the company they most closely resemble could be considered Acacia who has a broad portfolio of Intellectual Property and generates revenue through engaging in many simultaneous licensing campaigns. VirnetX and Vringo are more generally limited in that they have specific portfolios that they are monetizing and their payoffs can be multi-million if not potentially billion dollar opportunities if they should ultimately pay off. While they and other IP companies can often be considered to be dependent on binary events, Marathon mitigates this risk to its shareholders through owning a diversified portfolio of patents being monetized through a myriad of different simultaneous suits.
Marathon's initial focus back in early 2013 was acquiring proven revenue generating IP that would be used to generate revenues and cash flow while building a much larger broad base of Intellectual Property. They quickly established a strong foundation to build upon and have never looked back. Having quickly accomplished that a recent article on Marathon, Update on Marathon Patent Group, indicated some current litigation with Apple that involves its Siri voice recognition technology could prove to have homerun potential just like VirnetX and Vringo, providing a real "blue sky" opportunity. If it goes to trial, and I believe that highly unlikely due to Apple settling, it will probably be in 2015, not far off.
One way to understand just how impressive Marathon's execution over the last year has been is to simply note that just a short year ago in their first quarter they generated no revenue. Meanwhile, in this year's first quarter they generated a record $2.7M and that was 132% higher than the fourth quarter's $1.1M and they recorded a non-GAAP net income of $854,000 and non-GAAP earnings per share of $0.16. I believe their second quarter could see approximately 50% sequential growth in both revenues and earnings.
Recently in an investor presentation, it said the company's goal was for over $100M in revenues down the road. What's more impressive is where the company has come in just the last 12 months. Considering this amazing past progress and performance, it's not hard to imagine where it could be a short year from now. Just a year ago, the company had 3 portfolios and less than 50 patents. From that year, they have now grown to over 13 unique diversified portfolios with 160 patents and almost 90 active suits proceeding.
Besides being run by CEO Doug Croxall, one of the most impressive and driven executives I've ever seen run a public company, there is little doubt that Marathon's strategic relationship with IPNav, the world's foremost IP monetization service and Marathon's largest shareholder, is bringing high quality opportunities that can be readily monetized to the table. This type of explosion in portfolios and patents will only continue in the future as the company has no debt and what must be at least $7M in cash.
To understand why I think Marathon has significant upside in the next few years, let's look at a table of the other IP plays that have been mentioned.
| | | | | | | |
| --- | --- | --- | --- | --- | --- | --- |
| Company | Market Cap | Peak Market Cap last 2 years | Revenue (TTM) | Shares Outstanding | Cash/share | Operating Cash flow |
| Acacia Research | 857M | 2B | 66M | 50M | $4.57/share | (40M) |
| VirnetX | 926M | 2B | 2.15M | 51M | $0.6/share | (7.89M) |
| Vringo | 294M | 400M | 1.35M | 86M | $0.32/share | (27M) |
| Marathon Patent Group | 61M | 61M | 6.2M | 5.49M | $1/share | 500K |
Data from Yahoo Finance.
Each of these stocks has market caps that are at a minimum 5X Marathon's. As mentioned, Acacia is the one closest to Marathon in terms of business model. One way to look at its valuation is by looking at revenues and it sells at around 13X revenues and is in no way close to making any money as seen by the negative cash flow. My best guess is Marathon will do over $20M in revenue over the next 12 months which would in theory equate to a $260M market cap or almost $50/share. Of course based on the latest quarter, Marathon will be highly profitable and generating meaningful earnings per share if they do $20M in revenues. On $20M in revenues, they'd likely drop close to $10M straight to the bottom line. The $20M estimate is based on a 50% quarter-over-quarter growth rate and using the $2.7M for the first quarter. Already in the second quarter they have had a significant number of settlements to support that number. That would give a $4M target for Q2, $6M for Q3 and $9M for Q4. Of course, with all IP plays it is very difficult to get consistent estimates as each quarter can have wide swings based on size of settlements. The growth, as mentioned above, was 132% from last year's fourth quarter to this year's first quarter.
Marathon's incredibly low SG&A, high scalability and low share count equals huge earnings leverage. Of course as mentioned above, VirnetX and Vringo are different than Marathon because they have that huge homerun hit or miss possibilities predicated on a binary event. There is more of a speculative premium in the shares for this reason. However, now with Marathon's case with Apple, as mentioned in the earlier cited article, I think Marathon also now offers the best of both worlds having some of that same explosive potential having just received a very favorable Markman ruling, but also offering an equally strong annuity like model that should provide continued consistent revenue and earnings growth.
Another asset and piece of the Marathon opportunity that is in no way priced into its current market cap is the coming launch of Opus Analytics. This is a commercial version of IPNav's analytics platform that will be available for use by IP professionals. This tool could generate potentially significant revenues for Marathon providing companies an effective and proven tool to evaluate the potential value and strength of their IP portfolios. The commercial version should launch by Q4 of this year and is no way factored into the current inexpensive valuation in my opinion.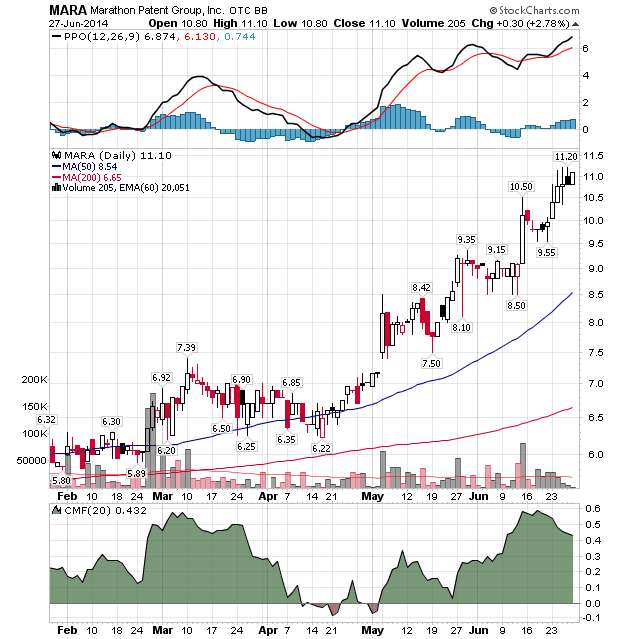 Chart courtesy of stockcharts.com
While market caps of similar companies and revenue multiples of industry competitors can be one way to try and judge what a stock's potential might be, what really ultimately drives a stock is catalysts. Here are just a few catalysts I think will happen in the next few quarters to drive Marathon much higher in price:
1) 2nd quarter numbers - I estimate approximately 50% sequential growth in both revenues and earnings.
2) Possible uplisting to a major exchange - Company appears to meet all requirements and could happen in next few quarters.
3) Launch of Opus Analytics - High revenue generation with extremely high margins by Q4.
As has been mentioned before, Marathon brings the best of all IP worlds together, with best of breed management, in one stock by having revenue generating IP portfolios and homerun potential with the Apple Siri trial and a growing list of other blue sky opportunities.
Now they will also be introducing a potential high margin revenue generator software tool for other companies to use. Of course, one thing to keep in mind about all the other IP companies mentioned above is that while they all sport significantly higher market caps than Marathon does today, they at times in just the last 2 years had market caps many times higher than current. This was based on investor speculation and can be used as a good example of what can happen; especially when many of the shares are tightly held like is the case with Marathon having only approximately 8M fully diluted shares outstanding with insiders owning sizeable positions. So even though the current target may seem high, it would also seem that an even higher target could be reached should the right pieces ultimately fall into place over the next 12-18 months.
One of the risks for any IP company has been the recent attempts at patent reform. While once again not seeming to get any real traction, there is always a chance it could impact companies down the road. Another risk area for any IP company is patent life. Patents filed before June of 1995 are either good for 17 years from date of issue or 20 years from date of filing. One of their first portfolios they acquired in June of 2013, the Relay-IP (5,331,637) portfolio, was published in July of 1993 so it was expiring very quickly. Marathon immediately filed 10 lawsuits and nine of those companies have already agreed to terms and paid Marathon to settle the lawsuits and not litigate. There is only one remaining case of the original 10 that has not settled. Terms of the settlements were not made public but are in the revenue streams for the quarters they occurred. Of course, in the last year they have also greatly expanded their portfolios and this is not an issue on any of the other 12 portfolios they own since none of those patents expire in the next few years.
In closing, I won't be surprised in a year or so if Marathon Patent Group is trading at $50 a share. In fact, I am expecting it. This is based on similar to market cap revenue multipliers like Acacia and the high market caps like VirnetX and Vringo based on potential large dollar settlements. Having invested in small companies for the last 25 years, rarely if ever have I found an early stage opportunity like Marathon, they are truly few and far between. Quality assets, quality management and strong financial performance are always key drivers of creating shareholder value and this company has them all.
Disclosure: The author is long MARA. The author wrote this article themselves, and it expresses their own opinions. The author is not receiving compensation for it. The author has no business relationship with any company whose stock is mentioned in this article.
Editor's Note: This article covers one or more stocks trading at less than $1 per share and/or with less than a $100 million market cap. Please be aware of the risks associated with these stocks.