"This was part of ongoing research companies do to test different products, and that was what it was. It was poorly communicated. And for that communication we apologize. We never meant to upset you."

- Facebook COO Sheryl Sandberg
It's now been just about a week since the headlines regarding Facebook's (NASDAQ:FB) "psych experiment" made their way around Wall Street and the news. Users on Facebook and Twitter (NYSE:TWTR) vented on social media (yes, ironically, on Facebook) - but investors and analysts don't seem to care much. It certainly would be hilarious if this was all "part of the plan" for Facebook to upset people, wouldn't it? Aside from that, it would have proved to have worked.
For those of you that have been living under a rock for the past week, Facebook is under fire for a 2012 study that it partook in with about 700,000 of its own Facebook users. The purpose of the study was to see if Facebook could eventually alter the mood of those using it; thus getting the user to post content accordingly on Facebook. The study was to try and see if emotions, like videos and photos, can also wind up "going viral" and spreading themselves across the social media platform.
Users weren't told about the study itself, but the general consensus is that changing people's news feeds is part of the user agreement you sign when you first sign up as a Facebook user.
Like a biotech that just missed Phase III results, the company is now in the midst of dealing with many fruitless potential lawsuits and legal backlash coming from the incident, which occurred two years ago. The Huffington Post reported that Facebook's European headquarters is in Ireland, and that they've potentially infringed on the law there:
Jones said it was too early to tell exactly what part of the law Facebook may have infringed. The company's European headquarters is in Ireland.

The Commissioner's Office monitors how personal data is used and has the power to force organizations to change their policies and can levy fines of up to 500,000 pounds ($839,500).
AP also echoed sentiments that British regulatory authorities are investigating the social media giant, as well:
The Information Commissioner's Office said Wednesday that it wants to learn more about the circumstances underlying a 2-year-old study carried out by two U.S. universities and the world's largest social network.

The inquiry is being coordinated with authorities in Ireland, where Facebook has headquarters for its European operations, as well as with French regulators.

This is just the latest in a string of incidents that have raised questions about whether the privacy rights of Facebook's nearly 1.3 billion users are being trampled by the company's drive to dissect data and promote behavior that could help sell more online advertising.
Of course, Facebook offers up to you all the different ways in which it could potentially use your data before you sign up. Like almost every other sign-up disclaimer, users promptly check the "I Agree" box without reading the attached legalese, and push forward with their sign-up. That behavior, no study needed, has become internet commonplace for those who have been using the internet for years.
Can I say that I'm surprised by this study? Not exactly.
In this day and age, technology companies are based solely on the data that they can collect from their users. A "free" service like Facebook has to be paid for somehow - and that's done by Facebook monetizing its user data - whether it's for advertisements or other reasons. Believe it or not, Google (NASDAQ:GOOG) (NASDAQ:GOOGL) and Apple (NASDAQ:AAPL) - both companies that also have enormous amounts of user data - likely conduct similar experiments. The number of them that make their way into the headlines, however, is probably few and far between.
And let us not forget the age-old rule about the internet: anything you put out there about yourself can, in essence, wind up anywhere. In the age of issues like the Target (NYSE:TGT) user data breach, the internet has simply turned into a massive pool of everyone's data - names, addresses, phone numbers, sexual preferences, bank accounts, social security numbers - it's all out there.
I'm sorry, but in Facebook's case, I don't see this "experiment" as any more than a new product test.
And to be honest, with all the outrage that we've been hearing about, the stock hasn't much seemed to notice either: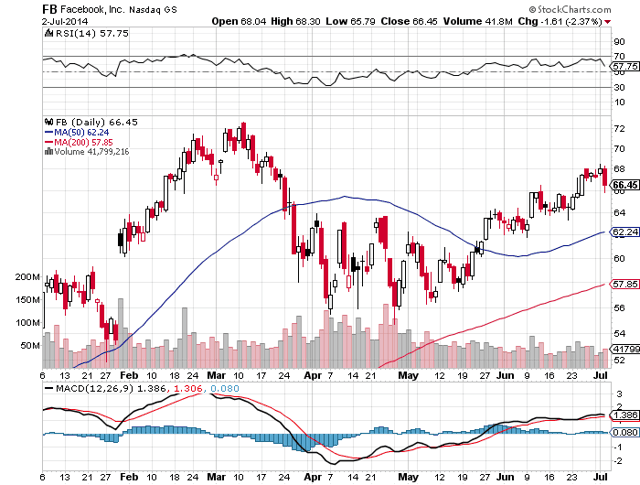 Click to enlarge
When the news dropped a couple of days ago, Facebook was in the midst of a trend upward from lows around $58. It's continued that trend, easily keeping above its 50-DMA and marching upward towards that coveted $72 level once again. Facebook looks to have the momentum of its last earnings report behind it still, as we head into Q3.
While I've since sold out of my position in Facebook for the time being, I can't say that this "scandal" would have even moved the needle for me. In terms of personal usage of Facebook at home, you're on your own to decide what you want to do.
Do I think this will affect traffic for Facebook? Absolutely not.
Do I think this issue is going to have repercussions on the company's stock price eventually? Absolutely not.
Do I think something more than a small slap on the wrist will come from any of these regulatory probes? Absolutely not.
I believe this to, once again, be a case of much ado about nothing that the public is getting itself hyped up over. And if you'll excuse me, I have to go update my Facebook status.
Best of luck to all investors.
Disclosure: The author has no positions in any stocks mentioned, and no plans to initiate any positions within the next 72 hours. The author wrote this article themselves, and it expresses their own opinions. The author is not receiving compensation for it (other than from Seeking Alpha). The author has no business relationship with any company whose stock is mentioned in this article.