By Steven Carroll
Let's take BlackBerry (NASDAQ:BBRY) first, looking at the "will they/won't they" question hanging over its continued relevance in the smartphone market. This writer wishes they'd find some way to license their keyboards, since writing an email is one of the few functions that was easier 10 years ago than on the current generation of smartphones (and yes, I am including swipe functionality, before an army of techno geeks head for the comments area).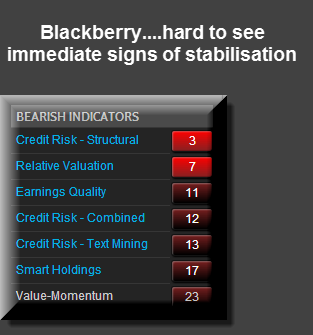 Jammed signals
The company's plight can be neatly summed up by the chart below, showing its profit margin beginning to deteriorate in 2011 and then accelerating into something truly depressing. At this point, the only sign of stabilization is an increase in analyst recommendations (now up to two buys and four holds) and EPS upgrades (though EPS remains negative in FY1to3).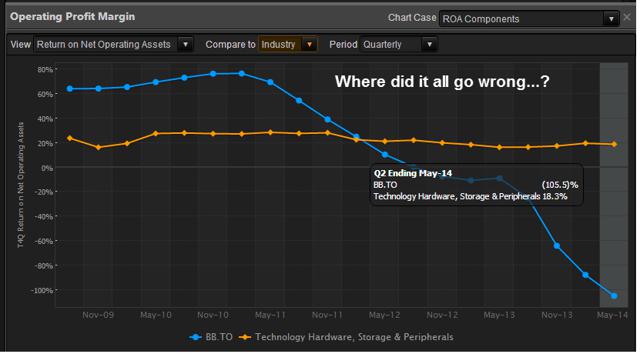 Click to enlarge
Obscure outlook
BlackBerry remains a difficult stock to evaluate in an industry brimming with strong competitors [oh, hello Amazon (NASDAQ:AMZN)] with deep pockets and much stronger retail brand recognition. As someone who remains enamored with their keyboards, I hope they have identified a path to salvation.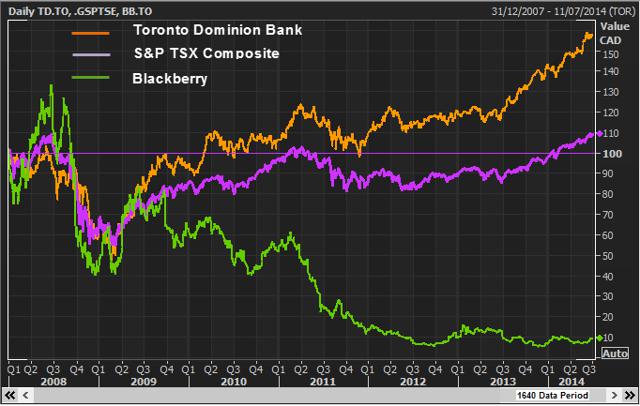 Click to enlarge
Equity fireworks
Let's turn now to a stock that seems to do no wrong - Toronto-Dominion Bank (NYSE:TD). TD and BB have clearly diverged since the financial crisis, with TD now having far exceeded most of its peers and certainly putting BB to shame. Both reacted similarly to the crisis, with tight correlations throughout 2008 and the first half of 2009, however the subsequent divergence never unwound.
While TD operates internationally, it's clear that the primary driver of success remains its performance in the Canadian (or North American) market. However, BlackBerry is exposed to the brutally competitive global smartphone market - and doesn't have the tailwind of a regulator who'll drop interest rates to assist its domestic market (and keep a nice steep yield curve to benefit any firm that borrows short and lends long). The StarMine scores definitely reflect TD Bank's comfortable situation.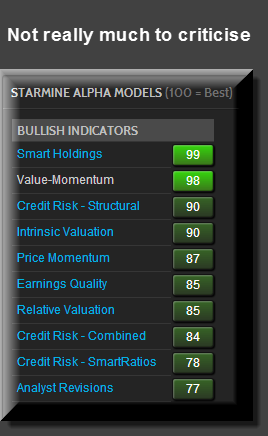 Yin and yang
Taking the comparative theme out to the industry or sector level, it's interesting to ponder the different levels of innovation in the financial services versus smartphone/IT industries. Innovation is rarely as sudden and game-changing as in the telephony sector, but there is little to separate the products offered globally by any bank. The industry seems comfortable with evolution rather than revolution. In such an environment, it seems that the best macro-prudential regulator, rather than the biggest risk taker or innovator is going to win. Only one other country could conceivably claim the title of "best regulated" - Australia.
TD also looks attractive from an intrinsic value perspective - with the current price implying a five-year EPS compound annual growth rate of 2.6%, versus 7.6% which was the CAGR achieved over the last five years. No bank can escape the macroeconomic environment entirely, but TD (and Canada) appear to have steered their banks through the last crisis to the point where their former governor is the first non-Briton to be appointed governor of the Bank of England.
Risky business
In the end, it's often a question of style and appetite for risk. BlackBerry is a turnaround story with significant execution risk, competitors that can now out-innovate with enormous R&D investment and a tarnished brand that is heavily reliant on messaging and its remaining corporate spend. If it can find a way to positive earnings, that would be a major surprise against currently depressed expectations.
TD, on the other hand, has performed strongly for a multi-year period, and has strong scores across the board. For those with a lower risk tolerance, TD offers a solid dividend and a "sleep at night" approach to risk management that is the envy of its southern cousins. But for those looking for a stock that could really outperform given strong execution - BlackBerry will add some volatility to the portfolio. Of course, it could fall desperately into the arms of a suitor as its cash burn proves too great. Such a fate has befallen other former market leaders, and last year's M&A activity proves such a situation is plausible. So… choose your risk profile.
Disclosure: The author has no positions in any stocks mentioned, and no plans to initiate any positions within the next 72 hours.
Business relationship disclosure: Alpha Now at Thomson Reuters is a team of expert analysts that are constantly looking at the financial landscape in order to keep you up to date on the latest movements. This article was written by Steven Carroll, independent commentator and analyst. We did not receive compensation for this article, and we have no business relationship with any company whose stock is mentioned in this article.