Oracle Corporation (NASDAQ:ORCL) is a computer technology company that sells crucial database, application, and middleware software primarily to medium and large businesses worldwide. The company recently declared its fourth quarter earnings results and once again failed to beat analysts' estimates. However, the fourth quarter revenues were $11.3 billion, up 3% from the fourth quarter of the previous year but less than analysts' estimates of $11.48 billion. The company's reported adjusted EPS was $0.92, up 6% from last year but fell short of analysts' expectations of $0.95 per share.
Oracle's Recently-Ended Quarter's Performance
The company's performance missed the estimates, but that does not mean that there were no bright spots. The company's Software and Cloud segment's revenues went up 4% to $8.9 billion during the fourth quarter. Cloud software-as-a-service "SaaS" and platform-as-a-service "PaaS" revenues were up 25% to 322 million. In addition, Oracle's cloud infrastructure-as-a-service revenues were up 13% to $128 million during the fourth quarter. Oracle is moving towards a cloud-based subscription model under which revenue is recognized over the life of those subscriptions. This may cause a temporary decrease in top-line growth but over the long term, it should result in an even stronger and more predictable revenue stream.
Oracle Expanding its Cloud Network
Oracle's strength in on-premise database sales was offset by weakness in on-premise application software products caused by increasing adoption of Software-as-a-Service "SaaS" versions of these applications. Despite its strength in on-premise databases, reducing demand for on-premise software applications has weighed on overall new license sales. The growing demand for SaaS offerings has forced Oracle to focus on increasing its cloud footprint.
Oracle is nearing a deal to buy Micros Systems Inc. (NASDAQ:MCRS) for more than $5 billion to further expand its cloud network. Micros Systems manufactures services and enterprise information solutions for the global hospitality industry. The deal would reflect Oracle's continued cloud push and is in line with the enterprise software giant's cloud strategy. Through this deal, Oracle gets a new major stream of recurring revenue and all the data that Micros procured on its Simphony database through Oracle servers. Micros is already an Oracle database reseller. Oracle would now be working more directly with Micros customers like IHOP, Burger King, and Ben & Jerry's, as well as hotel chains like Hilton (NYSE:HLT), Hyatt (NYSE:H), and Marriott (NYSE:MAR). I believe that the deal would have a modest and positive effect on the company's sales.
Furthermore, the company has announced the acquisition of Corente on January 7th, 2014. Corente is a leading provider of software-defined networking (SDN) technology for wide area networks WANs. Coronet's software-defined WAN virtualization platform accelerates the deployment of cloud-based applications and services by allowing customers access to provisions and the ability to manage global private networks by connecting to any site in a secure, centralized, and simplified manner. Through this acquisition, the company is expected to deliver a complete technology portfolio for cloud deployments with SDN offerings that virtualized both the enterprise data center LAN and WAN.
In addition, Oracle recently acquired BlueKai, the leading cloud based big data platform that enables companies to personalize online, offline, and mobile marketing campaigns. I believe that Oracle will become a major player in the enterprise cloud computing market. Oracle's recent acquisitions of cloud-based software providers will help it to gain the market share in the enterprise cloud software market.
Global Spending on Cloud IT Services
The growing focus on cloud services as a business innovation platform will help to drive spending on public IT cloud services. It is expected that the enterprise spending on cloud services will reach $235.1 billion by 2017, triple the $78.2 billion spent in 2011, as shown in the following figure.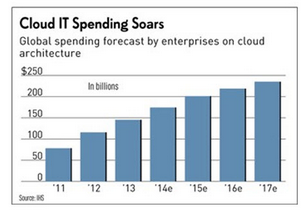 Source: IHS Research
In 2014, global business spending for infrastructure and services related to the cloud will reach an estimated $174.2 billion, up 20% from the amount spent in 2013. Oracle has a number of cloud application suites for its Fusion series that include Fusion Enterprise Resource Planning, Fusion Human Capital Management and Fusion Customer Experience.
In addition, it is also expected that the worldwide spending on SaaS based business applications market will grow at a CAGR of 19.5% over the next two years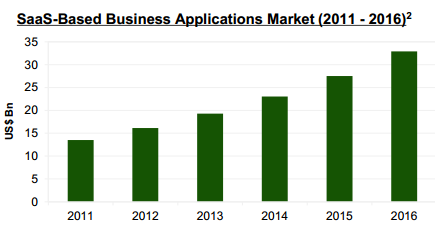 Source: CENTAUR PARTNERS
Conclusion
Oracle is one of the world's biggest sellers of business-oriented database programs and other software. Oracle has been moving rapidly into providing cloud services to keep its sales growing. While, Oracle's growth lagged in the fourth quarter its software and cloud business are growing rapidly. The company is well positioned to grow with its recent acquisitions and its future prospects are also looking favorable due to the worldwide increase in spending for cloud services. I believe that the company is a good candidate for long-term investment; therefore I will give this stock a buy rating.
Disclosure: The author has no positions in any stocks mentioned, and no plans to initiate any positions within the next 72 hours. The author wrote this article themselves, and it expresses their own opinions. The author is not receiving compensation for it (other than from Seeking Alpha). The author has no business relationship with any company whose stock is mentioned in this article.