Buffalo Wild Wings (NASDAQ:BWLD) offers an assortment of food and various beverages for customers, recently reaching a store count of 1010 store units. The business has been a fun ride for both customers and shareholders, but eventually investors need to have realistic expectations. I don't think, however, that the company is broken fundamentally since they consistently have a decent crowd especially during sports season.
Fundamentals
The market has been following fundamental metrics of the business like ROE and more specifically ROA to gauge how well store growth is doing relative to the capital it is investing. Since the two are partly connected, both managed to reach an all time high.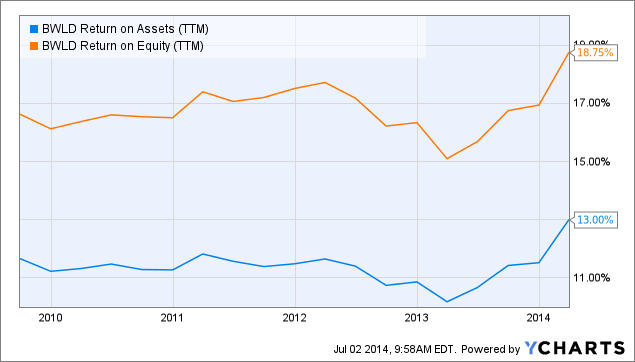 BWLD Return on Assets ((NYSE:TTM)) data by YCharts
This trend is likely not going to continue since management has discussed that they have reached their total market saturation target of 1,000 stores across the United States. Point being, sales revenue will be compressed versus prior years of clockwork store growth, and consequently so should EPS.
Right now, BWLD is trading at an earnings and forward multiple of 37 and 28, respectively. I would expect that the company should be growing at least around 22-23% annualized for this kind of valuation (but that is now the past). Now, analysts believe that the company will only grow between 18-21% at most going forward. Unfortunately, it remains slightly unclear as to why the market is pushing the valuation higher than other years when growth appears to be slowing. If we use expected EPS of $6.00 with aggressive 23% growth and 2% trailing, we get a fair value of $153.83. Given that BWLD has continued to outpace analyst estimates, in a way it does make sense to see it trading at its current levels. So, I guess as long as we continue to see positive surprises, the stock should naturally grind higher as it has done in the past. One thing I would like to point out, however, is that typically when things seem their "best" sometimes the company cannot exceed market estimates.
In line with estimations, I used 20% growth of the forward expectation of $6.00 with 2% trailing to get $137 fair value. This has been near the "common neutral" price level of $140 over the last year; that is about 10-15% downside. The most conservative would use no trailing growth and issue a potential fair value of $119. Below expected figures could develop an ugly trend sending equity value down sharply 15 to 20% in a short period of time.
Technicals
Overall, the stock has maintained a semi-strong relative uptrend, but long-term indicators suggest that its run may finally be up.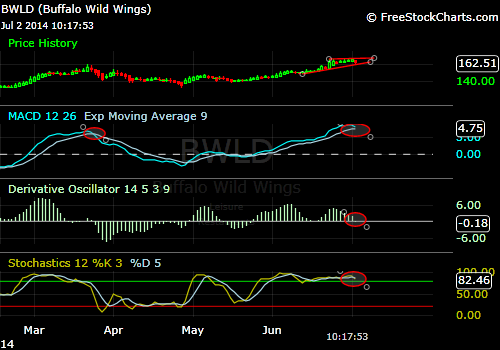 At the top is an ascending wedge, which classically breaks to the downside. MACD looks like it will confirm a break through its exponential moving average, suggesting a newly formed bearish trend. Derivative oscillator is almost below the zero point line which would transition price action into more choppy trading with limited relative strength. Stochastics is extremely overbought between 80-100 and it just fell below the moving average displaying that traders will want to exit their positions. Almost all technicals assume that the stock should have at least a little downside going forward, possibly down to the $138 support line.
Conclusion
Maybe the company will continue to surprise the market like it did last quarter, but I do not believe it will last forever. Valuation and technicals allude to the fact that the company is likely overpriced by 10-15%. If an unexpected catalyst is generated, the stock will move sharply lower. Today, BWLD is down 2% on the US-Belgium World Cup news, which could impact the coming quarter, but likely not since the world cup has provided a nice boost to sales already. Regardless, I would ultimately recommend avoiding a position in the stock, especially above the $155 level.
Disclosure: The author has no positions in any stocks mentioned, and no plans to initiate any positions within the next 72 hours. The author wrote this article themselves, and it expresses their own opinions. The author is not receiving compensation for it (other than from Seeking Alpha). The author has no business relationship with any company whose stock is mentioned in this article.