The following is a list of the top 15 biotech stocks in terms of the Put/Call ratio, which measures the number of open call option positions relative to the number of open put option positions.

Of all the biotech stocks, these companies have the lowest Put/Call ratios, i.e. the highest level of bullish sentiment in the options market.

To give more perspective on investor sentiment, we'll also list data on short float and performance.

Options data sourced from Schaeffer's, short float data sourced from Finviz.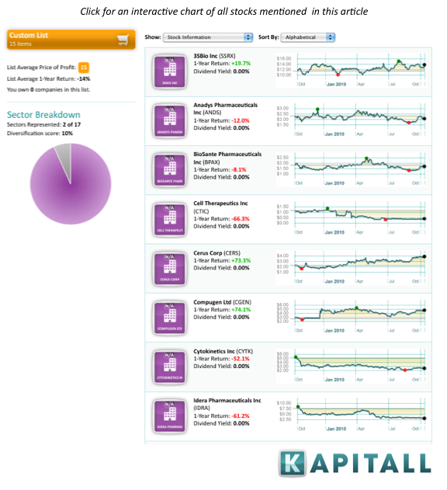 The list has been sorted by the Put/Call ratio.

1. Trimeris Inc. (NASDAQ:TRMS): Market cap of $56.99M. Call open interest at 2,968 contracts vs. put open interest at 10 contracts (Put/Call ratio at 0.003). Short float at 0.53%, which implies a short ratio of 3.23 days. The stock has lost -26.09% over the last year.

2. Marina Biotech, Inc. (NASDAQ:MRNA): Market cap of $56.24M. Call open interest at 1,594 contracts vs. put open interest at 12 contracts (Put/Call ratio at 0.01). Short float at 5.06%, which implies a short ratio of 18.48 days. The stock has lost -59.08% over the last year.

3. BioSante Pharmaceuticals, Inc. (BPAX): Market cap of $120.31M. Call open interest at 3,583 contracts vs. put open interest at 66 contracts (Put/Call ratio at 0.02). Short float at 8.05%, which implies a short ratio of 16.07 days. The stock has lost -8.65% over the last year.

4. Anadys Pharmaceuticals Inc. (NASDAQ:ANDS): Market cap of $89.01M. Call open interest at 1,369 contracts vs. put open interest at 36 contracts (Put/Call ratio at 0.03). Short float at 2.17%, which implies a short ratio of 6.92 days. The stock has lost -11.59% over the last year.

5. Cell Therapeutics, Inc. (NASDAQ:CTIC): Market cap of $288.22M. Call open interest at 3,069 contracts vs. put open interest at 80 contracts (Put/Call ratio at 0.03). Short float at 8.63%, which implies a short ratio of 29.71 days. The stock has lost -66.96% over the last year.

6. Idera Pharmaceuticals, Inc. (NASDAQ:IDRA): Market cap of $70.73M. Call open interest at 197 contracts vs. put open interest at 10 contracts (Put/Call ratio at 0.05). Short float at 1.96%, which implies a short ratio of 21.74 days. The stock has lost -60.91% over the last year.

7. 3SBio Inc. (NASDAQ:SSRX): Market cap of $287.66M. Call open interest at 3,188 contracts vs. put open interest at 162 contracts (Put/Call ratio at 0.05). Short float at 1.13%, which implies a short ratio of 3.16 days. The stock has gained 15.61% over the last year.

8. Medivation, Inc. (NASDAQ:MDVN): Market cap of $417.61M. Call open interest at 28,525 contracts vs. put open interest at 1,623 contracts (Put/Call ratio at 0.06). Short float at 10.79%, which implies a short ratio of 9.27 days. The stock has lost -56.9% over the last year.

9. RXi Pharmaceuticals Corporation (NASDAQ:RXII): Market cap of $58.97M. Call open interest at 2,603 contracts vs. put open interest at 169 contracts (Put/Call ratio at 0.06). Short float at 4.31%, which implies a short ratio of 3.92 days. The stock has gained 42.67% over the last year.

10. Compugen Ltd. (NASDAQ:CGEN): Market cap of $128.69M. Call open interest at 1,739 contracts vs. put open interest at 140 contracts (Put/Call ratio at 0.08). Short float at 2.28%, which implies a short ratio of 9.49 days. The stock has gained 69.89% over the last year.

11. Cerus Corporation (NASDAQ:CERS): Market cap of $150.54M. Call open interest at 1,112 contracts vs. put open interest at 128 contracts (Put/Call ratio at 0.12). Short float at 10.81%, which implies a short ratio of 14.96 days. The stock has gained 72.00% over the last year.

12. Talecris Biotherapeutics Holdings Corp. (NASDAQ:TLCR): Market cap of $2.9B. Call open interest at 46,579 contracts vs. put open interest at 5,917 contracts (Put/Call ratio at 0.13). Short float at 2.08%, which implies a short ratio of 3.17 days. The stock has gained 10.68% over the last year.

13. Vical Inc. (NASDAQ:VICL): Market cap of $123.75M. Call open interest at 4,911 contracts vs. put open interest at 633 contracts (Put/Call ratio at 0.13). Short float at 8.59%, which implies a short ratio of 7.43 days. The stock has lost -42.11% over the last year.

14. Cytokinetics Inc. (NASDAQ:CYTK): Market cap of $158.72M. Call open interest at 1,427 contracts vs. put open interest at 224 contracts (Put/Call ratio at 0.16). Short float at 3.89%, which implies a short ratio of 12.7 days. The stock has lost -51.95% over the last year.

15. Sangamo Biosciences Inc. (NASDAQ:SGMO): Market cap of $162.72M. Call open interest at 5,244 contracts vs. put open interest at 876 contracts (Put/Call ratio at 0.17). Short float at 9.08%, which implies a short ratio of 17.74 days. The stock has lost -49.22% over the last year.

Disclosure: No positions