By Chris McKhann
Shares of Great Atlantic & Pacific Tea (GAP) are down nearly 15 percent this morning, and option traders are apparently looking for even more downside.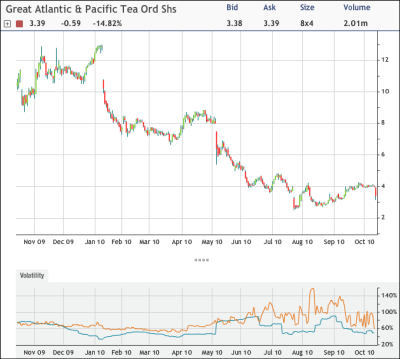 GAP, which owns A&P brand, has been selling supermarkets and looking for investors for its food emporiums. It trades down to $3.39 today with its earnings release a week away.
Today's plunge takes the stock back to where it was in mid-September. Shares were up at $13 in January and above $8 as recently as May.
optionMONSTER's systems show that 9,500 options have traded already this morning, 6 times the average for a full session, and fewer than 800 of those contracts are calls. Leading the volume are the May 2 puts, where one trader bought 4,104 for $0.50. The total volume is more than three times the open interest at the strike, so these are new opening positions.
It seems highly unlikely that these are protective puts given the move lower, so the buying is apparently positioning for even further declines, including a break below the multi-year low of $2.50 set in July.

Disclosure: No position