I first wrote about ARCA biopharma (NASDAQ:ABIO) in August, 2013, in the following article, ARCA biopharma Prepares For A Second Life. I considered the stock a value play and still do. Close to a year later, I thought it was a good time to revisit the thesis and analyze the company's progress. The graph of the stock's 10-year history looked like a death march when I first discovered the company. Several years prior, the company had failed its Phase III trial for atrial fibrillation, or AF for short. In 2013, a 1:6 reverse split and a highly dilutive capital raise further decimated the stock.
AF is a disorder in which the normally regular and coordinated contraction pattern of the heart's two small upper chambers (the atria) becomes irregular and uncoordinated. The irregular contraction pattern associated with AF causes blood to pool in the atria, predisposing the formation of clots potentially resulting in stroke. ARCA's lead product is Gencaro, a beta-blocker for the treatment of AF in patients with heart failure and left ventricular dysfunction, or HFREF.
The FDA rejected Gencaro's Phase III trial (the BEST clinical study) for AF due to the integrity of its late-stage data as well as its inability to demonstrate efficacy. The Complete Response Letter highlighted three actions that were needed to obtain approval:
Conduct an additional clinical efficacy trial.
Conduct additional clinical pharmacology studies to address drug-drug interaction and pharmacokinetic issues; and,
Conduct additional non-clinical studies to further characterize Gencaro metabolites.
At the time, ARCA just looked like another failed developmental stage biotech. However, a DNA sub-study in the BEST trial of 2708 heart failure patients showed results from 41% improvement in AF to 74% based on a genotype, which is represented in approximately 50% of the population. The genotype was represented in 47% of the patients treated with Gencaro, which resulted in the failed results. In other words, if they can isolate the genotype and develop trials only for those patients, results should be exceptional.
Last year, ARCA was planning a Phase IIb trial to include 200 patients over a two-and-a-half year period and if they could replicate the prior results, move to a larger Phase III trial.
I opened a position in ABIO based on the compelling sub-study results and the fact the stock appeared to have hit a bottom. A capital raise looked inevitable but based on the low market cap, it seemed for the most part, priced into the stock. A year later, the stock is up 10% and there have been opportunities (as usually the case with developmental stage biotech) to trade the volatility as the 12 month graph below clearly shows.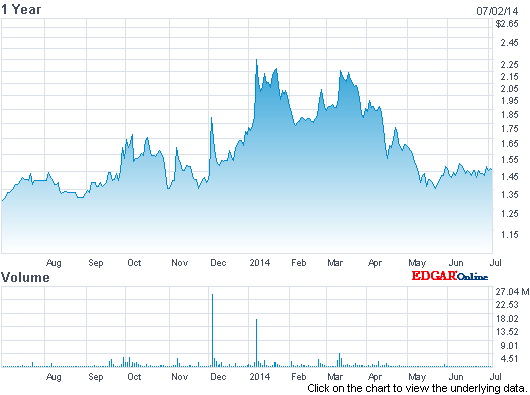 The Science
Gencaro (Bucindolol Hydrochloride) is a beta blocker and mild vasodilator. As described on the Mayo Clinic's website, "vasodilators are medications that open (dilate) blood vessels. They work directly on the muscles in the walls of your arteries, preventing the muscles from tightening and the walls from narrowing. As a result, blood flows more easily through your arteries, your heart doesn't have to pump as hard and your blood pressure is reduced."
Because of its mild vasodilator effect, ARCA believes Gencaro is well tolerated in patients with advanced HF. Gencaro is considered a beta-blocker because of its property of blocking beta-1 as well as beta-2 receptors in the heart, preventing these receptors from binding with other molecules that would otherwise activate the receptor. There are a number of scientific papers written about the benefits of Bucindolol attributing to the reduction of risk for developing AF in patients with advanced heart failure. One of the most compelling studies was presented by the University of Colorado.
Twelve Month Progress
ARCA spent the last 12 months getting its ducks in a row to initiate the Phase II trial. On November 5, 2013, ARCA entered an agreement with Duke University's Duke Clinical Research Institute to serve as the coordinating center and principal investigator for ARCA's Phase 2B/3 study called GENETIC-AF. Under the agreement, Duke will coordinate the study with approximately 50 clinical sites in the United States.
On December 4, 2013, ARCA announced that its IND for Gencaro had been accepted by the FDA. At the same time, it announced that LabCorp had submitted an Investigational Device Exemption (or IDE) application to the FDA for the companion diagnostic test for Gencaro. On December 8th, the IDE was accepted by the FDA.
On February 3, 2014, ARCA filed an 8-K with the SEC disclosing a public offering for 5,116,228 shares of common stock and warrants to purchase an aggregate of 1,279,057 shares of common stock at a purchase price of $1.70 per share. Net proceeds were approximately $8 million. Each purchaser was issued a warrant to purchase .25 shares of common stock for each share of common stock purchased. The warrants have an exercise price of $2.125 per share and expire five years from the date of issuance. The company's PR indicated the following regarding the company's cash runway after the capital raise,
The Company anticipates that its cash and cash equivalents balance of approximately $16.8 million at December 31, 2013, along with the estimated net proceeds from this offering, will be sufficient to fund its operations, at its projected cost structure, through at least 2015.
On April, 17th, ARCA announced the prescreening of the first patient. It also revealed that 7 clinics were currently recruiting. I expect the additional 43 clinics will be ramping up during the remainder of the year.
One of the real benefits of a second chance is execution experience. ARCA has an experienced management team and this is not the company's first time managing a large scale study. Time is a valuable commodity with developmental stage biotech so execution is critical and ARCA appears on track.
Strong Financial Condition
For the quarter ending march 31, 2014, ARCA had cash on hand of approximately $22 million. The company only had approximately $1 million in liabilities and no company debt. Net worth stood at $21 million consisting mostly of cash. The company had outstanding shares of 21,010,815, which based on the current stock price equates to 70% of market value in cash.
The company had a net loss for the quarter of $2.3 million and used cash to support operations of $3.6 million. However, as the trial ramps up, expenses should continue to rise. Even though the company has stated it has sufficient cash on hand to fund operations through 2015, it is likely to incur further dilution from additional capital raises over the next twelve months. In April, ARCA filed a $75 million shelf registration statement with the SEC and I expect they will strategically use it. Dilution is a fact of life in early stage biotech investing and should be part of the equation when evaluating an investment.
Conclusion
It is estimated AF affects over 30 million patients worldwide and Gencaro would be the first genetically targeted treatment for AF. The company still has a long road to commercialization but if prior results can be duplicated, and there's no reason to think otherwise, the potential revenue is substantial. The company has a market cap of only $31 million of which 70% represents cash. The downside looks limited with a good margin of safety.
Even with taking into consideration the potential of further dilution, the company appears considerably undervalued. The market is not kind to a company that has a history of extreme devaluation and failure. However, the market also has a short memory and is quick to embrace success.
I consider ARCA a sleeper. It doesn't have the near-term catalysts you look for when investing in biotech but that could be beneficial in the case of ARCA. Given the compelling data from the prior trial, with catalysts on the horizon, I would expect its valuation would be much higher. So, I am content to wait for the trial to progress and the market to realize its value over time.
Disclosure: Nothing in this article constitutes investment advice or any recommendation with respect to a particular security. Investing in developmental-stage biotechs is highly speculative and risky. The road to commercialization is long, and full of peaks and valleys. Take profits when offered, and most importantly, diversify.
Disclosure: The author is long ABIO. The author wrote this article themselves, and it expresses their own opinions. The author is not receiving compensation for it (other than from Seeking Alpha). The author has no business relationship with any company whose stock is mentioned in this article.
Editor's Note: This article covers one or more stocks trading at less than $1 per share and/or with less than a $100 million market cap. Please be aware of the risks associated with these stocks.