Philip Morris International (PM) is the leading international tobacco company, with products sold in over 160 countries. They own 7 of the top 15 brands in the world and have a strong mix of international and local products that seek to appeal to a wide array of adult smokers.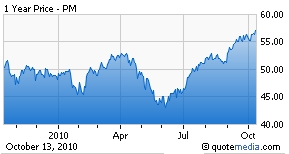 This company is the proverbial cash cow and is using its cash flow not only to repurchase its stock but to acquire smaller tobacco brands in the emerging markets all over the world. Although sales may be off in the US and Europe the growth markets in Asia and Latin America may more than offset shrinking markets in the developed nations.
The price has shown upward price momentum with 12 new highs in the last 20 sessions and an increase of 5.93% last month. Barchart has a 96% overall buy signal with the stock trading around 57.18 well above its 50 day moving average of 53.97. The Relative Strength Index is a solid 70.64%.
Wall Street brokerages have 12 buy and 3 hold reports published for their clients and estimate that sales will increase 9.20$% this year and 4.80% next year. I like the double digit earnings forecasts of an increase of 13.90% this year, followed by 11.10% next year. The 5 year annual EPS growth rate is projected to be 11.00%.
This is a very widely followed stock and the CAPS members on Motley Fool are in love with it voting 2,285 to 50 that the stock will beat the market with the All Stars in agreement 754 to 10. The last 17 articles by Wall Street columnists have all been positive also.
Points to consider:
96% Barchart overall buy signal
12 new highs in the last 20 sessions
Up 5.93% last month
Relative Strength Index 70.64%
Wall Street buy recommendations based on double digit EPS projections
Great following by the general investing public
Disclosure: Jim Van Meerten through Marketocracy Capital Management has an interest in the stocks mentioned in this blog.