Rare earth element ((NYSEMKT:REE)) stocks have been surging lately. Once unknown to the general investing public, shares in companies that mine these special resources are now being snatched up without pause. There are few of them that are public, and even fewer that are currently making money.
It's a high risk - high reward sector to invest in. But if you have the risk-capital to utilize, it's worth rolling the dice when the table is tilted in your favor. Knowing when that is, well, is anybody's guess. This kind of high-risk, high-reward scenario is the nature of speculation.
Rare earths - a group of 17 chemical elements that you can find in the periodic table - are used in everything from wind turbines to televisions, iPods, and hybrid cars. Almost all technology devices utilize them in some way, so you can see why demand for shares in companies that can bring rare earths to market is so rampant.
Yet, there are few REE mining companies in the world outside of China - even as demand for the precious metals soars. Consider these mining companies the clean energy equivalent of oil exploration and drilling companies. If you think there's a future for clean energy, by extension you think there is a future for rare earth mining companies.
These stocks have been posting big returns on pretty much a daily basis since July, and many are up over 100 percent since then. Trying to value these stocks is an immense amount of work, and to do so properly you'll need to look at what elements are in the respective companies deposits, what the market value of the elements are (both present and future), the cost to get the materials out, uncertainties, and a host of other considerations.
Suffice to say, I haven't done all this analysis this morning. But I'm sure you're reading about these companies and wondering what the deal is, so I'll include a few quick points. A few of the publicly traded rare earth mining companies are:
***Molycorp (MCP) has been one of the more discussed names recently. The company just went public via an IPO on the NYSE. With its location in Mountain Pass, California, it's one of the few US based companies that is publicly traded. Molycorp's deposits tend to be of the lighter rare earths.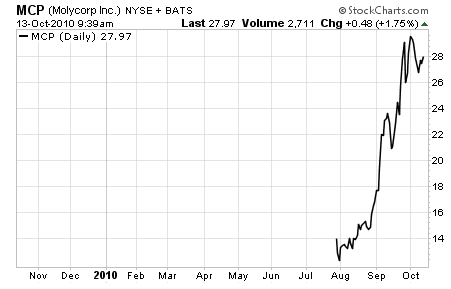 Avalon Rare Metals (AVARF.PK) is located in Toronto, Ontario and has deposits of some of the rarer, heavy elements. Located in remote northern Canada, the Nechalacho deposit is hard to get to, and very expensive to mine.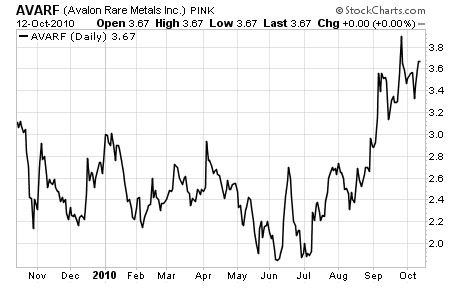 Rare Element Resources (REE) also has light rare earth deposits, but with some dysprosium has exposure to the heavier elements as well. Located in Vancouver, British Colombia, Rare Element is an exploration stage company with its major property in northeast Wyoming.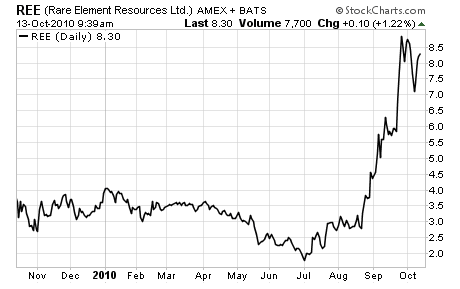 Great Western Minerals (OTCPK:GWMGF) is a tiny $80 million market cap exploration company located in Saskatoon, Saskatchewan. Its alloys are used in the magnet, aerospace, and battery industries.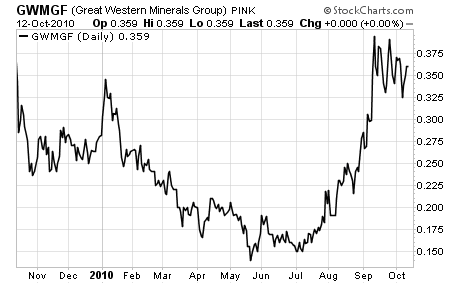 ***Because of the huge volatility in these stocks, and the fact that many are early stage exploration companies, I recommend anybody investing in this space buy a basket with equal investments in each company. Rather than try to pick a winner, spread out your investment and average into all companies on the dips, drops, and plummets.
And as a final note: remember that good investments are only good at the right price. With the rare earth element group, it's extremely difficult to accurately value any of the fundamental metrics I'd usually apply to an investment. Don't invest money you can't afford to lose. Use a little restraint and accumulate when others are selling, and you're much more likely to turn your pennies into dollars.
Disclosure: No positions