Growing demand for business PCs is certainly good news for Intel (NASDAQ:INTC) and its shareholders, with the company deriving two-thirds of its income from the PC processors market. Inspired by improved outlook for business PCs, Intel added roughly $700 million to its second quarter revenue forecast, which is expected to be around $13.7 billion. Furthermore, the chipmaker also boosted its gross margin estimate by one percentage point to 64% for the quarter.
However, we believe that going forward the growth of business PCs will be driven by the growth of datacenter systems. Intel's datacenter revenue grew 11% year-on-year in the first quarter of 2014, and the datacenter business is expected to become its primary source of revenue in the long run.
Growth of Datacenters: Huge Opportunity for Intel
The ongoing recovery of the global economy is expected to boost worldwide IT spending, says Gartner, which is on pace to reach $3.8 trillion in 2014, an increase of 3.2% year-on-year. Richard Gordon, managing vice president at Gartner said:
Globally, businesses are shaking off their malaise and returning to spending on IT to support the growth of their business. Consumers will be purchasing many new devices in 2014; however, there is a greater substitution toward lower cost and more basic devices than we have seen in prior years.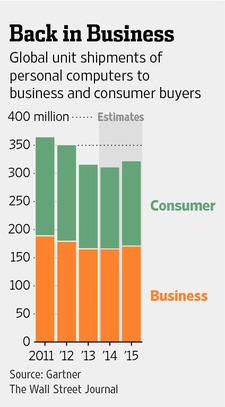 The research firm believes that the number of traditional PC users is contracting. However, the growth of datacenter systems can drive PC sales alone, which is expected to be around 2.3% in 2014 year-on-year, as the table below shows. We believe that growing sales of business PCs is the direct outcome of a growing datacenter market worldwide.
With business computing moving into the cloud, the computing platform is increasingly taking the shape of a warehouse of computers and other connected devices, better known as datacenters. A datacenter is a facility where computing systems are housed along with associated components.
Today's datacenters are not like traditional hosting facilities with a collection of co-located servers; on the contrary, these are facilities where a large part of hardware and software resources work in synchronization for efficiently delivering customers' requirements. For this purpose, today's datacenters work as massive WSCs (warehouse-scale computers).

Click to enlarge
With the Internet of Things (IoT, in short) continuing to evolve, these datacenters will be transformed further to globally integrated WSCs in order to transmit real-time information to centralized management applications. The entire process will eventually help businesses make better decisions. Datacenters will need to install a wide range of computing devices, not only PCs, but also a host of ultramobiles, mobile phones and tablets. Intel's advantage will be that both its high-end and low-end processors will see huge demand.
How Intel would be Benefited: An Example
Harley-Davidson (NYSE:HOG) has recently embraced the Internet of Things for making its manufacturing plants more efficient. As a part of this initiative, the company has renovated its York, PA manufacturing facility with installing several IoT sensors and associated components and applications for keeping track of production. Harley-Davidson vice-president of global manufacturing John Dansby II said, "It allows us to be more consistent. In the past, operators had a bit of leeway on paint jobs, and each could do the work in a slightly different way."
The IoT sensors, in which management can feed temperature, humidity, and other relevant information, can make the painting process more efficient by adjusting it to the existing weather condition if it deviates from predetermined set points. For Intel, the IoT sensors need its processors to run. Furthermore, for transmitting data to the management team from the production plant and vice versa, datacenters will be required that will act as communication platforms, also benefiting Intel.
Final Words
When Intel raised its second quarter revenue forecast for the first time since 2009 based on better than expected demand for PCs, it surprised the stock market. We believe this is the beginning of a new long-term trend based on datacenter growth. Although Intel provides revenue figures for PCs and datacenters separately, the fact is that the sales growth of business PCs, as projected, will be driven by datacenter growth, for which we are extremely optimistic.
Business relationship disclosure: The article has been written by a BB Research stock analyst. BB Research is not receiving compensation for it (other than from Seeking Alpha). BB Research has no business relationship with any company whose stock is mentioned in this article.
Disclosure: The author has no positions in any stocks mentioned, and no plans to initiate any positions within the next 72 hours. The author wrote this article themselves, and it expresses their own opinions. The author is not receiving compensation for it (other than from Seeking Alpha). The author has no business relationship with any company whose stock is mentioned in this article.