By David Russell
Novartis (NYSE:NVS) has been rising sharply for almost two months, and but now one trader is positioning for a reversal.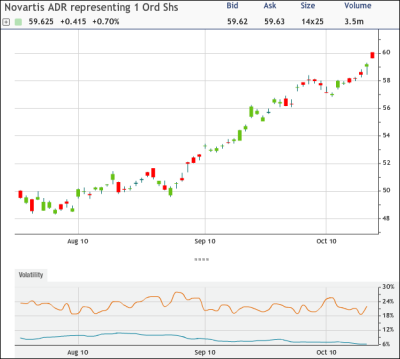 optionMONSTER's Depth Charge tracking system detected the purchase of 10,000 January 55 puts for $1.05 and the sale of an equal number of January 65 calls at an average premium of $0.625. Volume was more than three times open interest in both strikes.
The trade cost about $0.425 to implement and will simulate a short position in the Swiss drug stock. It may be the work of a shareholder looking to protect a long position in the stock against a pullback. If that's the case, the strategy would be known as a collar, capping the upside at $65 and covering losses below $54.575.
Alternatively, it might be an outright bearish play, in which case it would make money below $54.575 and experience losses above $55.
NVS is up 0.7 percent to $59.63 in afternoon trading and has risen 19 percent since mid-August. The shares are down after opening at a new two-year high today and are near their all-time high around $61, so some traders may think that it's time to exercise caution--especially with the next earnings report scheduled for Oct. 21.
Overall option volume in NVS is 5 times greater than average so far today.

Disclosure: No position