Why Does This Opportunity Exist?
Shares in Wal-Mart Stores (NYSE: WMT) have failed to keep pace with the S&P 500 over the last five years, with the retailer delivering only half of the wider index's capital gains over the period. This is highlighted in the chart below.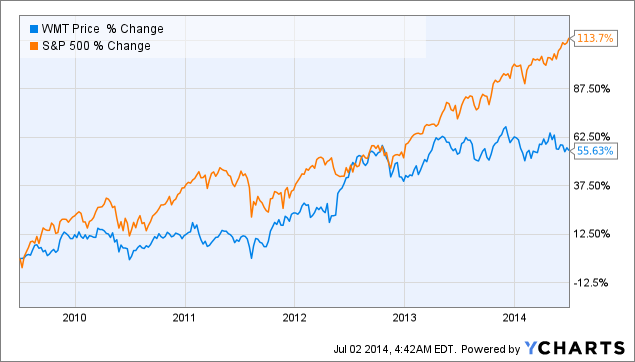 Wal-Mart's underperformance versus the S&P 500 is surprising, given that the retailer has been able to grow earnings per share by 41.7% over the last five years. This equates to annualized growth of 7.2% per annum, which has been fairly consistent - as shown in the chart below.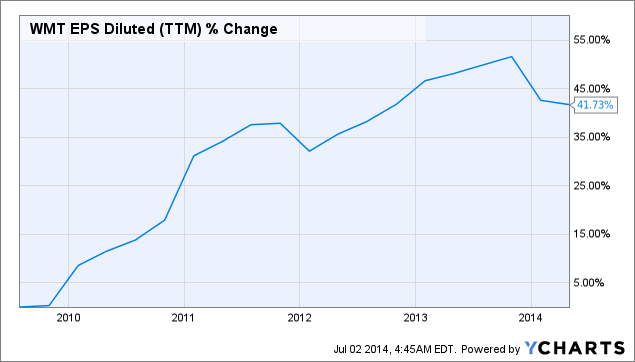 WMT EPS Diluted (TTM) data by YCharts
One interesting feature of the above chart is the dip in the first quarter of 2014, when Wal-Mart reported a decline in EPS of 3.5%. A key reason for this fall was challenging weather conditions and, as such, Wal-Mart expects this to be a one-off item and remains confident regarding its full-year earnings performance.
Indeed, EPS is expected to grow by 7% in the current year and by 8.7% next year, according to consensus forecasts (source: Yahoo Finance). This shows that Wal-Mart should be able to post encouraging earnings growth numbers that are very much in keeping with its performance over the last five years.
Despite this, Wal-Mart continues to trade at a significant discount to the S&P 500, with Wal-Mart having a forward price to earnings (P/E) ratio of 14.5 and the S&P 500 having a forward P/E of 16.6 (source: The Wall Street Journal). This means that Wal-Mart appears to be significantly undervalued when compared to the wider index, despite a strong track record of earnings growth and upbeat earnings forecasts.
The Scope Of The Opportunity
Clearly, there is scope for Wal-Mart's P/E to narrow the gap to the S&P 500's P/E. Were this to happen, Wal-Mart could trade at a price of just over $86, which is 14.5% higher than the current share price of $75.28.
Of course, there is a risk that the adverse weather conditions were not to blame for the first quarter's disappointing sales and profit figures. If it were something else, there may be downside risk in the short term, but Wal-Mart's track record of growth and financial strength means it has the resources to combat short-term sales weakness.
What Might Drive The Change?
With US investors continuing to search for high-yielding stocks, Wal-Mart could see demand increase from income-seeking investors. One benefit of an underperforming share price is that its yield is improved, with Wal-Mart currently offering a yield of 2.55%, as shown below.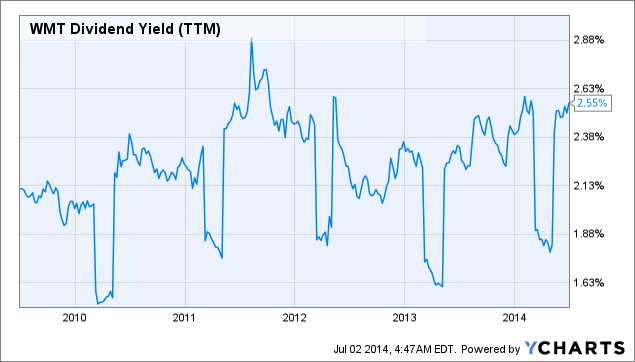 WMT Dividend Yield (TTM) data by YCharts
The attraction of the yield could be increased as a result of how well it's covered - currently 3.42 times, as shown in the chart below. An above-average, well-covered yield could increase demand for shares in Wal-Mart and push the share price higher.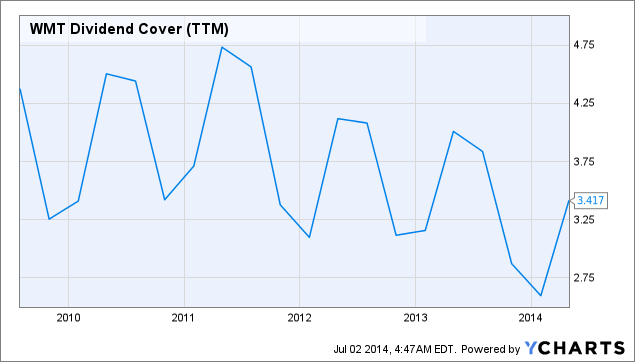 WMT Dividend Cover (TTM) data by YCharts
In addition, Wal-Mart has a strong track record of increasing dividends per share, with the company's quarterly dividend increasing year-on-year over the last ten years. This is highlighted in the chart below.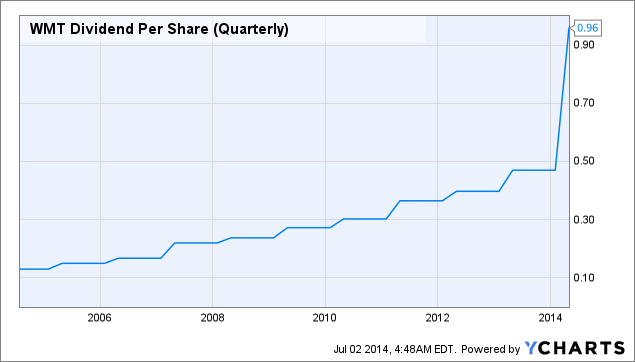 WMT Dividend Per Share (Quarterly) data by YCharts
Furthermore, a major catalyst could also prove to be continued fears surrounding a possible market correction. With the S&P 500 at all-time highs, investors could seek out better valued, more stable stocks such as Wal-Mart. The fear surrounding a market correction could work in Wal-Mart's favor.
Time frame
Clearly, Wal-Mart is a company with great long-term potential and its recent strategy update highlighted how a renewed focus on multi-channel, convenience and improving the customer experience can combine to add shareholder value over the long run.
In addition, with upbeat earnings forecasts, Wal-Mart could narrow its past underperformance versus the S&P 500. If fears surrounding a market correction continue to build, Wal-Mart's share price could show strength over the short run, while it remains a great multi-year play, too. As such, we remain firmly bullish on Wal-Mart's prospects both over the short and long run.
Disclosure: The author has no positions in any stocks mentioned, and no plans to initiate any positions within the next 72 hours. The author wrote this article themselves, and it expresses their own opinions. The author is not receiving compensation for it (other than from Seeking Alpha). The author has no business relationship with any company whose stock is mentioned in this article.