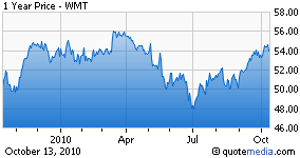 By Brian Sozzi
I think the new head of Wal-Mart (NYSE:WMT) US Bill Simon is missing a big opportunity to go after apparel, which represents about 12% of annual sales and can be used as an offset to higher sales of low margin consumables. If the core customer to Wal-Mart earns $70K a year or more, as was implied today at the meeting, then certainly this customer would not mind spending for something that is non-basic. Keep in mind, prices on fashion pieces would still be below peers in most cases. If Sears (NASDAQ:SHLD) can partner up with Forever 21, why can't Wal-Mart?
Of course, execution on the rollout of small square footage stores will be of key importance. At the meeting, management just tossed all of these initiatives out there, but can Wal-Mart learn local customer preferences? Wal-Mart will need local people on the ground, in the same manner maybe as the "My Macy's" initiative. They need the systems to know when to reorder local product and the trust in the managers. We won't really know if Wal-Mart can pull the urban push off until one of these stores of the future actually open to a sizable footprint.
Things to like:
Sam's Club doing better on sales and with member traffic.
Wal-Mart US. comps are awakening as items removed from the assortment in 2009 are added back. However, the 4Q positive comp nod by CEO Mike Duke is more a function of an easy year earlier comparison.
Small store rollout, aggressive, international.
No big bump in capex for calendar 2011, just reallocation of funds.
Things not to like:
I can see a sizable increase in capex for calendar 2012 in view of the initiatives articulated today.
Initiatives will take time to play out in sales and earnings.
Company is now going back to fix actions that did too much, such as shrinking apparel pad and action alley. This costs money and time.
Tempered the talk on inflation, I think this is a problem for 2011.
Marketing message still unclear.
Disclosure: No positions