The big news in this holiday shortened trading week is the June Monthly Jobs Report released this morning. 288,000 jobs were created in the just completed month and the previous months' numbers were revised up. Job growth over the past five months has averaged 248,000 jobs, well above the 194,000 monthly jobs averaged throughout 2013.
Job growth has accelerated, not coincidentally, since long-term jobless benefits expired at the end of 2013. The unemployment rate is now 6.1% which is equivalent to the rate just prior to the recession, albeit with a much higher percentage of individuals working part-time, driven by the implementation of the Affordable Care Act among other factors. Wage growth is still way too tepid and up only 2% year-over-year.
However, given tomorrow is the anniversary of our nation's birth, let's concentrate on the positive. The economy does seem to be accelerating from the first quarter's dismal start. Interest rates should also be on the rise thanks to accelerating job growth and there's no excuse now for the Federal Reserve not to end their easing efforts.
This will be good for banks as demand for loan growth should accelerate along with the economy and as net interest margins expand improving profits. A more volatile interest rate environment should also help banks' fixed income trading operations which have been under pressure for some time.
I think this means it is time to buy Bank of America (NYSE:BAC) before the holiday. First of all, it is hard to be more patriotic than picking a stock with "America" in its name. More importantly, the company and shares look ready to roll after several challenging years.
Looking at the chart, the outlook is getting more positive on the stock. After declining more than ten percent from highs earlier in the year, the shares look like they have bottomed recently at around $14.50 a share and have made several higher lows as well since then (See Chart).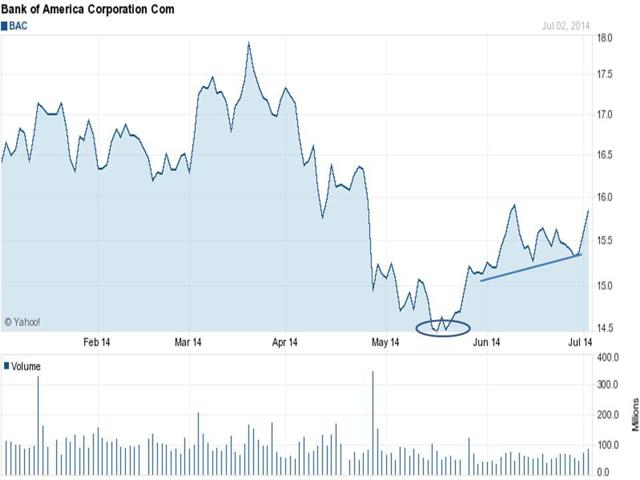 The stock is starting to get some positive mentions as a second half story this week. Deutsche Bank upgraded Bank of America to a "Buy" yesterday and lifted its price target on the shares to $18 a share. I even saw Jim Cramer give the bank a "shout out" after the jobs report and before the market began trading on CNBC this morning.
The bank should also be buoyed by its Merrill Lynch division as equities continue their rise and M&A activity continues to increase. In the first half of this year, global M&A deals totaled just under $1.6T, a better than 50% increase over the same period in 2013. With interest rates still historically low and organic growth hard to come by, this pace could continue for a while.
In addition, after paying over $200 billion in fines around the world, litigation woes stemming from the financial crisis and its aftermath should start to lessen for major banks. I look for Bank of America to settle with the government around mortgages sometime in the near future, which should put most of its litigation challenges behind it.
After marking time in 2014 with flattish earnings growth, the consensus analyst estimate calls for earnings for FY2015 to be up more than 60% year-over-year to ~$1.50 a share. The bank should have many years ahead of earnings and accelerated dividend growth, as it puts the remnants of the financial crisis behind it. The shares go for ~10.5 times expected FY2015 earnings which is a solid value in this market that is trading for ~16 times forward earnings. It is my red, white & blue pick for the holidays. ACCUMULATE
Disclosure: The author is long BAC. The author wrote this article themselves, and it expresses their own opinions. The author is not receiving compensation for it (other than from Seeking Alpha). The author has no business relationship with any company whose stock is mentioned in this article.