With 10-year Treasurys hovering around 2.5% and stocks hovering around all-time highs, it's getting harder and harder to maintain a decent average yield in your dividend portfolio. So what is a long-term dividend investor to do?
Obviously, you could add more high-yielding real estate investment trusts ("REITs") and master limited partnerships ("MLPs") to your portfolio to juice your income...but these securities are inherently more risky than the average stock (hence the high dividend/distribution yield). Don't get us wrong, REITs and MLPs are a great addition to any DIY Dividend Portfolio, but we recommend that you limit your exposure to these asset classes to 25% of your total portfolio. There's no such thing as a free lunch...and don't forget that high-yield securities offer a high yield for a reason.
Non-REIT, Non MLP Stocks Yielding Over 3%
There are plenty of non-REIT, non-MLP, high-quality dividend stocks out there with yields over 3%. That said, we recently ran a screen through our rating system and came up with our "3% Yield Club". This Club is made up of 25 Non-REIT, Non-MLP Dividend stocks with the highest Parsimony Ratings that also meet this additional criteria below.
Parsimony Rating > 70
Dividend Yield > 3.0%
5 and 10-year Dividend CAGR: > 2.0%
5 and 10-year EPS CAGR: > 0.0% (i.e., positive growth)
We will highlight each of these stocks over the course of a 5-part series. Below is a schedule of the entire series. Please make sure to "follow" us so that you will be notified real-time when we publish future articles in the series.
Part 1: Secretaries (stocks #21-25)
Part 2: Treasurers (stocks #16-20)
Part 3: Vice Presidents (stocks #11-15)
Part 4: Presidents (stocks #6-10)
Part 5: Chairmen/Chairwomen (stocks #1-5)
The 3% Yield Club: Secretaries
There are hundreds of stocks out there yielding over 3%, but we only picked the best of the best for our 3% Yield Club. This article highlights the 5 Secretaries (stocks #21-25). The tables below summarize some of the key data points that we analyze when ranking our dividend stocks.
#25 Dominion Resources (NYSE:D)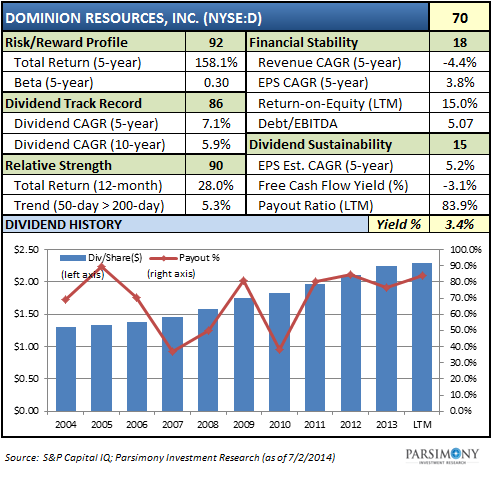 Dominion has paid a dividend to its shareholders for 345 consecutive quarters (that is over 86 years if you are doing the math at home). In addition, recent dividend growth has been very steady as well with 5-year and 10-year CAGRs of 7.1% and 5.9%, respectively. This is definitely another utility to keep on your radar!
#24 AT&T (NYSE:T)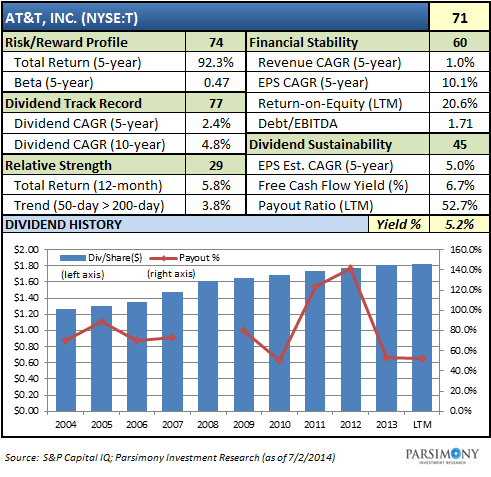 AT&T seems to go in and out of favor with dividend investors, mainly because of the company's choppy revenue and earnings growth and its borderline dividend growth (only 2.4% on average over the past 5 years). That said, many investors succumb to the high dividend yield (5.2%). We view AT&T as "utility-like" and think it certainly warrants consideration in a long-term dividend portfolio.
#23 Scotts Miracle-Gro (NYSE:SMG)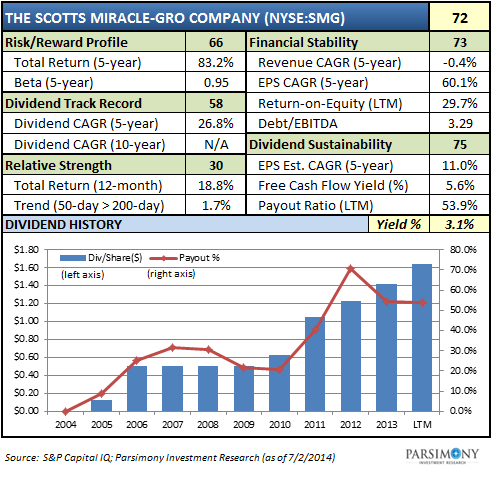 Scotts Miracle-Gro has been a dividend machine over the past 5 years, delivering shareholders a 83% total return driven by a 26.8% compound annual growth rate in dividends. In addition, the company has solid ratings for Financial Stability (73) and Dividend Sustainability (75) and we expect this dividend growth trend to continue.
#22 Leggett & Platt (NYSE:LEG)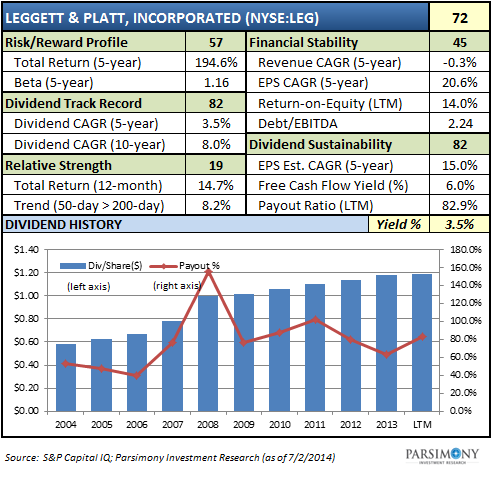 Leggett & Platt has increased its annual dividend for 42 consecutive years at a 13% compound average growth rate. Only 11 members of the S&P 500 have a longer string of consecutive annual dividend increases. The company has delivered shareholders a total return of 195% over the last five years and it currently pays a respectable dividend yield of 3.5%.
#21 Target Corp. (NYSE:TGT)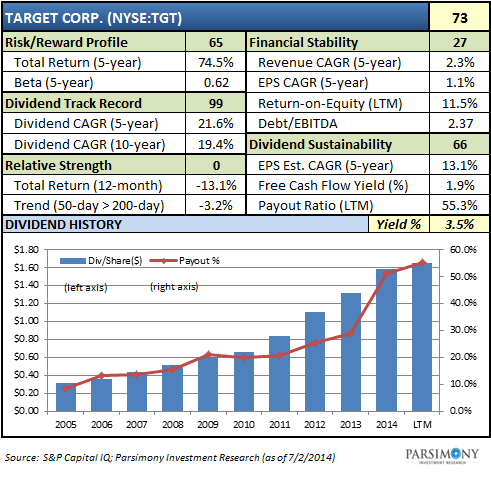 Target Corporation has paid a dividend to shareholders every quarter since going public in 1967, and the company has grown dividends at a compound annual rate of 21.6% over the past 5 years. This steady dividend growth rate has led to a total return of 75% for shareholders over that same period (even despite the recent hiccup in shares over the past year). While the company has the worst Relative Strength rating (0 - yes, zero!) of any stock in our universe, TGT has the highest rating for Dividend Track Record (99). This is a stock that we think investors should "target" right now (due to the pullback) because signs continue to point to stable dividend growth.
Summary
If you are looking to generate stable income, dividend growth investing is a great way to accomplish this goal and any one of these 3% yielders would make a nice addition to your portfolio. Note that identifying good stocks is only the starting point of building a dividend portfolio and investors should pay close attention to valuation as well when deciding whether or not to buy a stock as many stocks right now are overvalued (i.e., good stocks can often trade at bad prices).
Please make sure to "follow" us so that you will be notified real-time when we publish future articles in this series.
Disclosure: The author is long T, TGT, LEG, D. The author wrote this article themselves, and it expresses their own opinions. The author is not receiving compensation for it (other than from Seeking Alpha). The author has no business relationship with any company whose stock is mentioned in this article.