The world economy is but a shadow of its former self, but the change in dynamics has resulted in a greater divergence between the emerging markets and the developed ones. Investors who are looking to gain exposure to the world outside of the United States may consider an all-world ETF.
The International Monetary Fund (IMF) estimated that global GDP may expand 4.8% this year, or growth above the average 4% trend, according to The Economist. But consider the disparity between rapidly expanding emerging markets, with some hitting close to 10%, and the slowly inching economies in the developed countries.

Emerging markets are not expanding as quickly as they were before, but they're still growing. Their fundamentals are looking good, with productivity and debt at healthy levels. This situation makes emerging markets an attractive investment locale, but emerging countries are trying to stem the rise in their currencies that comes with greater foreign demand, even though the circumstances may warrant some appreciation.
In developed countries, cutbacks are being implemented after economies have stabilized, and asset busts are usually followed by years of recovery and general weakness. Additionally, developed countries are also suffering from aging populations.
The National Association for Business Economics (NABE) reduced its 2010 and 2011 growth projection to 2.6% from its previous forecast of 3.2% as the impact of government stimulus diminishes growth and high debt impedes consumer spending, reports Ann Saphir for ABC News. The Federal Reserve has recently stated that it is ready to support the economy if the economy continues to weaken. Forecasters also expect U.S. unemployment to only drop to 9.2% by the end of 2011.

Where will the growth be? If you're looking for a "set it and forget it" kind of fund, consider an all-world ex-US ETF.
Vanguard FTSE All-World ex-US ETF (NYSEARCA:VEU) is up 13.1% in the last three months; VEU is most heavily allocated to Western Europe (42%); Asia ex-Japan (24.4%); Japan (14.5%) and North America (6.5%)
click to enlarge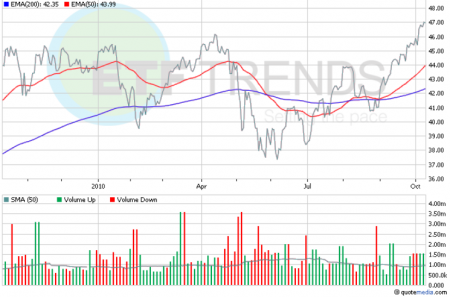 Max Chen contributed to this article.
Disclosure: None