Shares of PetSmart (NASDAQ:PETM) surged higher by more than 12% on Thursday, following news that activist investor Jana Partners has amassed a 9.9% stake in the company.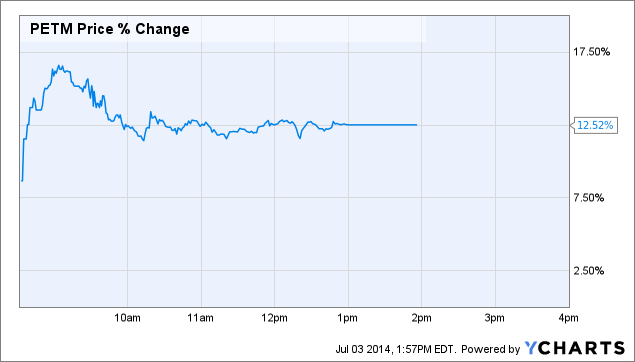 PETM Price data by YCharts
Why PetSmart Is A Good LBO Candidate
PETM is a good LBO candidate, due mainly to valuation. As shown by the charts below, based on two different metrics, PETM is very reasonably valued. Prior to the jump in PETM shares following news of Jana's stake, PETM had been trading at close to 13 times earnings. In my opinion, it does not seem unreasonable for PETM to be acquired for 20 times earnings, which equates to a stock price of just more than $81 per share. Another metric to consider is PETM's low EV to EBITDA. Currently, PETM is trading at an EV of just 6.6 times EBITDA. One of the main reasons for this is the fact that PETM has a strong balance sheet with just $519 million in debt. This means that a potential buyer could issue a significant amount of debt to fund a buyout.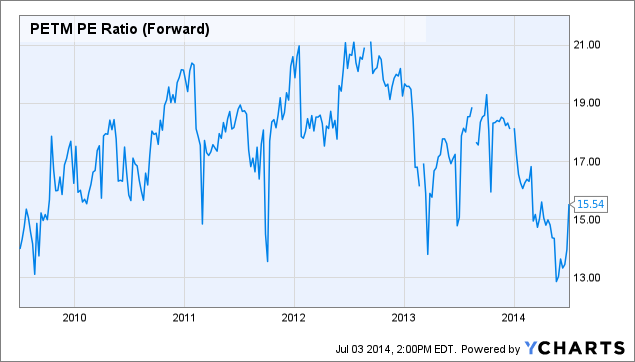 PETM P/E Ratio (Forward) data by YCharts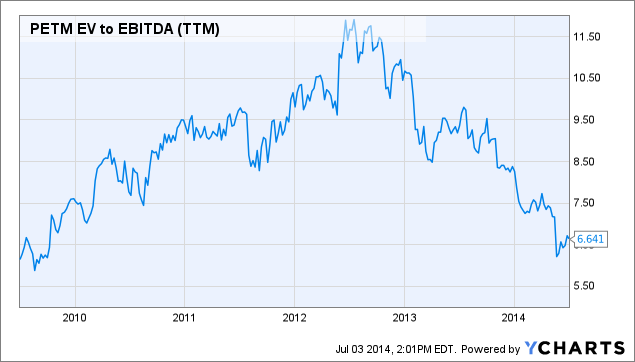 PETM EV to EBITDA (TTM) data by YCharts
Potential Buyers
Right now, private equity funds are flushed with cash. Currently, private equity funds globally are sitting on more than $1.141 trillion of uninvested funds. Due to the sharp rise in global equity markets, the number of companies that are trading at a valuation that makes an LBO compelling is relatively low. While there are certainly some opportunities, the number of potential LBO buyout targets is much smaller than the amount of money dedicated to the practice. For this reason, I believe any companies that are "in play" are likely to receive interest from more than one party, which should help drive takeover premiums higher. If Jana is able to convince management to put the company up for sale, I believe there will be a number of financial sponsors interested in the company. However, the deal that makes the most sense to be in would be a takeover led by TPG and Leonard Green & Company, the owners of Petco, PETM's largest competitor. Combining Petco and PETM is a no-brainer for a number of reasons, including a possible reduction in expenses due to synergies, and better pricing power due to reduced competition. Taken together, I believe these factors could lead TPG and Leonard Green & Company to pay more for PETM than other potential buyers. Given a combination with Petco, PETM could be, in my view, worth more than $85 per share.
Limited Downside
I have already explained why I believe PETM shares have a lot of upside from here. Of course, it is possible that PETM management refuses to put the company up for sale or no buyer emerges. While I think this case is unlikely, it is important to consider what the fallout might be if such a circumstance arises. My view is that PETM would give up some, but not all, of the gains made on news of Jana's stake over the short term. If Jana is not able to force a sale of the company, it might be able to encourage management to take other actions to help boost shareholder value, such as issuing debt to finance increased stock buybacks. Furthermore, for the same reasons why PETM is an attractive LBO target, I believe PETM is a solid long-term investment. With relatively few stocks trading at reasonable valuations, I think PETM is attractive for value investors. Even considering the increase in PETM shares since Jana's position was announced, shares are trading at a reasonable valuation.
Conclusion
For the reasons mentioned in this article, I decided to take a long position in PETM via longer-dated call options. I also believe buying the stock outright is a good strategy. If a deal emerges, I expect PETM to be sold for a significant premium to current levels, due to the likelihood of multiple bidders and possibility of increased value if Petco and PETM are combined. If a deal does not emerge, I believe downside for PETM will be somewhat limited, given the reasonable valuation.
Disclosure: The author is long PETM. The author wrote this article themselves, and it expresses their own opinions. The author is not receiving compensation for it (other than from Seeking Alpha). The author has no business relationship with any company whose stock is mentioned in this article.