The United States is the most indebted nation in the history of the world. The Fed and the US government have one and only one way out of debt. Inflation. Bernanke and the Fed will fight off deflation like the plague because if prices are allowed to drop, all debts, public and private, have no chance of ever being paid off. This is what you need to know. Inflation is coming.
Our team at Pinnacle is playing this trade with commodities and more specifically with companies producing commodities. If gold goes to $2000 investors aren't going to buy physical gold, they will buy $2 gold companies until those companies are worth $4 or $8 or $12 per share. We use gold as an example because we are all very familiar with it and likely own it either directly or indirectly. With that stated, gold is just one commodity. While it's an important one to own in times of inflation, it's just as important you don't get tunnel vision and miss other home runs.
All commodities have exploded in the past month and many are close to multi-year highs. This trend is going to continue as the world's reserve currency continues to be devalued and nations from around the world buy commodities. Oil is going back above $100... way above.
We could easily find ourselves in a situation, by this time next year, where every commodity is trading at an all time high. This will happen at some point when inflation takes off. If the US dollar continues its free fall, which we predict it will, inflation is going to drive all commodities, and the companies which produce them, through the roof. Remember that the fundamentals around commodities don't necessarily have to change for their value to increase. Commodities can increase in value solely because the US dollar is decreasing.
We have two very important questions for you:
What is the most important commodity in the world?
What is the one commodity wars are fought over?
Here's a hint; it's not gold. Gold can't fuel a fighter jet, protect a nation from its enemies, transport workers of the world to and from their jobs, heat homes, fuel industrial demand, fuel a cargo ship travelling from Japan to California carrying $400 million worth of cars and electronics. Oil can.
Our team has been waiting to re-enter the oil and gas sector for just over a year now. We've been reviewing countless domestic oil companies trading at the right price point for our criteria. Our criteria was very strict as we were looking for a domestic shale play with production costs below $30 per barrel. Let's just say most companies we reviewed fell way short of our benchmark. In this market you have to be picky. You can't settle. Strong fundamentals will get companies through the hard times and make them flourish during the boom times.
This past Thursday oil hit a high of $84.09 before investors took profits and it settled down slightly above $80 to end the week.
In this weekend's report our team is evaluating domestic oil shale plays, the production surrounding them and why we are bullish on this part of the oil and gas sector.
Before you begin reading this report, just remember that the US has been putting an emphasis on domestic oil and gas production (which we outlined in last week's newsletter Vol. 188 - Oil Is Spiking - Are You Positioned?). Land acquisitions are heating up as the biggest oil and gas companies in the world are acquiring shale plays as quickly as they can. This can be attributed, in part, to the Gulf oil spill and the dangers of offshore drilling.
Oil Shale Defined:
The term oil shale almost always refers to any sedimentary rock that contains solid bituminous materials (called kerogen) that are released as petroleum-like liquids when the rock is heated. The rock is heated, separated and oil is the remaining factor.
Oil shale has been used as fuel and as a source of oil in small quantities for many years; however, few countries currently produce oil from oil shale on a significant commercial level - the US wants to change that.
Many countries do not have significant oil shale resources, but in the countries that do, the oil shale industry has been very slow to develop. This is because, until recently, the cost of oil derived from oil shale has been significantly higher than conventional pumped oil. The same principles apply in mining. Whenever something is deeper, or harder to get to, the costs go up. With that stated, new technologies and the quick disappearance of easy access oil has spurred a revival in this sector.
We had to learn everything we could about oil shales and the logistics surrounding them. And that's exactly what we did, consulting with an oil and gas engineer and several industry professionals.
There are two types of production from oil and gas shale. The first is In-Situ (on the left) and the second is conventional (on the right).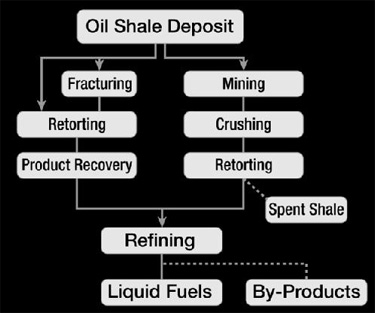 The conventional method simply extracts the oil shale which is then sent to a retorting facility, which separates the oil shale. It is then further upgraded and sent to a refinery. The in-situ process is a bit more complicated. The oil shale is heated underground using electric heaters. The process is lengthy as the oil is heated to an astounding 700 degrees Fahrenheit. We do not favour this process.
All Oil Shales Are Not Created Equal
An oil shale is defined as an organic-rich fine-grained sedimentary rock, which contains significant amounts of kerogen (a solid mixture of organic chemical compounds) from which liquid hydrocarbons can be extracted.
Oil shales vary considerably in their mineral content, chemical composition, age, type of kerogen, and depositional history. Oil shale differ greatly from bitumen-impregnated rocks (oil sands and petroleum reservoir rocks), humic coals and carbonaceous shale. Heat and pressure have not yet transformed the kerogen in oil shale into petroleum.
The two most famous oil shale deposits in the United States, and the world for that matter, are the Green River Formation and the Bakken Oil Shale.
The Green River Formation consists of fine-grained sedimentary rocks which hold an exceptional amount of kerogen. Estimates have accounted for more than 800 billion barrels of recoverable oil in the Green River Formation! It is vast and spreads across Wyoming, Colorado and Utah. However, close to 75% of the deposit is located on federally owned land which will make any production from private or public companies extremely difficult. In addition, the production process at the Green River Formation has many holes in its game, and production here has yet to occur.
The Bakken Oil Shale is spread across Montana, North Dakota and Saskatchewan. The U.S. Geological Survey has estimated that up to 4.3 billion barrels of technically recoverable oil exists in the Bakken. Not the unbelievable 800 billion barrels of the Green River, but still nothing to shake a stick at. The Bakken is producing oil and gas and unlike the Green River Formation, it is primarily light sweet crude. Not all oil shales are overly expensive or complicated to produce.
Geologists have been well aware of the Bakken Oil Shale since as far back as the 1950s. It wasn't until two major technological advances occurred that the eyes of prospectors and oil tycoons lit up with dollar signs as the rush to production began.
Major improvements in directional and horizontal drilling techniques, along with hydraulic fracturing methods, have revolutionized shale exploration and development in the United States.
The below information was derived from lengthy interviews we conducted during our research process with an engineer in the oil and gas industry. Please bear with us as the next few paragraphs are relatively technical but contain critical information.
It was explained to us that, shale plays, oil or gas, are naturally tight and stimulation in the vertical portion of the well is required to achieve commercially viable flow rates. Remember that 'stimulation' also known as frac'ing is a process which literally fractures rocks. In this process water is shot down the well with incredible force to increase flow rates and overall production. Hydraulic fracturing enables the production of natural gas and oil from rock formations deep below the earth's surface.
Results from a single hydraulic fracture stimulation program will generally not be sufficient to achieve commercially viable flow rates in terms of the economic-ultimate-recovery (EUR); therefore additional exposure to the shale section is required from the wellbore. This is done by utilizing a horizontal lateral and then stimulating with multiple stages of the frac'ing along this lateral.
The depth of the shale resource is important in that there are economic and physical limits on horizontal drilling along with temperature constraints for the directional tools required to orient the well. So, the deeper true vertical depth (TVD) of the shale, the more problematic the well becomes.
Most operators are comfortable with a max true vertical depth of 14,000 ft and a max horizontal leg of 10,000 ft or less. A good average for shale wells currently drilled or drilling would be 9,000 ft total vertical depth and 4,000 ft laterals. So imagine a large pole being drilled 9000 feet down with an arm reaching out 4000 feet in any direction. You can imagine how this technique would allow them to penetrate huge areas below the surface from a single well bore and tap into resources what would otherwise remain uneconomic. The deeper TVD wells drilled are found in the Haynesville play and the longer lateral wells are currently attempted in the Bakken play.
We hope this gives you an idea of how oil shale drilling works in these types of plays and why it can be so successful. It has taken decades of trial and error and billions of dollars spent to master a system that gives a seasoned crew the best opportunity at success.
This is why expertise in management is of the utmost importance when investing in an oil and gas shale play. We'll be applying these criteria to an investment recommendation we'll make soon.
Disclosure: No positions