By Sumit Roy
It was an active week for commodities.
Despite being shortened by the U.S. Independence Day holiday on Friday, this week was an active one for commodities. Metals prices rallied across the board, while energy and grains moved lower. At the same time, stock markets hit fresh record highs. The S&P 500 topped 1,980, gaining 1 percent in the week and bringing its year-to-date gain up to 7.2 percent.
Macroeconomic Highlights
The U.S. government said that the unemployment rate fell to the lowest level in six years in June. According to the Bureau of Labor Statistics, employers added 288K jobs that month, much more than the 215K that was expected. At the same time, the jobless rate fell from 6.3 percent to 6.1 percent. Economists had expected the rate to remain unchanged.
Other data also showed growth in the U.S. economy. The ISM manufacturing gauge registered a 55.3 reading in June, a tick lower than the 55.4 seen in May. Levels above 50 indicate expansion in the manufacturing sector.
Elsewhere, China's official PMI manufacturing index rose from 50.8 to 51 last month, a six-month high. On the flip side, the equivalent manufacturing index for the eurozone from Markit fell from 52.2 to 51.8 in June, a seven-month low.
Commodity Wrap
| | | |
| --- | --- | --- |
| Commodity | Weekly Return | YTD Return |
| Copper | 3.49% | -4.12% |
| Palladium | 2.53% | 20.37% |
| Platinum | 1.90% | 9.99% |
| Silver | 0.86% | 8.58% |
| Gold | 0.34% | 9.54% |
| Natural Gas | -0.45% | 3.78% |
| WTI | -1.78% | 5.53% |
| Brent | -2.22% | -0.02% |
| Soybeans | -2.65% | 6.17% |
| Wheat | -3.93% | -7.11% |
| Corn | -5.64% | -0.95% |
Gold briefly topped $1,330 during the week, a three-month high. But after a pullback following Friday's strong jobs report, the yellow metal ended the week only slightly higher than where it was last Friday.

Still, we see this price action in gold as bullish. Strong economic data and speculation about rising interest rates are not leading to significant selling by gold traders. The gains from gold's big rally in June are holding, and in our view, it's only a matter of time before prices break through $1,330 and head to the year's high at $1,392.

Meanwhile, palladium was back on the upswing this week. Prices hit a fresh 14-year high today, signaling that the market remains tight despite the end of the labor strike in South Africa. We remain bullish on the metal.
GOLD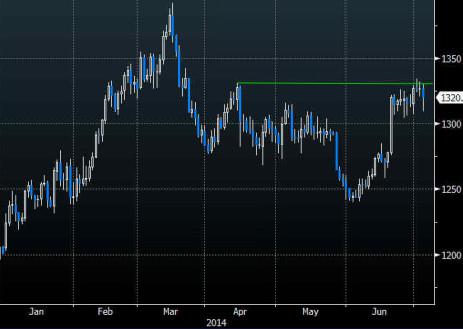 SILVER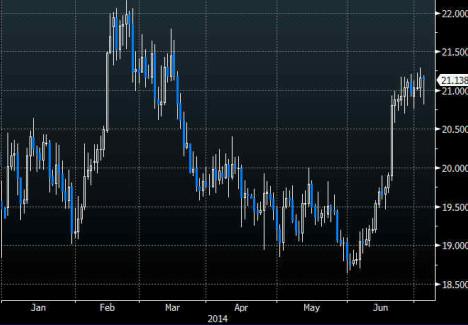 PLATINUM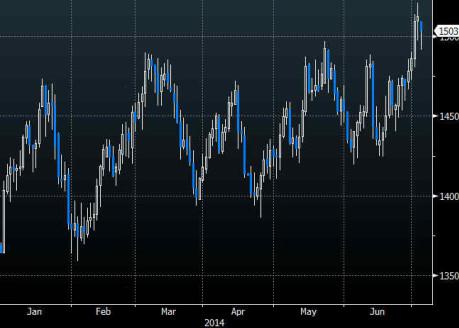 PALLADIUM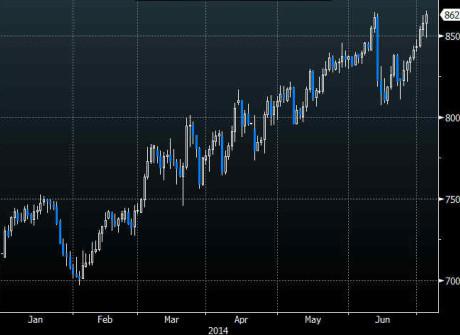 Crude oil pulled back notably this week, following news that Libya may restart oil exports. The country's production has been averaging about 1.3 million barrels per day below normal levels all year long due to various forms of unrest in the country. However, as we wrote on Wednesday, this isn't the first time Libya has promised to deliver more oil to the market; thus, it remains to be see whether the country's export truly will increase in the coming months.

Nevertheless, we see room for prices to pull back further, with the potential for a move as low as $105 for Brent.
BRENT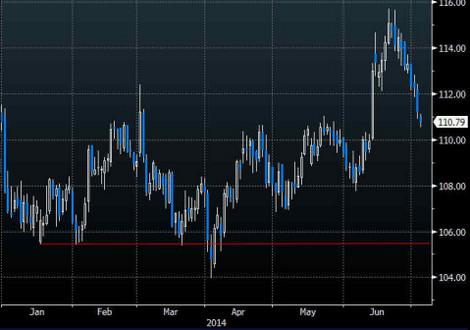 WTI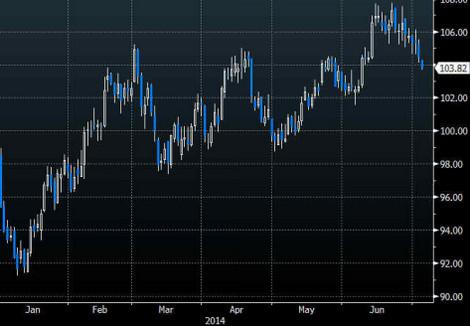 Grains plummeted this week as it became increasingly clear that the U.S. would likely see a record harvest in 2014. The USDA said inventories in June were higher than expected and that U.S. production this year would be at record levels, thanks to favorable weather conditions.

We see much less downside now that corn and wheat have pulled back to where they were in January; however, fundamentals remain bearish. Thus, we would remain on the sidelines for now.
CORN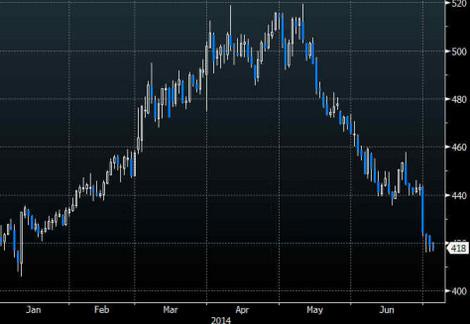 SOYBEANS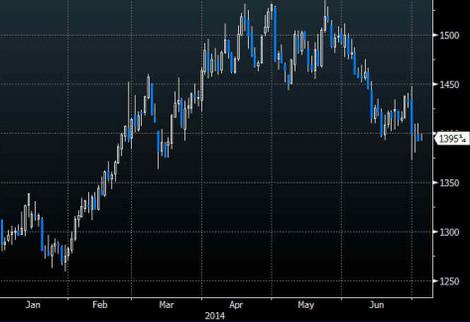 WHEAT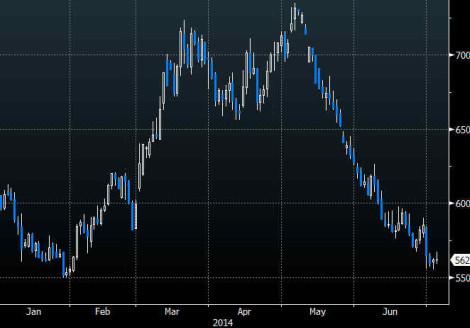 Copper was the top-performing commodity this week. Signs of economic acceleration in the U.S. and China fueled buying in the metal, which has underperformed up until recently. Many now see copper as a bargain, given that it is still down year-to-date while most other metals are up.
COPPER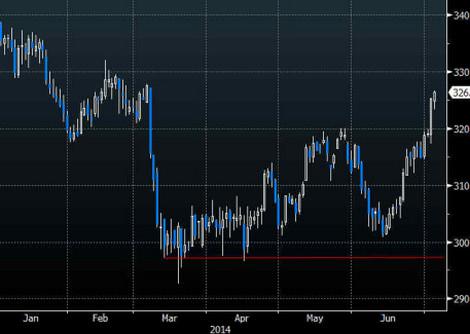 Natural gas ended the week little changed. Today, the Energy Information Administration reported that operators injected 100 billion cubic feet into storage last week, close to the 99 to 101 bcf that was expected.

The coming weeks will be crucial as traders look to see to what extent the summer heat of July and August reduces injections. From a technical perspective, prices remain in a range between $4.25/mmbtu and $4.80.
NATURAL GAS