At its developer's conference held on June 25, 2014, in San Francisco, Google (NASDAQ:GOOG) (NASDAQ:GOOGL) announced a number of products it is planning to launch this financial year, among them is the Android TV. The launch of this TV set-top box would put it in direct competition with Apple (NASDAQ:AAPL), Amazon (NASDAQ:AMZN) and Roku. The TV set-top box would be the latest addition to Google's product diversification policy, which also involves smartwatches that work on Android Wear. This is Google's third attempt in the television sector, with Chromecast and Google TV already introduced in the past.
Main Features of the Android TV
The Android TV set-top box device will have its hardware externally manufactured by Asus, Inc. and Razer. The device can be controlled with existing Android devices, which would function as remotes. The main focus of the Android TV would be on entertainment rather than computing, with a major emphasis on video streaming and Android games being made available on the big screen. The system would be very simple and user-friendly, built on a design known as Pano which allows apps to display icons on the home screen in a card-like manner, which the users can select by browsing through them horizontally. This would allow users to browse music, movies and other media as soon as the television is turned on, unlike the typical smart TV experience where one has to first run an application before choosing a title. Furthermore, it would help users save time on unnecessary scrolling by having the most used applications on the left of the home screen. The search option is also quite effective with the Android TV having the capability to handle complex queries.
Google seeks to establish a system where people could speak to their televisions and command them to switch from one channel to another. The Android TV will be controlled by a controller in addition to being controlled by Android smartphones and devices. The controller would closely resemble an Xbox 360's remote, with two thumb sticks and a directional pad.
Potential Benefits
One of the ways where Android TV can triumph over its competitors is through its focus on gaming, with Google estimating that three out of four Android users play a game on their device, which makes Google the largest warehouse for video games in the world. However, it is still not clear how much people are willing to play games on the big screen with giants such as Xbox, PlayStation, and Wii already present in the television video game industry. Google would be able to expand on its business model by providing services beyond its typical computer, smartphone and tablet industry.
Negatives
Google has already tasted failure in the television sector in the form of Google TV, which was halted by the manufacturing company Logitech (NASDAQ:LOGI) due to suffering an operating loss of $100 million. The step-up box was considered a huge disappointment by Logitech's CEO Guerrina De Luca, who said that the consumer market was not ready for such a product. There is a possibility that Android TV might also face the same fate as its predecessor.
Also, Google's Chromecast, which is a cheap $35 device that connects to televisions and gives its users access to Netflix (NASDAQ:NFLX), Google Play movies, etc., serves more or less the same function as the Android TV. It allows users to connect to their television screens using their smartphones; however, Android TV differs from Chromecast in that it specializes running on smart TVs instead of adding smart TV features on TVs that don't have them. Additionally, it would have more apps available to it as well as provide users with a gaming experience. However, it is still not certain whether users would be willing to substitute Chromecast with Android TV, and much would depend on the price Google sets up for its device.
Google has been able to reach deals with companies like Sony (NYSE:SNE) and Sharp (OTCPK:SHCAY) to incorporate Android TV as part of their television sets, which can help it gather a large audience. However, the fact that it has not collaborated with either Samsung (OTC:SSNLF) or LG (LG), which are the two largest television giants in the world, means that it would lose a remarkable customer base. Ironically, LG has partnered with Google to develop Nexus 6 and the Nexus smartwatch. Both Sony and Sharp are LG's competitors in the TV industry, and their agreement with Google might, in turn, sour relations between LG and Google.
Android TV faces a major competition from Amazon's Fire TV, Roku and Apple TV with all these devices having a considerable presence in the market. Roku 3, Apple TV and Amazon's Fire TV are all competitively priced at $99. Roku 3 focuses more on games, whereas Apple TV and Amazon's Fire TV provide access to a larger number of movies and TV Episodes with both offering over 200,000 TV episodes and access to Netflix and Hulu, among others. Apple TV has sold 20 million units to date, whereas Roku has been able to sell 8 million units. Amazon's Fire TV has also frequently gone out of stock, though the exact number of their units sold is still not known. It has been speculated that Chromecast has sold millions of units since its launch in July 2013, as noted by one of Google's executives.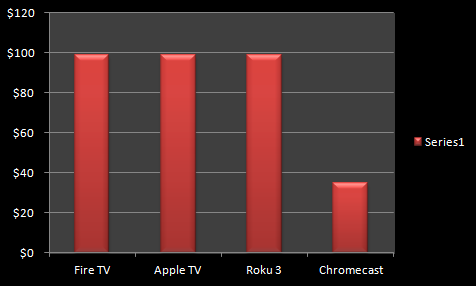 Source: Created by author.
Conclusion
After the launch of Google TV and Chromecast, Google looks set to venture into the television business for the third time. Android TV looks stylish and user-friendly, and through its partnership with Sony and Sharp - which employ 4K technology in their HD televisions - it looks set to leave an impact on a large audience. However, the fact that Google could not reach a deal with either Samsung or LG shows that it would be losing a major portion of smart television customers. The response people give to Android games on the large screen and the extra amount of money they would be willing to spend on Android TV for its extra features as compared to Chromecast is still unclear, and would only unravel once the Android TV device hits the market next year. Until then, let's hope Google lives up to its reputation and introduces another revolutionary product - this time in our living rooms.
Disclosure: The author has no positions in any stocks mentioned, and no plans to initiate any positions within the next 72 hours. The author wrote this article themselves, and it expresses their own opinions. The author is not receiving compensation for it (other than from Seeking Alpha). The author has no business relationship with any company whose stock is mentioned in this article.