Practically all risk assets, and even many "risk-off" assets, have enjoyed extraordinary performance in the past month–maybe even too much. Jim Cramer, like him or not, coined the saying, "bulls make money; bears make money; pigs get slaughtered". It would appear prudent to print out those words of wisdom and tape it to your computer screens for at least the next few weeks.
A substantial portion of the gains in the last month seem most attributable to the prospects for additional quantitative easing. There has been some degree of improvement in some macro data, but at best, this is secondary in nature. David Tepper has been widely quoted for articulating two outcomes for asset prices in the near future: (1) macroeconomic fundamentals improve, at which point the Federal Reserve will not resort to quantitative easing, and asset prices generally go up albeit modestly or (2) macroeconomic fundamentals do not improve at which point the Federal Reserve will begin some sort of quantitative easing which can be characterized by "everything going up".
The whole point of quantitative easing is to stimulate economic activity via lowering market interest rates in an effort to induce risk-seeking behavior by consumers, entrepreneurs, and lenders. The benchmark results for a successful quantitative ease can probably be characterized by increasing demand pull inflation (e.g. inflation prompted by short-term demand outpacing supply). This is where critics of quantitative easing will argue that quantitative easing, or at least this time around, is resulting in little more than debasing the currency. In part, this argument is compelling because interest rates are so incredibly low that it is rather difficult to foresee any additional economic investment or risk-seeking behavior prompted from even lower interest rates. Moreover, with the recent outbreak of the foreclosure fraud issues; decreasing mortgage rates even further seems somewhat analogous to shooting an elephant in the ass with a bb gun–it isn't likely to make much of a difference given all the other issues playing out.
Nonetheless, a tremendous amount of risky assets have performed well on the prospects for an additional round or some systematic quantitative easing. Is the market in a reflexive process right now? Since the purpose of quantitative easing is to lower interest rates and push up asset prices, and the market has done just that, what's the point for the Federal Reserve to actually deliver quantitative easing? It would seem to me there isn't a point to it. Furthermore, the market front running actually alleviates the need for the Federal Reserve to purchase assets–they have a significant portion of the outcome that was desired (in terms of asset price shifts) and they haven't had to spend a dime to get it. This sounds pretty reflexive to me.
But now we are in a scenario where if the Federal Reserve doesn't deliver or doesn't deliver to the extent market participants expect, asset prices could fall in the near term, which is to say the market might just be priced for a perfection that won't be delivered.
One specific example of a possible market distortion is oil prices. Neil Beveridge, PhD, of Bernstein has recently argued that, "with oil having increased to $82/bbl over the past two weeks, it would seem that momentum rather than fundamentals is driving price." He goes on to argue that, "despite the increase in oil prices, US petroleum stocks are at record levels relative to historic norms. Demand growth in developed markets remains weak with high unemployment doing little to stimulate new demand. Global supply has held up relatively well this year despite the reduction in global upstream capex investment in 2009. Latest estimates suggest that global non-OPEC production is likely to grow by over 2% or (0.9mbls/d) this year. There is no fundamental problem with oil supply, and current markets remained well-supplied with crude in our view. On this basis there would seem little justification for oil prices trading significantly above the marginal cost of oil which we estimate to be around $75/bbl."
On Wednesday the International Energy Agency [IEA] revised their demand forecast for 2011. Did oil prices react negatively? Nope. Although they did revise their 2010 demand forecast upward. According to the story posted on CNBC's website, which can be seen here:
http://www.cnbc.com/id/39645739
, "The market should remain pretty well-supplied at least until the middle of next year," said David Fyfe, head of the IEA's oil industry and markets division. "If the lower case GDP scenario materializes, that would trim demand quite dramatically and the market would look very well-supplied through 2011."
"The agency, which advises major industrial countries on energy policy, said temporary factors such as heating oil restocking ahead of the northern hemisphere winter are behind the upwards demand growth revision for 2010."
In addition to the demand revision, "The IEA raised its estimate for non-OPEC supplies by 150,000 bpd to 53.1 million bpd next year."
Overall this is a bearish change to oil fundamentals i.e. less demand, more supply. Perhaps the IEA forecasts are meaningless, I am not really sure. But the point is that many risky assets are starting to drift away from fundamental drivers, and that always results an inherent increase of risk for a significant correction back to fundamental drivers.
The following graph, created by Bernstein, provides a roadmap for the companies most leveraged to oil prices. Perhaps it might be a good idea to reduce implicit exposure to oil prices by shifting to more integrated oil names which exhibit less price elasticity (i.e. beta) to oil prices.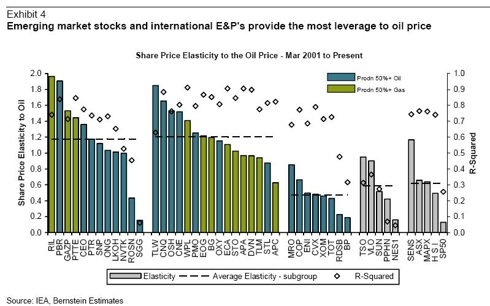 Concluding remarks: risky assets have been performing far too well to get caught up in a sudden correction back to fundamentals resulting from anything less than perfection with the evolution of macro fundamentals, monetary policy, or fiscal policy…hell even the mid-term elections pose new levels of risk. As a result, it can only be advisable to take gains where they appear frivolous or exceptionally good and/or shift into more protective (defensive) positions (i.e. lower beta, dividend paying, put options, stop losses, etc). Maintaining optionality/flexibility is tantamount to navigating this particularly risky environment. Godspeed.
Author's Disclosure: None