Michael Kors (NYSE:KORS) has been beating market predictions for more than 10 weeks, and has yet again surpassed the high expectations of the market. The last quarter's results had everyone wondering if its stocks would ever decline. Earnings per share were $0.78, and surpassed the expectation of $0.68; revenue totaled $917.45 million, exceeding expectations by 12.45% this quarter.
The earnings per share increased by 56% and revenues have increased by 53% YoY. The gross margin and gross profit also increased by 59.2% and 54% respectively, showing favorable results.
Michael Kors reported its future expansion plans, and these reports are comprised of only facts and not assumptions, which assure its future expansions.
Michael Kors vs. Vince and Tiffany & Co.
The quarterly comparison below shows the supremacy of Michael Kors over its rivals Vince (NYSE:VNCE) and Tiffany & Co. (NYSE:TIF). Although Tiffany has a bigger market share at the moment, with higher sales, Michael Kors' growth quite conclusively shows better future prospects. The company's revenue and GP have substantially increased and will provide a better platform to launch from in the near future, as Michael Kors has plans to expand further to increase its market share.
Expansion in China
China is becoming one of the biggest clothing markets today, worth $220 billion. China's clothing market has attracted many luxury clothing brands in the recent past, like Ralph Lauren (NYSE:RL) and Michael Kors. At the moment, KORS has 17 stores in China, but the company is planning to open some flagship stores soon to escalate and cement its foothold. This will consequently prove to be revenue-assertive in the near future.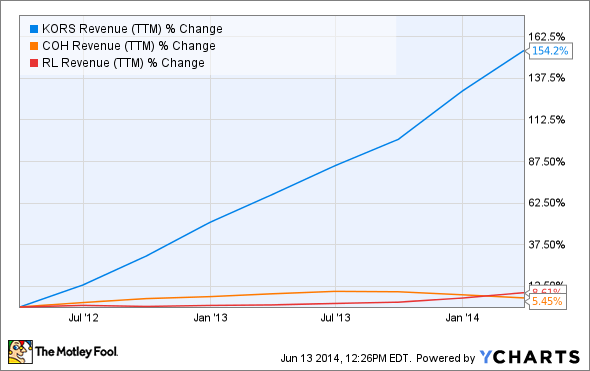 (Source: The Motley Fool TTM)
The TTM percentage change shows the company's ability to adapt in this dynamic environment. The comparison with rivals Ralph Lauren and Coach (NYSE:COH) shows a huge variance. The chart shows data from the last five years proving the dominance of Michael Kors in the fashion market. This is a significant point to consider, because companies, especially clothing brands, need to be able to adapt in dynamic industries. At the moment, if an individual is looking to invest in the clothing industry, it is hard to find a better option than Michael Kors. With Ralph Lauren topping the "sell" list, Coach struggling to find a foothold in the market, and Vince facing lower profit margins, KORS is not only a feasible option to invest in the clothing industry, but also a good option to invest in overall. For the current year, KORS is trading at 29 times its earnings, but in the coming year, that number is expected to fall to 19 times its earnings, which will be an excellent time to invest, considering the company's future expansions. These expansion plans are revenue-assertive and will reap profitable results going forward.
Targeting the Right Audience
Research on brand loyalty shows the earlier we start to use a product, the more loyal we are to the brand. According to research by Piper Jaffray, Michael Kors is number 4 of the top retailing businesses capturing teen audiences' attention through social media. This is not only increasing the demand, and consequently revenue, but also ensuring loyal customers, which is profoundly beneficial for KORS from every point of view.
Conclusion
Although the company's GP margin has fallen a little, which has given birth to speculations of whether or not the company's value will begin falling, the company's strengthening financial position and future expansion strategies ensure a secure and upward price trend. Its dominance in the sector, new marketing strategies, and smart product development has helped to justify the company as an adaptive and proactive business entity that is ready for future challenges and tests.
Disclosure: The author has no positions in any stocks mentioned, and no plans to initiate any positions within the next 72 hours. The author wrote this article themselves, and it expresses their own opinions. The author is not receiving compensation for it (other than from Seeking Alpha). The author has no business relationship with any company whose stock is mentioned in this article.