The following is a list of financial sector stocks that have seen a significant increase in short interest between 6/30 and 9/30. All of these stocks have traded down over the last year.

Is this excessive pessimism justified? We won't be going into detailed analysis for each company. The goal here is to give you a starting point for your own analysis.

Short interest data sourced from AOL Money, performance data sourced from Finviz.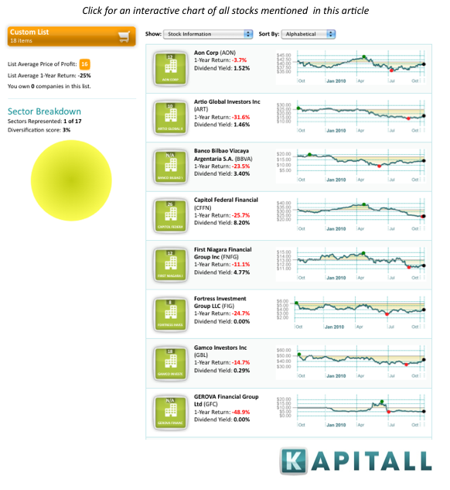 The list has been sorted by the change in short ratio, which measures the number of days of average volume that are needed to cover all short positions. Note that all these changes occurred between 6/30 and 9/30.

1. Stream Global Services, Inc. (NYSEMKT:SGS): Diversified Investments Industry. Market cap of $324.86M. Short ratio has increased from 4.2 to 49.3, with shares shorted increasing from 234,918 to 260,278. The stock has lost -28.67% over the last year.

2. GEROVA Financial Group Ltd. (NYSE:GFC): Life Insurance Industry. Market cap of $672.34M. Short ratio has increased from 2.8 to 22.9, with shares shorted increasing from 464,827 to 625,360. The stock has lost -48.83% over the last year.

3. Aon Corporation (NYSE:AON): Insurance Brokers Industry. Market cap of $10.64B. Short ratio has increased from 1.8 to 10, with shares shorted increasing from 3,280,000 to 24,670,000. The stock has lost -2.28% over the last year.

4. Fortress Investment Group LLC (NYSE:FIG): Asset Management Industry. Market cap of $1.86B. Short ratio has increased from 0.3 to 1.4, with shares shorted increasing from 561,861 to 1,470,000. The stock has lost -24.67% over the last year.

5. First Niagara Financial Group Inc. (NASDAQ:FNFG): Diversified Investments Industry. Market cap of $2.45B. Short ratio has increased from 1.3 to 5.2, with shares shorted increasing from 2,150,000 to 13,820,000. The stock has lost -7.2% over the last year.

6. Banco Bilbao Vizcaya Argentaria, S.A. (NYSE:BBVA): Foreign Regional Banks Industry. Market cap of $51.8B. Short ratio has increased from 1.9 to 6.6, with shares shorted increasing from 5,930,000 to 10,140,000. The stock has lost -20.21% over the last year.

7. National Bank of Greece SA (NBG): Banking Industry. Market cap of $8.01B. Short ratio has increased from 1 to 3, with shares shorted increasing from 3,690,000 to 11,530,000. The stock has lost -66.2% over the last year.

8. Ocwen Financial Corp. (NYSE:OCN): Savings & Loans Industry. Market cap of $921.75M. Short ratio has increased from 3.5 to 10.1, with shares shorted increasing from 3,610,000 to 4,580,000. The stock has lost -23.01% over the last year.

9. Wilmington Trust Corporation (NYSE:WL): Regional Bank. Market cap of $764.36M. Short ratio has increased from 5.2 to 14.8, with shares shorted increasing from 9,580,000 to 11,770,000. The stock has lost -43.7% over the last year.

10. Mitsubishi UFJ Financial Group, Inc. (NYSE:MTU): Banking Industry. Market cap of $68.8B. Short ratio has increased from 0.6 to 1.7, with shares shorted increasing from 1,440,000 to 3,400,000. The stock has lost -12.72% over the last year.

11. Hudson Valley Holding Corp. (HUVL): Regional Bank. Market cap of $321.4M. Short ratio has increased from 4.2 to 11.8, with shares shorted increasing from 434,924 to 425,950. The stock has lost -23.79% over the last year.

12. Whitney Holding Corp. (NASDAQ:WTNY): Regional Bank. Market cap of $787.62M. Short ratio has increased from 5.6 to 15.3, with shares shorted increasing from 7,730,000 to 9,110,000. The stock has lost -13.21% over the last year.

13. Capitol Federal Financial (NASDAQ:CFFN): Savings & Loans Industry. Market cap of $1.78B. Short ratio has increased from 5.1 to 13.4, with shares shorted increasing from 780,816 to 2,780,000. The stock has lost -21.05% over the last year.

14. The St. Joe Company (NYSE:JOE): Real Estate Development Industry. Market cap of $2.05B. Short ratio has increased from 11.4 to 29.4, with shares shorted increasing from 15,470,000 to 17,450,000. The stock has lost -19.09% over the last year.

15. Artio Global Investors Inc. (NYSE:ART): Asset Management Industry. Market cap of $1.02B. Short ratio has increased from 3 to 7.4, with shares shorted increasing from 1,250,000 to 1,570,000. The stock has lost -30.98% over the last year.

16. Pzena Investment Management, Inc (NYSE:PZN): Asset Management Industry. Market cap of $441.95M. Short ratio has increased from 7 to 16.9, with shares shorted increasing from 360,537 to 371,927. The stock has lost -20.21% over the last year.

17. People's United Financial Inc. (NASDAQ:PBCT): Savings & Loans Industry. Market cap of $4.92B. Short ratio has increased from 2.6 to 6.1, with shares shorted increasing from 17,040,000 to 18,700,000. The stock has lost -11.65% over the last year.

18. GAMCO Investors, Inc. (NYSE:GBL): Asset Management Industry. Market cap of $1.29B. Short ratio has increased from 7.2 to 16.5, with shares shorted increasing from 281,696 to 247,839. The stock has lost -12.93% over the last year.

Disclosure: No positions