Trickles of articles encouraging investing in marijuana stocks are appearing on investor web sites. Follow their advice if you are willing to sweat the risk of spiking share prices and fantastic falls. Their reasons for recommending marijuana stocks in the long term are solid, but not for now.
Demand for industrial, medical and recreational marijuana, cannabis and hemp, remains high both from legal and illegal sources. The public, Congress, and most Federal agencies do not openly oppose the legalization of marijuana, especially for medical use. State treasuries are brimming with new dollars, and there are thousands of new jobs in nearly two-dozen states that permit the growing, distribution and sale. Costs for criminal investigations, prosecutions, and incarcerations, are down. Crime is declining in some areas. Individual investors have the opportunity to make money in a developing industry. Colorado, Washington State, and the states bordering them are moving forward with new regulations and licensing for medical and recreational uses.
The stock price trend for companies in the cannabis, hemp, and marijuana business is up. The MJX Marijuana Index that tracks the performance of cannabis industry stocks supports this trend evaluation. The Index co-mingles some 44 medical marijuana and other companies in the industry.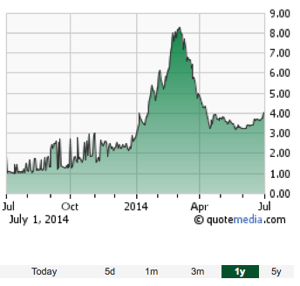 This past June, Jim Cramer boosted GW Pharmaceuticals (NASDAQ: GWPH) pointing out that U.S. approval for Sativex "could be huge for the company." At the beginning of June, the shares sold for $68.26. In July they top $107. Cramer went on to give gravitas to the trend pushing marijuana stocks higher by generalizing the value of medical marijuana in pill form. I pointed out in a Seeking Alpha article on April 3rd the importance of separating biomedical companies working with cannabis from other companies not engaging in scientific rigor when developing and bringing products to market.
The quotemedia.com graph demonstrates how stock prices spike and fall, but more than three times as high this July compared to July 2013. Analysts, including myself, have warned many of the companies have little or nothing in the way of sales and products, and there is little rational justification supporting their skyrocketing per share prices.
CannaVest Corp. (OTCQB: CANV) is a good example of the threat to shareholder equity in this industry. The 52-week high reached $201. Today it sells for about $13. CANV is engaged in class action litigation brought on behalf of those who purchased its common stock for various false and misleading statements, violations of the SEC Act, and more. CANV disclosed it inflated sales and overstated its goodwill by 1355% in filings.
Scandal and skepticism continue to plague the industry among serious analysts. In June 2014, The Emperor Has No Clothes wrote a killer piece for Seeking Alpha on Terra Tech (OTCQB: TRTC). The Emperor exposed the unsavory characters and qualifications of TRTC management for a publicly traded company. There are other revelations about the CEO and his wife, an interior designer serving as company treasurer, being charged with illegally accepting company shares, personal bankruptcy filings, and more.
Yet, Bloomberg TV did a feature interview with the TRTC CEO never once questioning him about allegations that he was fired from his Wall Street finance position, personal bankruptcy, name change, insider selling, etc. Insiders sold over 1m shares in March 2014 when the shares sold for as high as $1.42. A share is 52 cents today. There is way more detail and allegations in this article that warrant careful reading and research before investing any money in TRTC.
TRTC is hardly in the growing marijuana business. The company farms vegetables in greenhouses, which is not novel. The mission is, "To help transform, through innovation, the way we feed the global population…." The web site does not mention marijuana. Corporate management pushes the notion the company will be a leader in hydroponic marijuana growing; otherwise, which investor will be attracted to a company with technicals and debt load of TRTC?
Likewise, AVT, Inc. (OTCPK: AVTC) and Medbox (OTCQB: MDBX) are in the vending machine business. They attract investor attention by promoting themselves as members of the medical marijuana industry. AVTC sells for $2.20 per share after a run up to $8.00, and MDBX hit $70, sold for a high in the past year of $46.75, and today sells for below $18. Promoting these as medical marijuana companies is selling the sizzle not the stake.
Though president Obama and The Justice Department are leaving the issue of legalization to the states, the U.S. SEC and Treasury Department issued warnings to companies in the marijuana business. In June, the Canadian Securities Administrators issued an investor alert urging caution to those investing in medical marijuana businesses. If the Republicans capture both houses of Congress in the mid-term November elections, at best, they will treat the issue with noblesse oblige. If a Republican wins the White House, legalization of recreational pot is unlikely. The near-term outlook does not look promising for marijuana stocks.
Penny stocks have the same appeal as lotteries. Mention of marijuana or cannabis in a business plan gets a flood of attention from penny stock investors. At least government lotteries are pure chance. Penny stocks in the cannabis business are subject to ripe for management manipulation creating a completely unfair investor playing field.
The industry public relations juggernaut reminds me of Shel Silverstein's poem, Danny O'Dare, the dancin' bear. He did one dance after another from the Funky Chicken to the Dog, the Jitterbug and Mashed Potata, the Waltz and the Boogaloo. "And now he's down upon one knee, bowin' oh so charmingly, And winkin' and smilin' - it's easy to see Danny O'Dare wants to dance with me."
Disclosure: I wrote this myself, hold no positions and do not intend to hold positions in the stocks mentioned.
Editor's Note: This article covers one or more stocks trading at less than $1 per share and/or with less than a $100 million market cap. Please be aware of the risks associated with these stocks.