Apple (NASDAQ:AAPL) has set another record, yet again. Wednesday, Apple shares crossed the $300 mark for the first time in the company's history. Based on the pace of iPad sales, investors are finally catching wind to the Apple beat in 2010. Since closing 2009 at $210.73 per share, Apple's stock has risen 43% in just over 10 months. Apple is accelerating fast and not even Research in Motion (RIMM) can catch up quite yet.
Apple now sports a market cap above $275 Billion, over $40 Billion in cash, ZERO debt on its balance sheet. On a trailing 12 month basis, Apple has earned $13.28 per share, putting its P/E ratio at 22.72. The average analyst estimate for the next 2 quarterly earnings reports is $4.03/share and $4.99/share. If Apple delivers in-line on the average earnings estimate the next two quarters, then annual earnings would be $15.86 per share and the P/E ratio based on today's stock price would be 19. Based on today's P/E ratio, Apple shares appear to still be trading at a discount to what could be $350 per share by year end.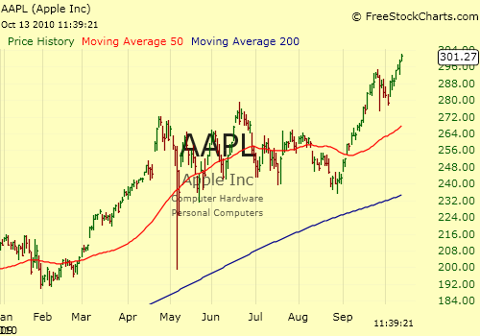 Click to enlarge
2010 is shaping up to be a story year for Apple.
Disclosure: None.