I made a new position on Microsoft (NASDAQ:MSFT) this week. The Verge reported that Microsoft wants beta-testers for the pre-release versions of Office for Android. Interested people can apply as a beta-tester at Microsoft's SharePoint website. I have three Android tablets so I signed up for the beta-test.
At first glance, Office for Android tablets makes sense because Google's (GOOG, GOOGL) Android OS is now the dominant platform in mobile. However, from an investor's viewpoint, I'm not very bullish about Microsoft's decision to extend Office to Android tablets.
I know that Apple device users give 4x more money to app developers than Android device owners. Microsoft's projected income from extending Office to Android tablets is therefore a pittance compared to Office for iPad.
Less Money From Android Tablets
The majority of Android tablet users are low-income people. Microsoft should not expect too much from Office for Android. Few Android tablet owners can afford to sign up for Office 365 subscription. The two charts below from Philip Elmer DeWitt should illustrate my hypothesis that Microsoft will not earn much money from Office for Android.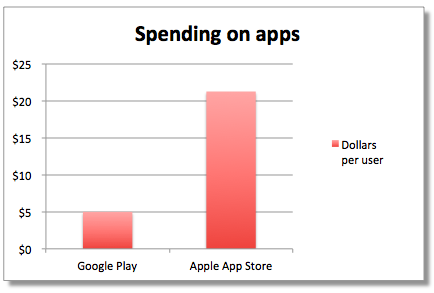 The trend illustrated by the charts above will likely continue for a long time. In spite of the expected decline of iPad sales, Apple iLoyalist tablet owners will continue to generate sales for Microsoft. Affluent iPad customers in North America and Europe can easily afford Office 365 subscriptions.
Chitika's Q2 report shows iPads generate 77% of North American web traffic. Office for Android cannot contribute significantly to the top line. Android users are unlikely to replicate the success of Office for iPad - which is seen to generate as much as $1 billion.
Weaker Windows Tablet Sales
The release of the Office for Android may also aggravate the already-weak sales of Windows 8 tablets. Microsoft is using contra revenue to prop up sales of the Surface 3. However, OEM partners of Microsoft may find it hard to continue manufacturing Windows 8 tablets.
The non-availability of full native Office apps was supposed to be the main selling point for Windows 8 tablets. Releasing the Office for Android will not help Samsung (OTC:SSNLF) Galaxy Tab users switch to Windows. This might be one reason why Intel (NASDAQ:INTC) is prioritizing Android in its quest to sell 40-million tablet processors this year.
The world's leading semiconductor company already accepted that Windows 8.1 tablets would not be making big gains against Android and iOS this year. Microsoft tablets only accounts for 1.6% of North American web traffic.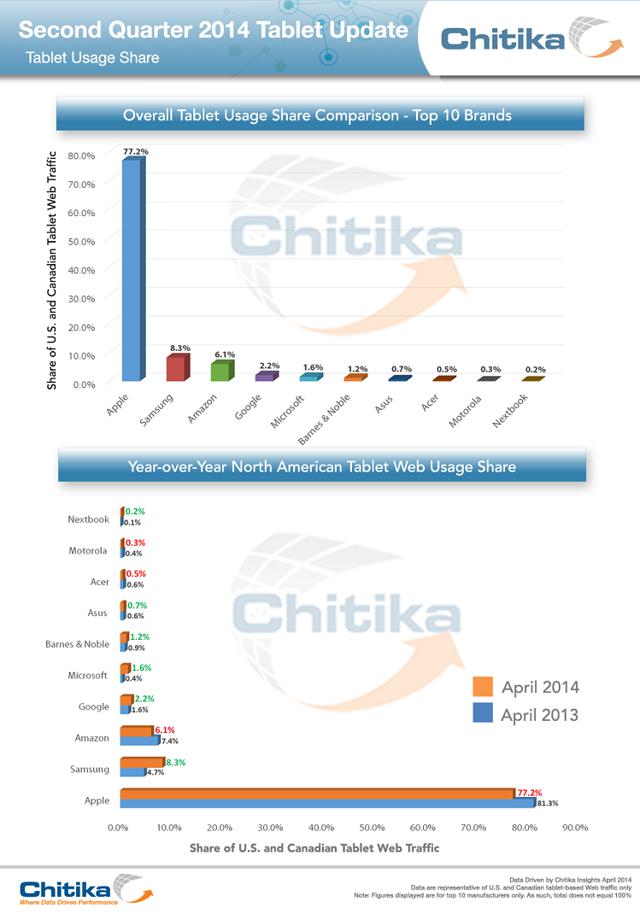 On a global scale, Windows market share in tablets is still insignificant. Android tablets already surpassed sales of the iPad in 2013. The upcoming release of Office for Android will only encourage more high-end tablet buyers to ignore the Surface 3.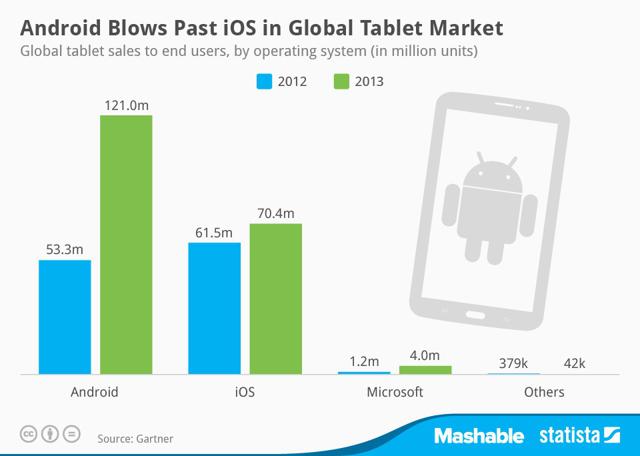 Conclusion
Microsoft will make less money from Office for Android than Office for iPad. However, Microsoft's new boss, Nadella, made it very clear that Microsoft software should work on all devices. Unlike Ballmer, Nadella is willing to risk putting Microsoft software inside competing platforms like iOS and Android.
The new Microsoft is adapting to the new shift towards mobile computing. Windows has insurmountable odds in catching up with iOS and Android in mobile. The only logical alternative is to offer Microsoft's other money-maker, Office, to make money out of tablet users. I submit to Nadella's wisdom.
Office for Android may not generate many Office 365 subscriptions - but it can help Microsoft gain more usage of Word, Excel, and PowerPoint among tablet users. Microsoft can serve ads to free users of Office for Android.
MSFT is a Buy for long-term value investors. BarChart Opinion's long-term technical indicators still give Microsoft an average score of 100% Buy.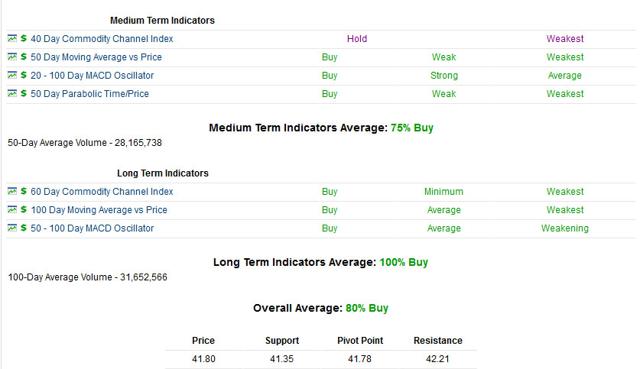 Source: BarChart.com
Lastly, 26 analysts polled by FT.com have a 12-month median price target of $43.05 and a high estimate of $50.

Source: markets.ft.com
Disclosure: The author is long MSFT, INTC. The author wrote this article themselves, and it expresses their own opinions. The author is not receiving compensation for it (other than from Seeking Alpha). The author has no business relationship with any company whose stock is mentioned in this article.
Editor's Note: This article discusses one or more securities that do not trade on a major U.S. exchange. Please be aware of the risks associated with these stocks.