Yesterday, Consumer Reports came out with a grim survey about McDonald's (NYSE:MCD). Out of the 21 national and regional fast food chains surveyed, McDonald's had the worst-rated hamburgers. This is certainly a problematic survey for the firm. I am going to argue in this article that this survey is a part of a growing trend of American consumers' displeasure with the company. The particular segment of the population that I will be focusing on is millennials. The millennial generation consists of people born between 1980 and 2000. There are 78 million people in this generation. Millennials have shown a propensity to enjoy healthy foods and companies with sustainable practices. While McDonald's may argue that it does offer high-quality and healthy options, this doesn't change the perception of consumers. McDonald's is losing this battle to companies such as Chipotle (NYSE:CMG) and Panera Bread (NASDAQ:PNRA). On another front, McDonald's is also losing the social media battle to Starbucks (NASDAQ:SBUX). Social media is important to millennials. Consumers' show their loyalty and brand engagement with a company by sharing their experience on social media. I will compare these statistics between the two restaurant companies.
Before I delve into my thesis, I would first like to examine the American part of McDonald's business. Clearly, this is a global company, so it is important to see what effect a change in the tastes of American consumers would have on the overall profits of the firm. According to the company's 2013 Annual Report, the operating income that came from the US division of McDonald's was 43% of the total income of the firm. Clearly, this is an important business area for the company. The same-store sales rates in the last two months for McDonald's paint a poor picture of the recent history of the company. I expected that, since the weather had a negative impact on the company's sales during the first quarter, there would be some tailwinds for sales in the Spring as consumers came back to the restaurants. If a consumer in the Northeast wasn't able to get to McDonald's in the first 3 months of the year because of bad weather, then it would be logical that he/she may go there more often when the weather improved. This was not the case, as the same-store sales rates in America for April were flat, and for May, were down 1%. This proves that consumers go to McDonald's more for convenience than they do for taste.
In a 2013 survey, 68% of respondents stated that McDonald's had very convenient locations. This survey also states that good tasting food is the 8th-most important thing to consumers. While these data points would seem to be positive for McDonald's, I believe that consumer's tastes are shifting. Convenience will always be important. The fast casual sector has been able to successfully combine this convenience with more healthy options. This shift in tastes has been borne out by the sales data. For two years, the sales in quick serve (i.e. fast food) restaurants have been decreasing by 1.3%, while the sales in fast causal space have risen by 8% in the past year.
These changes in sales numbers and taste preferences have been more pronounced for millennials. From 2007-2012, there has been a 16% decline in traffic at hamburger chains and a 12% decline in visits to quick serve restaurants. This data proves that the trend has been occurring for a long period of time and will likely continue. The reason for this decline lies in the surveys done by research firm Technomic. Millennials stated in a 2014 survey that 45% of them would prefer to visit a restaurant that offers new and innovative flavors and ingredients. This is up from the 37% who stated this in 2012. As I stated early, consumers are dining at restaurants that have quality ingredients and are more sustainable. Millennials are particularly representative of this trend. They will make up a huge portion of future sales as they have $1.3 trillion purchasing power, according to RBC Capital Markets. Millennials are turning to companies such as Panera Bread and Chipotle. The two companies were rated as the top two favorite restaurants of millennials, according to GlobalHue's 2013 brand report. McDonald's was ranked 5th. Millennials want to eat healthy, as 9 in 10 said that "it's important to be conscious of what they put in their bodies", according to a survey done by MTV and Subway. Clearly, consumers view these fast casual restaurants as the healthier option to fast food restaurants such as McDonald's.
Another issue that millennials feel is important for companies to focus on is social responsibility. In a 2011 study done by TBWA/Worldwide and TakePart, 4 in 5 millennials stated that they would be more likely to purchase from a company that supports a cause they believe in. The fact that this group of people would be more likely to purchase from a socially responsible company means that the companies that do the most CSR will have the best brand image with its customers. Brand image is clearly important to restaurant firms. While I am not arguing that McDonald's does not do enough CSR, I am stating that in most rankings that I have looked at, the company that does the best in this area is Starbucks, not McDonald's. According to Fortune's most admired companies list, Starbucks was rated as the most socially responsible company in its industry. This certainly helps Starbucks' brand image. Panera Bread also has great CSR, as it is trying to fight food insecurity through its Panera Cares program. McDonald's faces an uphill battle when it comes to its brand image because of the obesity epidemic in America. While it is debatable that fast food companies should be blamed for this issue, it doesn't change the fact that many consumers do blame the companies for this. I couldn't find any research on how many people hold this view, but if you look at the debate.org website, it shows many people's arguments that hold this viewpoint. It has 26% of people blaming fast food for obesity.
The final reason why I believe McDonald's is sell is because of its lack of a social media presence compared to that of Starbucks. According to an Ipsos study, user generated content is 20% more influential in purchasing decisions for millennials than professional reviews. This data led me to check and see which companies were generating the most user content. This would allow me to determine who had the social media edge, instead of simply checking total likes or followers for the overall companies. According to Websta, the hashtag #McDonald's garnered 4.4 million pictures on Instagram, compared to 13 million for that of Starbucks. Chipotle had over 1 million pictures and it only has 1,600 worldwide locations, compared to the 35,000 that McDonald's has. Therefore, Chipotle and Starbucks generate more advertisement to users on Instagram then for McDonald's. This puts McDonald's at a disadvantage, especially among millennials, because of its reliance on social media to make purchasing decisions.
The investment decision based on this article would be to sell McDonald's into strength. I wouldn't short McDonald's because of the dividend it has. Maybe play it by buying puts. Long-term, the company is losing its edge to the fast casual restaurants, as it is viewed by the millennial generation as not having healthy ingredients. McDonald's is losing its appeal among millennials to companies such as Starbucks.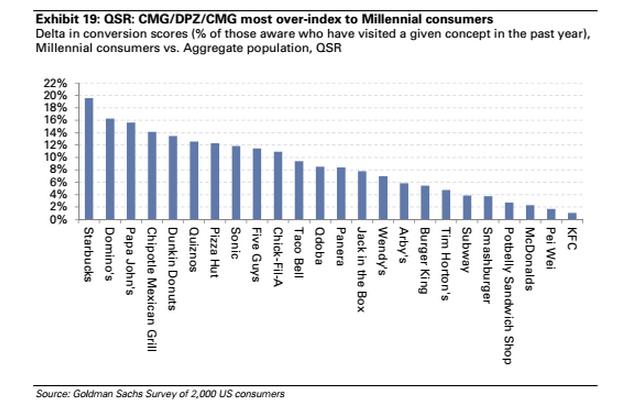 Starbucks has a better CSR, and this is important to millennials. The point of this article was to recommend selling McDonald's. I certainly would also advise using this article as a starting point to forming your thesis to buy stock in Chipotle and Starbucks, as they are both well-run companies.
The risk to this thesis would be that McDonald's improves its strategy and brand image. I am not sure how McDonald's would increase its appeal to millennials, but it is not impossible. Starbucks' flavored coffees aren't exactly healthy, so this is evidence consumers do enjoy some unhealthy restaurants. McDonald's needs to step up its value proposition if it wants to win in the competitive landscape that is the restaurant industry.
I just started a YouTube channel where I answer readers' comments. Here is the link to my channel.
Disclosure: The author has no positions in any stocks mentioned, and no plans to initiate any positions within the next 72 hours. The author wrote this article themselves, and it expresses their own opinions. The author is not receiving compensation for it (other than from Seeking Alpha). The author has no business relationship with any company whose stock is mentioned in this article.