General Electric (NYSE:GE) is one of the most diversified technologies and financial services firms in the world, with segments including, oil and gas, power and water healthcare, energy management, aviation, home and business solutions, transportation, as well as GE Capital. The company will be releasing 2Q14 earnings later this month, and it has made some recent developments that will provide value for shareholders over the long term.
For instance, the company recently signed a definitive agreement to acquire Monsal, a renewable technology company based in the United Kingdom. Leveraging Monsal's advanced renewable technology and industry expertise will augment GE's wastewater treatment product offerings and provide energy efficient solutions to its customers. General Electric Lighting, a subsidiary of the conglomerate recently, presented an advanced and inexpensive connected light-emitting diode (LED) bulb intended to succor consumers to create personalized Smart Homes that will connect with their smartphones through the new Wink application to control lights from any location. The third component I will address here is GE Aviation, an imperative element of General Electric's global industrial portfolio and a reliable revenue generator. Aviation is a strength for GE as a key growth driver for the company's industrial segment, and will continue to do so, as demand for aircraft engines is expected to increase. While the shares have been moving sideways and slightly down YTD, the stock has been recognized as a buying opportunity by the I Know First self-learning algorithm. These developments will help grow share value in accordance with the bullish algorithmic forecast based on predictive analytics.
Monsal
In order to enhance its technologies for its growing renewable energy business, General Electric announced it would be acquiring Monsal, based in Nottinghamshire England, for its advanced anaerobic digestion technology that turns solid bulk waste into renewable energy. The deal was reported by The Telegraph to be around £15 million, or about $20.4 million. Monsal generated over £10 million of revenues in 2013. This deal was a win-win situation for both companies, as General Electric will be able to enhance its wastewater treatment offering and Monsal will benefit from GE's global expertise and reach in the municipal and industrial water treatment industry. Aidan Cumiskey, managing director of Monsal, stated, "Joining the GE family will allow Monsal to bring our technologies to a significantly broader audience as well as give us R&D capabilities at a much larger scale than we have now. We expect to expand our product and technology range with the GE resource, so that we become the "Go To" company globally for anaerobic digestion."
This acquisition also further enhances General Electric's dedication to energy reduction and the company's objective to build energy-neutral wastewater treatment plants. Heiner Markhoff, president and CEO for water and process technologies for GE Power & Water, stated, "For many years, GE has been working to further the development of water reuse, wastewater and tough-to-treat water technologies. The acquisition of Monsal, with its advanced anaerobic digestion technology, will enable us to provide our customers with more energy-efficient options for water treatment solutions. Now our wastewater treatment solutions can be combined with new, advanced anaerobic digestion technologies to convert bio-solids to renewable sources of energy for our customers."
Link LED + Wink = Smart Home Solutions
The latest product offering from General Electric's partnership with Quirky, a design company that creates various home appliances that can be controlled via the Internet, is the "Link" LED light bulb, which can be used with Wink. This application delivers a quick and simple interface between the consumer and the products used at home or any other location. The app is available on Apple (NASDAQ:AAPL) iOS and Google (NASDAQ:GOOG) (NASDAQ:GOOGL) Android devices that enable users to interact with various products remotely. The affordable LED bulb will be available starting under $15 on offline and online retailers, such as the Home Depot (NYSE:HD), its website and Amazon.com (NASDAQ:AMZN).
The Link LED bulb is designed to improve home ambience, increase visibility, enhance overall experience, be a cost-effective way for consumers to light up their homes using their smartphones and other connected devices, as well as augment profitability by offering significant economical technologies. This also provides a prospective emphasis on the potential for smart home hardware, which also happens to be of interest to Apple. Earlier this month, at the Worldwide Developers Conference, Apple divulged HomeKit, a suite of tools that allows developers to easily create iOS apps for home automation products, such as light dimmers, thermostats, and door locks. For customers who want to use a product such as the Link LED bulb, they would have to open a separate application, such as Wink. Apple's HomeKit will allow iOS 8 users to bypass this by embedding the controls for connected home products in iOS 8. For now, GE is relying on Wink's open system platform, but since Link is ZigBee-certified, it could work on other platforms, in theory.
Link is available in three different designs. The light bulb is an A19 60-watt, a soft-white indoor floodlight, and an indoor/outdoor bright-white spotlight at under $15, $20 and $25 respectively. The starter kit with the GE Link hub and two A19, 60-watt replacements will sell for less than $50. This product is General Electric's response to competitive products such as the Philips Hue, a connected, wireless, color-changing LED bulb with a starting price point for a single bulb about three times as expensive as the Link A19. Another competitive product is TCP's connected system, which has a starter kit for $100 and offers two A19 bulbs. Google's Nest is another example of companies recognizing the potential in this market. General Electric certainly has competition here, but the company is being proactive and will not miss out.
Prospects In The Sky
GE Aviation is an operating division of General Electric, and is one of the world's top aircraft engine manufacturers that provide maintenance, repair and overhaul services. Over time, aviation technology is becoming a larger component of the company's global industrial portfolio, as demand has been increasing for superior engines with fuel-efficient technology, and is expected to grow. Aerospace research firm Teal Group predicts aircraft engine sales will reach a record high of $500 billion over the next 10 years. World passenger traffic should rise at 5% over the next two decades, according to Boeing's market outlook for 2013-2032, and this will prompt demand for 35,280 aircraft, of which 41% would be for replacing retiring planes. The remaining orders would be fulfilled by the growing demand to expand fleet, mainly from emerging markets.
The projected growth is attributable to the rise in passenger traffic and the need to save on operating costs by building efficient fleets with lower carbon emission and better fuel economy. General Electric is well-positioned to benefit from this aviation trend. Bill Fitzgerald of GE commercial aviation stated there are 33,900 GE engines in use, and that number is expected to increase by 50% through 2020. "So, at any given moment in time, there's 2,200 planes up there with 300,000 people resting comfortably who are depending on our engines." General Electric's aviation backlog was worth $21 billion in the quarter ended March, up 68% since last year. Last quarter, GE Aviation revenue increased 14% to $5.8 billion, accounting for 15% of the company's consolidated sales.
The HondaJet
GE and Honda (NYSE:HMC) have been working over the past 10 years to develop a new business jet called the HondaJet, and this is Honda's first venture into the aircraft business. Honda refers to it as the "world's most advanced light jet" to-date. In 2004, GE and Honda collaborated on a 50-50 split venture known as the GE Honda Aero Engines to bring light, low-cost business jets to market.
The plane has a new-generation engine that is situated above the wings in order to reduce drag and cabin noise, and improve performance and fuel efficiency. This engine, known as the HF120, is the smallest engine in GE's portfolio. The HF120 twin-engines can thrust the HondaJet to a maximum speed of 420 knots (483 mph), and can be flown at a maximum altitude of 43,000 feet over a range of 1,357 miles. The private jet comes at a "bargain", and will be sold for $4.5 million. Compare this to the comparable Gulfstream jet that starts at $14 million, a discount of 68%. Figure 1 shows the HondaJet's unique design, with the engines located above the wing.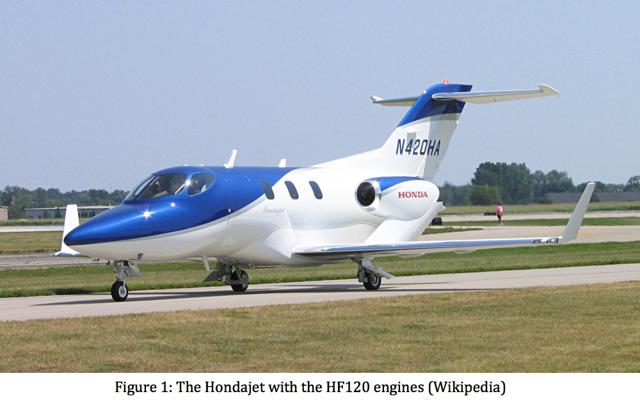 Honda announced that the first production HondaJet achieved its initial flight from Greensboro, North Carolina, marking another milestone toward aircraft certification and entry into service in 2015. Honda Aircraft Company president and CEO, Michimasa Fujino stated, "Today's celebration is the culmination of extensive engineering and production efforts, and this is an important achievement in bringing the world's most advanced light jet to market." This is an important milestone for General Electric as well, because a lot of the technology behind this plane, including advancements in materials, offers tremendous benefits, including drag reduction, noise reduction or maintenance costs, or even increasing the temperatures at which parts can function properly.
Algorithm Prediction Based On Predictive Analytics
I Know First utilizes an advanced self-learning algorithm based on Artificial Intelligence (AI), Machine Learning (ML), and incorporates elements of Artificial Neural Networks and Genetic Algorithms in order to model and predict the flow of money in almost 2,000 markets from 3 days to a year. The market prediction system is entirely empirical and not based on human-derived assumptions. The human factor is limited to building the mathematical framework and initially presenting the system with the "starting set" of inputs and outputs, which is also utilized for recognizing every other market opportunity. The algorithm then repetitively proposes "theories" and recurrently tests them automatically on years of daily market data. It then validates them on the most recent data, which prevents over-fitting. By separating the predictable part from stochastic (random) noise, the algorithm is able to create a model that projects the future trajectory of the given market in the multi-dimensional space of other markets. The output of the predicted trend is a number, known as the signal, which is used by traders to identify entry and exit points in the market. While the algorithm can be used for intra-day trading, the predictability tends to become stronger over longer time horizons, such as the 1-month, 3-month and 1-year forecasts, making this market prediction system ideal for longer-term trading.
The color-coded forecast is very easy to read, where green indicates a bullish signal and red indicates a bearish signal. Deeper greens signify that the algorithm is very bullish, and vice-versa for deeper reds. The signal is the number flush right in the middle of the box and the predicted direction (not a specific number or target price) for that asset, while the predictability is the historical correlation between the prediction and the actual market movements. In other words, the signal represents the forecasted strength of the prediction, while the predictability represents the level of confidence. These are two independent indicators, but consider both as you make your own analysis. Figure 1 shows an algorithmic prediction for GE from 1 year ago. Algorithmic traders utilizing our General Electric stock prediction received this forecast. Ticker symbols for other assets have been removed; however, you can still see their signal and predictability.

In accordance with the algorithmic forecast, GE rose 14.75% over the stated time horizon. GE is recommended in the July 2nd 2014 Top 20 algorithmic stock picks. Figure 2 shows the algorithmic prediction for GE in the 1-month, 3-month and 1-year time horizons. Comparing the algorithmic performance from the forecast above to the most contemporary forecast is an excellent strategy for rationalizing your expectations utilizing algorithmic trading as one instrument in your analysis process.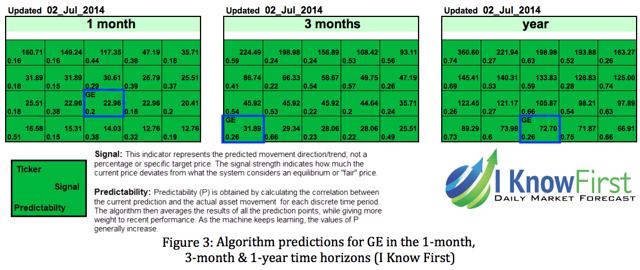 The current Top 20 forecast is filled with assets that the algorithm is very bullish about, including GE, which is demonstrated by the deeper green of the heat map. The general coloring of the heat map helps give algorithmic traders another indicator of confidence in the forecast. For instance, a heat map that is predominantly green should give supplementary assurance in the top forecasted assets.
The signal increases from 22.96 in the 1-month time horizon to 31.89 in the 3-month time horizon and 72.70 in the 1-year time horizon, showing consistent growth in the predicted magnitude of the asset. The predictability indicator also increases from 0.2 to 0.26, which signifies increased confidence over the stated time horizons. Predictability ranges from positive 1 to negative 1. This metric is an adaptation of the Pearson correlation coefficient. A higher predictability is better, but generally, a predictability of 0.2 is preferable.
These bullish signals should give investors some assurance that GE shares will rise further over the stated time horizons. Algorithmic traders utilize these daily forecasts as a tool to enhance portfolio performance, verify their own analysis and act on market opportunities faster. We never recommend blindly purchasing assets that are endorsed by the algorithm without your own additional analysis.
Conclusion
General Electric's strengths can be seen in several areas, such as its revenue growth, good cash flow from operations, increase in stock price during the past year and expanding profit margins. The investment in Monsal will enable GE to provide customers with more energy-efficient alternatives for water treatment solutions. Offering the Link LED bulb at such a significant discount makes the light bulb a very attractive option compared to the alternatives. As such, the company will assure itself of a nice slice of market share in the growing segment. GE Aviation, alongside the company's oil & gas business, was the key driver for growth and will continue to provide growth that will reward shareholders. As Aerospace aircraft engine sales are expected to reach $500 billion over the next 10 years, this operating division of General Electric will become a strong component for growth.
Business disclosure: I Know First Research is the analytic branch of I Know First, a financial services company that specializes in quantitatively predicting the stock market. Joshua Martin, an I Know First Research analyst, wrote this article. We did not receive compensation for this article (other than from Seeking Alpha), and we have no business relationship with any company whose stock is mentioned in this article.
Disclosure: The author has no positions in any stocks mentioned, and no plans to initiate any positions within the next 72 hours. The author wrote this article themselves, and it expresses their own opinions. The author is not receiving compensation for it (other than from Seeking Alpha). The author has no business relationship with any company whose stock is mentioned in this article.