Jim Cramer is a popular if not controversial financial pundit. Investors seem to either love and follow the Mad Maestro of Mad Money or dismiss him as a huckster prone to hyperbole. Personally, I generate my own investment ideas but find Mr. Cramer very good at ascertaining what sectors are seeing momentum as well as occasionally coming up with an original and actionable investment thesis.
One of these I have used many times to find successful equity investments is the concept of the "accidental high yielder." This involves a stock that is not usually thought of as a dividend play but thanks to a recent decline in the stock, they have become stocks that yield 3% or 4%. I have found when these types of stocks reach this type of a high and sustainable dividend yield; quite often, it means a bottom could be forming and the new direction for the stock is up.
One such opportunity now exists in a beaten down retailer. Coach (NYSE:COH) has declined some 40% from recent highs due to several missteps and robust competition from the likes of Michael Kors (NYSE:KORS). At these levels, this retailer is yielding just under four percent (3.9%). There are other reasons I believe the stock has probably seen the worse of the pull back and should move up from here for patient investors.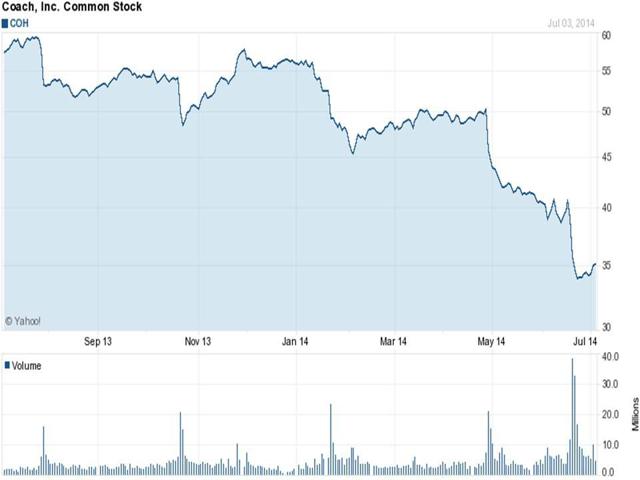 Click to enlarge
Valuation:
The shares after their decline sell for less than 11 times its trailing earnings compared to average 17.8 times over the past five years. In addition, the company has a strong balance sheet with no net debt and over $550 million in net cash on the books.
Change in Sentiment:
The retail sector underperformed the overall market in the first half of the year. However, job and economic growth are starting to accelerate after a dismal performance in the first quarter. This renewed growth should buoy consumer confidence and spending helping sentiment on the sector.
Investors are already seeing this improvement in sentiment starting to be reflected in the sector. Three other beaten down retailers, Bed Bath & Beyond (NASDAQ:BBBY), PetSmart (NASDAQ:PETM) and even Lululemon (NASDAQ:LULU) have been very strong over the past couple of trading sessions in addition to the bounce over that time span from Coach. (See Chart).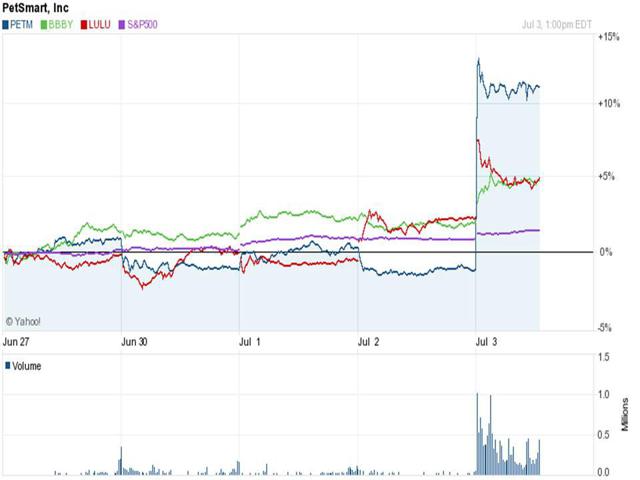 Click to enlarge
Bed Bath & Beyond has struggled along with Coach over the past few months. PetSmart's bounce was aided by Jana Partners disclosing an almost 10% stake in the pet retailer this week. Other activists targeting Coach could be a possibility that could act as a positive catalyst as these funds could easily be attracted to Coach's brand and operational cash flow, which is still strong.
Outlook:
I am willing to take a chance that the decline in Coach is over while mitigating risk. I bought the shares Thursday for $35.25 a share and have a stop order in at $33.50 a share. This is a dime above the level it recently bounced off of and the shares would yield over 4% at that level which should also act as a floor.
Fashion is fickle and is why niche retailers can be volatile over time. I am willing to make a small bet that Coach will get its act together over time. Hopefully, it will stage a comeback like Deckers Outdoor (NASDAQ:DECK) did when I profiled it just over two years ago when it was struggling. The stock has basically doubled over that time frame. If I am wrong, I have my stop in to keep my losses to minimal levels. In the meantime, I am happy to collect my almost four percent yield.
Disclosure: The author is long COH, PETM. The author wrote this article themselves, and it expresses their own opinions. The author is not receiving compensation for it (other than from Seeking Alpha). The author has no business relationship with any company whose stock is mentioned in this article.