Editor's Note: This article was originally published on June 20, 2014 here.
The US energy markets continue to adjust to rising domestic production and shifting delivery capabilities. The bottleneck of transporting oil from Cushing, Oklahoma (settlement point for WTI futures) to the US Gulf Coast has been eased via improved pipeline capacity as well as higher rail deliveries. The oversupply of crude at Cushing rapidly dissipated.
Crude supplies at the Gulf Coast on the other hand rose sharply (see discussion). However, as the second chart below shows, when measured in terms of "days of refinery throughput supply" (the amount of time it takes refineries to absorb all this crude) the region does not look so oversupplied.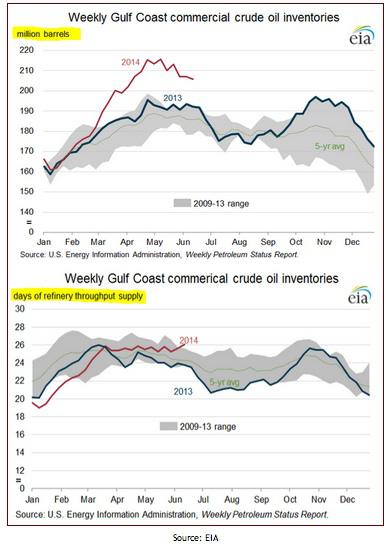 That's because as more crude was being delivered to the Gulf Coast, the refining capacity in the region continued to grow.
EIA: - Gulf Coast refineries have been running at near record levels for much of 2014. Through May, crude inputs at Gulf Coast refineries averaged 8.1 million barrels per day (b/d), an increase of 0.5 million b/d compared with the same period in 2013. Price-advantaged crude oil and natural gas feedstocks have encouraged high utilization rates at PADD 3 [Gulf Coast] refineries. Crude oil distillation capacity additions have also supported higher crude runs. All other factors equal, increased refinery crude runs increase crude inventories required for operations.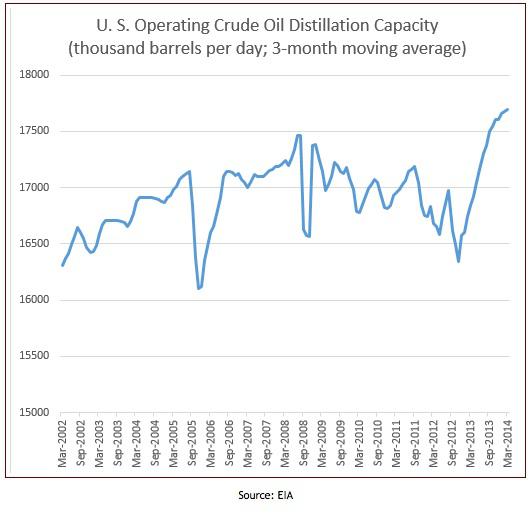 Part of the reason for this rising capacity has been the improvement in refining profitability. Crack spreads (price spread between gasoline or heating oil and crude) have risen substantially this year.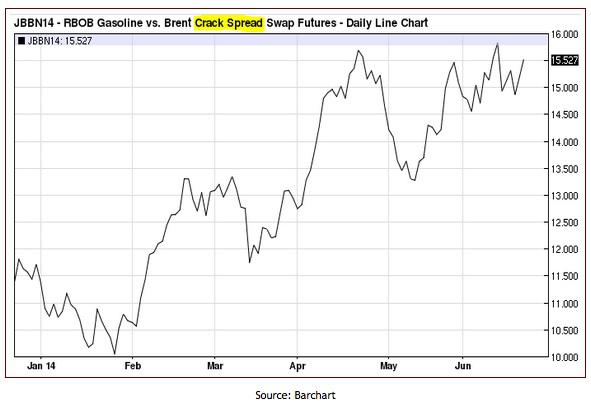 As a result, independent refinery shares have substantially outperformed the overall equity market.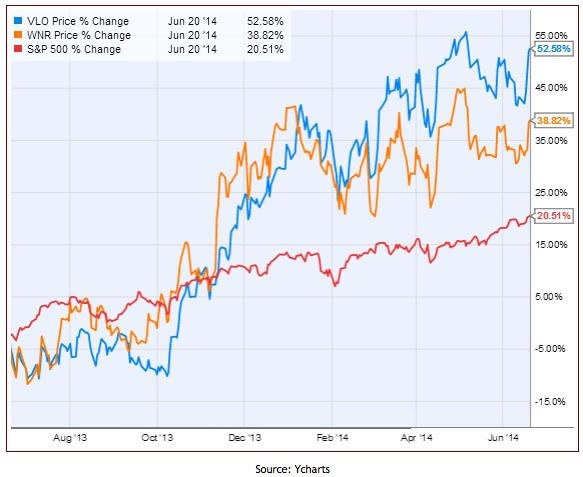 Some analysts believe that the conflict in Iraq (see discussion) could benefit US refineries further. With supply disruption risks widening the Brent-WTI spread these companies' margins would improve.
Barron's: - As rebels seize control in Iraq and threaten the flow of crude, shares of some U.S. oil refiners are well-positioned to hit new highs. With extremist Sunni militant incursions threatening Shiite control in Iraq, the international Brent oil benchmark price, on which U.S. gasoline prices are based, is up more than 4% in June to $114.99 per barrel. The U.S. benchmark is up 3% to $106.11 per barrel.
Disclosure: None