Foster Wheeler AG (FWLT), through its Global Engineering and Construction Group, has received a pre-front-end engineering design (pre-FEED) and front-end engineering design (FEED) contract from a joint venture company of Eni Venezuela B.V and Repsol YPF Venezuela Gas, S.A. The contract is for the development of new production facilities at the Perla field, situated in the Gulf of Venezuela, Caribbean Sea.
Eni Venezuela B.V and Repsol YPF Venezuela Gas, S.A. are working together to develop non-associated natural gas exploration and exploitation activities in Cardon IV area, in the Bolivarian Republic of Venezuela. The new facilities at the Perla field is designed to have offshore structures, trees, controls, offshore processing, subsea flowlines and export pipelines. The facilities will also include a linking system between the wellheads and onshore gas plants, together with other utilities facilities.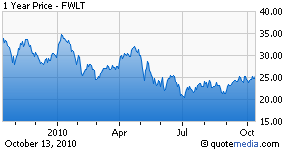 The contract will be included by Foster Wheeler in its third-quarter 2010 bookings. However, the value of the Perla field contract was not revealed.
Longer term, Foster Wheeler believes that world demand for electrical energy will continue to grow and solid-fuel-fired steam generators will continue to fill a significant portion of this incremental generating capacity. The fuel-flexibility of CFB steam generators enables them to burn a variety of fuels other than coal and produce carbon-neutral electricity when fired by biomass. In addition, the company's steam generators can be designed to incorporate supercritical technology, which significantly improves efficiency and reduces emissions.
Foster Wheeler continues to be successful in booking contracts of varying types and sizes in key end markets, including a large award for the engineering, procurement and construction of a new refinery in India. The company's success in this regard is a reflection of its technical expertise, its long-term relationships with clients and its selective approach in pursuit of new prospects, where it believes it has significant differentiators. Front-end engineering work is the precursor to subsequent significant work of engineering, procurement and construction.
However, as the company's operations are concentrated in four industries (oil & gas, oil refining, chemical/petrochemical and power), it may be adversely affected by economic or other developments within these industries. The company is also subject to various environmental laws and regulations in the countries in which it operates. If it fails to comply with these laws and regulations, it may incur significant costs and penalties that could adversely hurt its business, financial condition, results of operations and cash flow. Its business may be adversely affected by regional, national and/or global requirements to significantly limit or reduce greenhouse gas emissions in future.
The competitive pressure in its Global Engineering and Construction (E&C) Group was somewhat more pronounced than it was in the previous year. In its Global Power Group, demand for solid fuel boilers has also been very weak. Major competitors of Foster Wheeler are Fluor Corporation (NYSE:FLR) and Jacobs Engineering Group Inc. (NYSE:JEC)
Foster Wheeler AG is based in Zug Switzerland, but its operational headquarters are in Clinton, New Jersey. The majority of Foster's revenues and new businesses originate from outside the United States. The company serves the following industries: Oil and Gas; Oil Refining; Chemical & Petrochemical; Pharmaceutical; Environmental; Power Generation; and Power Plant Operation and Maintenance.
We continue to maintain a Neutral rating on Foster Wheeler for a long term, with a Zacks #4 Rank (Sell recommendation) over the next one-to-three months.