This June, the price of cocoa (NYSEARCA:NIB) reached its highest level since 2011.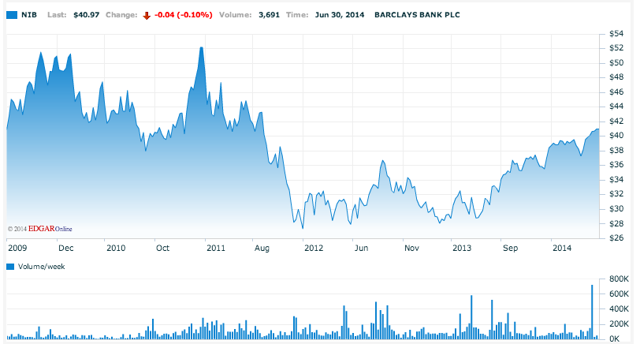 (Nasdaq.com)
Cocoa futures have quickly climbed as well.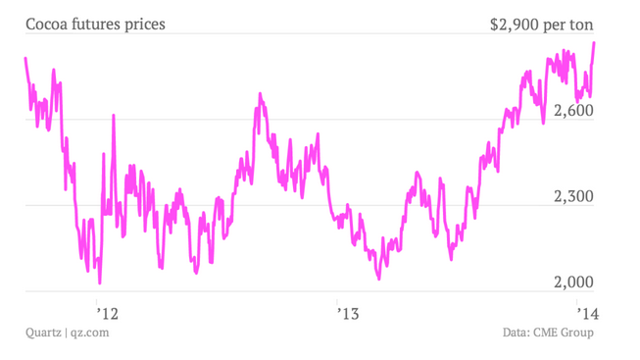 (qz.com)
This is the kind of price inflation that can bring people together in consternation. After all, chocolate is a product beloved by consumers from all walks of life.
Reasons Behind The Climb
There are multiple reasons for this precipitous climb.
· For one thing, consumers around the world are gaining greater appreciation for dark chocolate, a confection that requires far more cocoa than lighter chocolate.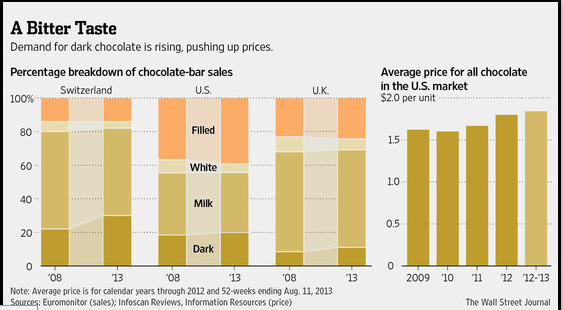 (Source: online.wsj.com)
On average, bars of chocolate contain around 10% cocoa. In contrast, dark chocolate varieties can comprise 70% of cocoa or even more.
· As with so many other industries, the cocoa industry is directly affected by rising demand in China. In the past ten years, Chinese chocolate sales have doubled and this trend shows no sign of slowing down. Once again, China is proving an incredibly powerful force dictating the shape of global commerce.
· Of course, China isn't the only nation giving in more often to the seductive allure of chocolate. Market analyst Euromonitor believes that globally, chocolate sales will inflate by more than 6% this year alone.
· With its decision to eliminate pest control measure and reduce subsidies for fertilizers, the government of Ghana has also contributed to unfavorable trends in the cocoa industry.
Supply Chain Woes
A number of additional factors are driving the high price of chocolate. Largely based in the underdeveloped region of West Africa, the cocoa industry continues to rely on a supply chain that is archaic, inefficient and sometimes inhumane.
In addition, cocoa is one of the least profitable cash crops grown in the region. Reportedly, cocoa farmers only receive 3% of the value of each chocolate bar sold. Would-be cocoa farmers can make far more growing coffee beans or sugar cane, to name just two competitors. In the current environment, African farmers have little ability or incentive to meet the surging demand for cocoa.
On top of these structural problems, problems of the moment are also affecting cocoa prices. Poor weather has stricken cocoa growers in the Ivory Coast while the end of a Ghanaian agricultural subsidy has also had an impact.
Analysts expect that demand for cocoa should outpace supply for at least four years. Some go so far as to say that cocoa production is essentially stalled, while demand continues to rise.
Plans To Boost Crop Yields
The average cocoa farmer grows on 12 acres of land or less and doesn't have the capital to ward off crop failures.
To boost yields and meet the global demand for cocoa, agro-industrial firms are looking to modernize and streamline the cocoa industry. Six such projects are already in the works. If similar projects from the past are any guide, agro-industrial firms may provide cocoa farmers with training in new techniques, seedlings and expansion loans. Though agro-industrial initiatives may eventually bear fruit, cocoa price inflation should continue for an appreciable interval.
Bad News For Beloved Chocolatiers
Sky-high cocoa prices should certainly have a negative impact on chocolatiers. Vulnerable companies include Hershey (NYSE:HSY) and Nestle (OTCPK:NSRGY). Naturally, current trends also threaten Barry Callebaut AG (OTC:BYCBF), a Swiss firm and the largest chocolate manufacturer in the world.
Chocolatiers will need to take action to avoid or at least ameliorate the looming cocoa shortage, a shortage that could develop into a problem of immense proportions.
Less Sweet Outlook For HSY Investors
As the market leader for chocolate confectionery in the United States, Hershey in particular has seen a tough 2014 thus far as the chocolate category has seen significant expansion.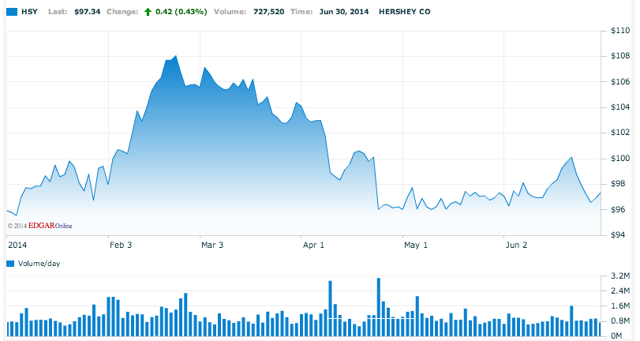 (Nasdaq.com)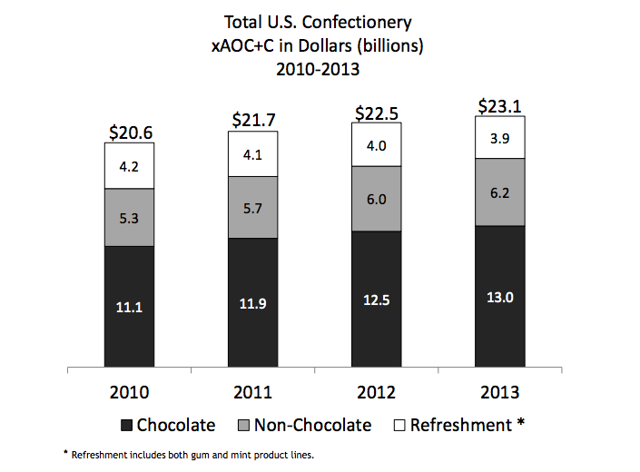 (www.thehersheycompany.com/pdfs/fact-book.pdf)
In the past five quarters, HSY has missed revenues estimates four times.
While Hershey is a large and diversified business, having acquired Brookside Foods Ltd. in January 2012, its principal product groups are still chocolate and sugar confectionery products, which it manufactures, markets, sells and distributes under more than 80 brand names, in approximately 70 countries.
If cocoa prices continue to rise, as indicated by the many macro factors noted above, this could have lasting, significant impact on HSY stock for at least the remainder of 2014.
HSY recently faced a downgrade on May 29th, 2014 from Argus.
We suggest investors consider taking profits in HSY now.
We invite readers, wishing to join the discussion on HSY to click +FOLLOW above the title of this article, and those looking for the latest developments to click +Get real time alerts.
Disclosure: The author has no positions in any stocks mentioned, and no plans to initiate any positions within the next 72 hours. The author wrote this article themselves, and it expresses their own opinions. The author is not receiving compensation for it (other than from Seeking Alpha). The author has no business relationship with any company whose stock is mentioned in this article.
Editor's Note: This article discusses one or more securities that do not trade on a major U.S. exchange. Please be aware of the risks associated with these stocks.