Boeing's (NYSE:BA) second quarter passenger jet deliveries rose more than 7%, driven by increasing 787 Dreamliner demand. The company said that Dreamliner deliveries rose 66% in the second quarter compared to the first quarter. It delivered 30 Dreamliners in the April-June period compared to 18 the first quarter.
Boeing's stock has outperformed the S&P 500 (NYSEARCA:SPY) by a wide margin in the last five years. We believe that Boeing will continue to outperform the broader market in the short- to medium-term.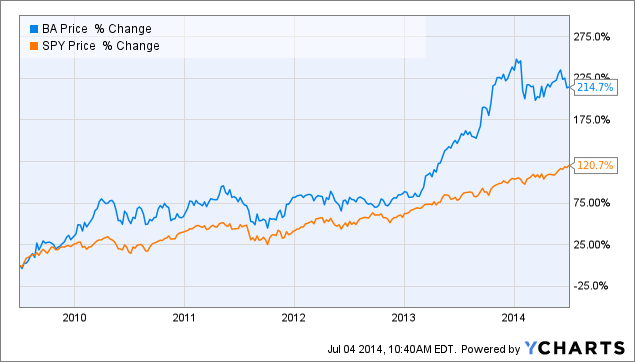 Commercial Aviation Industry: Growth Outlook
Long-term growth rate of the commercial aviation industry is approximately 5% per year, which we believe justifies the valuation of the industry leaders. Boeing is trading at a slightly higher forward P/E multiple of 16.78x, compared to Airbus Group's (OTCPK:EADSY) 15.89x.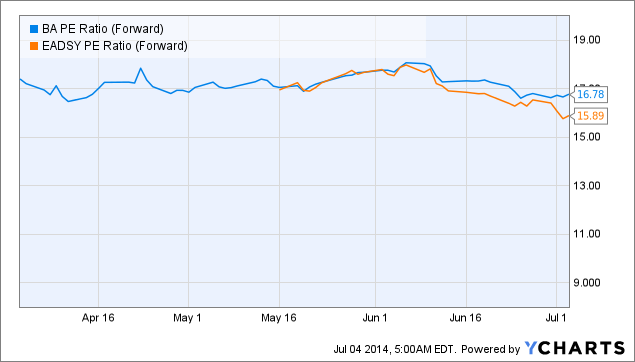 BA PE Ratio (Forward) data by YCharts
Boeing expects the current trend to continue over the next 20 years. The company says:
We forecast a long-term demand for 35,280 new airplanes, valued at $4.8 trillion. We project that 14,350 of these new airplanes (41 percent of the total new deliveries) will replace older, less efficient airplanes, reducing the cost of air travel and decreasing carbon emissions. The remaining 20,930 airplanes will be for fleet growth, stimulating expansion in emerging markets and innovative airline business models.
Despite the exciting growth outlook Boeing painted, the commercial aviation industry has to face many challenges going forward, with carriers constantly demanding more features at lower prices, such as fuel efficiencies and reduced carbon emissions, among others. To satisfy the carriers, both Boeing and Airbus started developing revolutionary long-range aircrafts using carbon-fiber composite material, and lost huge amount of money in their widebody twin-aisle projects. Boeing's 787 Dreamliner program resulted in huge losses for the company. Boeing projects that the losses will peak at $25 billion next year before subsiding.
Investors' Expectations
Amid this difficult scenario, investors need to focus on how the company performs in generating sustainable cash flow and maintaining a stable operating margin. However, we are impressed with the company's performance in these two areas.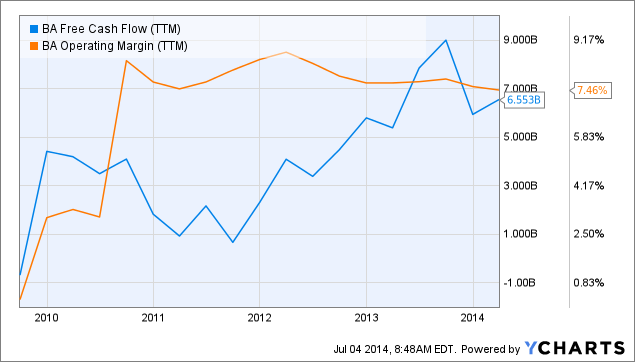 BA Free Cash Flow (TTM) data by YCharts
For the current fiscal we are optimistic about the company's financial performance. Year to date, Boeing said that it has delivered 342 commercial planes, nearly 12% higher than the same period in 2013. The company plans to deliver between 715 and 725 this year, more than 11% year-on-year increase. Although the company struggled with its 787 Dreamliner program in the past, currently the company is ramping up the program with producing 10 Dreamliners per month and hopes that it will drive profits for decades. The company further expects that 2014 will be a year with strong orders for both the current 777 family and the new 777X models in the twin-aisle segment.
Final Words
Although the commercial aviation industry has witnessed many downturns in the past, its recovery has remained quick most of the times. During the financial crisis of 2008, the industry saw significant contraction of demand for almost every kind of aircraft. However, with the global economy recovering, the industry has returned to its long-term output level. We believe that Boeing is an excellent long-term play in the commercial aviation industry with significant upside potential.
Business relationship disclosure: The article has been written by a BB Research stock analyst. BB Research is not receiving compensation for it (other than from Seeking Alpha). BB Research has no business relationship with any company whose stock is mentioned in this article.
Disclosure: The author has no positions in any stocks mentioned, and no plans to initiate any positions within the next 72 hours. The author wrote this article themselves, and it expresses their own opinions. The author is not receiving compensation for it (other than from Seeking Alpha). The author has no business relationship with any company whose stock is mentioned in this article.
Editor's Note: This article discusses one or more securities that do not trade on a major U.S. exchange. Please be aware of the risks associated with these stocks.