For 2014, 95% of the dealers of Caterpillar (NYSE:CAT), a leading player in the industrial equipment industry, are exceeding their forecasts, according to a survey by Credit Suisse. The survey further says:
Green Shoots Continue in US: For 2014, 95% of the dealers we surveyed are exceeding their forecasts, with the year now expected to be up 8-12% y/y versus 5-7% initially forecasted. Positive housing commentary was fairly broad-based, whereas non-residential is mixed but better on the margin. Dealers noted some signs of life in multi-family housing, automotive, hospitals, schools and data centers. Dealers also noted government spending has bottomed and energy in most cases remains solid, although mining is still dead.
Caterpillar's Revenue Under Pressure
Since 2012, Caterpillar's overall revenue has remained under pressure and recognizing that the company has made some significant organizational changes that went into effect since the beginning of 2014.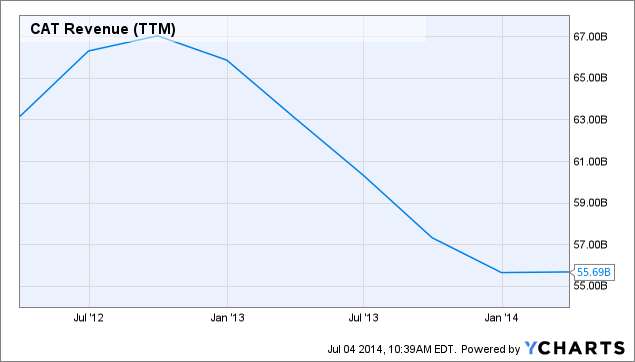 CAT Revenue (TTM) data by YCharts
However, we believe that Caterpillar's effort to reorganize the business coupled with its restructuring initiatives for successfully reversing the downward revenue trend may have started to bear fruit. If we judge the company's performance based on ROA (return on assets), it seems that the downward sales trend has bottomed out. ROA is thought to be an early indicator that signals if a company's restructuring efforts are going to be successful.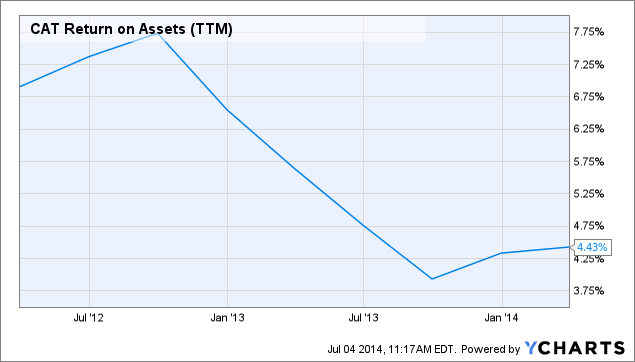 CAT Return on Assets (TTM) data by YCharts
Cost Cutting Measures Boosted Earnings
The company's profit in the first quarter of 2014 was $1.61 per share excluding restructuring costs, which was $0.29 per share higher than the first quarter of 2013. The improvement in the bottom line has been driven by its cost cutting initiatives. To reduce operating costs, Caterpillar has undertaken several measures including consolidation of plants and reducing headcount. Its operating margin as a percentage of sales is now hovering around mid-single digits, which we believe is pretty impressive, given its business is a capital-intensive one.
Valuation
Caterpillar is trading at a significant discount in terms of Price to FCF compared to its peers, such as Deere & Co. (NYSE:DE) and Komatsu (OTCPK:KMTUY). In terms of Price to Sales, however, the company is trading almost at par with peers. Our one-year price target for Caterpillar is $139.75, which is based on 13x Price to FCF.
CAT Price to Free Cash Flow (TTM) data by YCharts
Downside Risks
Our one-year target price for Caterpillar represents almost 25% upside from the current level. However, investors should note that our valuation is based on the assumption that the company's negative sales trend has ended. If the assumption doesn't materialize, the stock may not rise. The following factors may be responsible for not fulfilling our assumption:
Ongoing industrial growth in mature and emerging markets may not continue, and as a result, demand for Caterpillar's equipment may see contraction.
The company's restructuring initiatives may remain unfulfilled due to operational inefficiency and the company's inability to cut costs further.
Caterpillar may see intensifying competition in emerging markets like China and India from Joy Global (NYSE:JOY) and a number of local players.
The company's mining business may continue to remain a drag even in the long term.
To avoid losses in case Caterpillar fails to turnaround, we would recommend investors not to hold CAT if it falls below the 200-Day Simple Moving Average, which is currently standing around $95. From the technical point of view, if CAT corrects below $106, the 50-Day Simple Moving Average, investors should be cautious.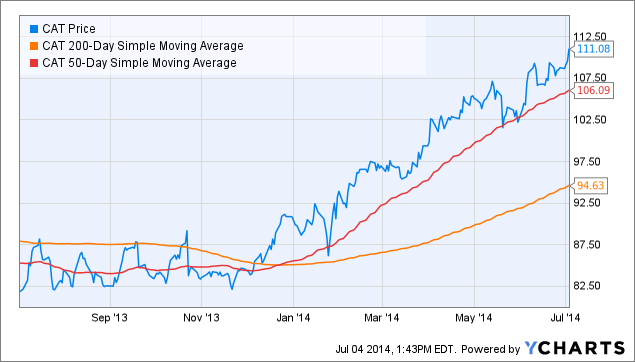 Final Words
We believe that Caterpillar is an excellent bet on its restructuring effort, and risk-tolerant investors could be rewarded handsomely if the company succeeds.
Business relationship disclosure: The article has been written by a BB Research stock analyst. BB Research is not receiving compensation for it (other than from Seeking Alpha). BB Research has no business relationship with any company whose stock is mentioned in this article.
Disclosure: The author has no positions in any stocks mentioned, and no plans to initiate any positions within the next 72 hours. The author wrote this article themselves, and it expresses their own opinions. The author is not receiving compensation for it (other than from Seeking Alpha). The author has no business relationship with any company whose stock is mentioned in this article.