The statements are ready and I have time to play with the quarterly numbers all day! The fact that this makes me this happy should probably earn me some sort of diagnosis.
The three main targets I strive for are; consistent and significant contributions, 4% in dividends annually (1% per quarter), and 5% growth (1.25% per quarter) which over the 20 years left until retirement will build a retirement nest egg large enough to manage on dividend income alone.
Once again, this has been a great quarter. The portfolio is up 19.62%, with 0.93% of that in dividends and 3.38% in capital gains. (Last quarter earned 0.83% in dividends and 4% in capital gains). So, of course, the majority of the almost 20% gain was contributions. To me, the results show portfolio improvement, particularly in the area of dividends.
Contributions
The practically unrealistic targets we have set for contributions have been more than fully met this year. Additionally a tax refund 'windfall' created through contributing to the registered retirement account has been added to the portfolio. Creating windfalls to invest over the years will give the portfolio a boost taking it from providing enough income to providing enough to share and enjoy. In the future I will not be contributing substantially to the retirement accounts, in order to not create a tax burden in retirement, so I will need to rely on other types of windfalls from now on. Windfalls at this stage make a significant difference in the projected end result.
This spring, I took on extra jobs and accepted any extra shifts offered to me, all income not necessary for expenses, in an attempt to create little windfalls for the portfolio. I also started taking courses which could create a larger income for the future. I survived the first three months, but the fourth with the course added, was far too busy. In the end the portfolio gains were double my work income, my family suffered a little, and life became stressful. I was too busy to read, write and monitor buying opportunities. I know that, in this case, more careful watch on the markets would have gained me more income, instead of the extra shifts.
Fortunately, I learned my lesson - I need to keep a better balance. Instead of extra shifts, I will be pursuing more rental property for family security and future windfalls. I will be taking more classes in the fall. All, in some way, portfolio related (accounting, taxes, property management). The spring accounting/bookkeeping course has explained many things and being able to read and understand balance sheets and income statements more clearly and confidently has prepared me to do better due diligence. I look forward to the fall round of classes and now that I am on summer break, have been pre-studying my texts so that I might avoid being over-busy then.
Dividends
With significant new money flowing into the portfolio each month, it is challenging to attain the targeted 4% in dividends. This quarter's 0.93% is the highest yet and I look forward to meeting my goal of 1% per quarter. This quarter's dividend growth was 19.76% quarter over quarter and 133.39% year over year.
Capital Gain
Some people call dividends the icing on the cake, but to me, capital gain is the icing on the cake. I can control contributions, though life has already proven that it can throw substantial wrenches into the plan, through circumstances both out of our control and the choices we make. I can control dividends with my investing choices, but I have very little control over the capital gains crazy Mr. Market throws my way. What he provides on average is all I need and anything else is a gift. I expect little growth in share price over the summer quarter and secretly hope for lots of dips to invest my available cash from contributions which has been gradually dwindling.
Current Portfolio by Percent
I purchased McDonald's (NYSE:MCD) on a dip back when I was trading only a few companies at a time, and have just kept all of the shares, not buying, selling, or DRIPping. As the portfolio has grown around it, the percentage allocated to it has dwindled from over 15% to the current 6%.
Previously, I envisioned my portfolio as a game board, much like the Game of Risk with the companies being the countries and the shares being the armies. This quarter I am seeing my portfolio as a race track with each company being a horse galloping on a wide dollar amount track; retirement being the finish line. This quarter the Inter Pipeline (OTCPK:IPPLF) (TSX :IPL) horse is approaching the leading McDonald's horse. The MCD horse has been so far out in front for so long that it is almost surprising it even has a companion now. The pack is catching up!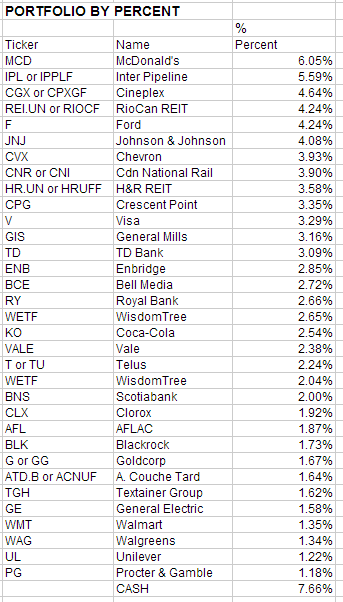 Changes this Quarter
As the portfolio has grown from sub-$10,000 to well over $100,000 over the last few years (a large part being contributions - I make no claim to be a brilliant stock picker) accounts have been added. In the past, positions were added where the available cash was, but as the portfolio grew, and more types of accounts were added, it became important to use asset location to my advantage. A number of transactions this quarter have been to move the portfolio towards my ideal asset location. I have tried to buy on a dip in the new location, wait for the recovery and sell the holding in the old location, often double-dipping on dividends. Though from a macro-portfolio view it looks like trading, it really has a higher purpose and has opened my eyes to other applications and possibilities.
Related to this, last quarter I started feeling the pinch of 'closed' accounts. Previously, I was able and willing to simply add funds to any account depending on which holding I was looking to increase or initiate. I am no longer adding to the now several retirement accounts, just the tax free and non-registered accounts, and am experiencing some of the benefits and constraints of that decision. I was also willing to put equities in less advantaged locations. Now I am not. Also, I am no longer looking to significantly expand my number of holdings. I mostly want to work with the horses I already have on the track. This has caused new constraints and frustration that I imagine retired investors in the distribution phase commonly face.
I am spending much time thinking about both of these issues and processing the experiences of dealing with each over the past two quarters.
Actions this Quarter
It is extremely rare that my husband comes to me and says, "Please buy some of this!" but that is what happened with Vale (VALE). My husband works for one of the contractors for one of Vale's mining projects and was very impressed with the prospects of the project. I am keenly aware that this is not a regular dividend-growth company. The three year chart of this currently despised company is delightfully dismal. I watched it for a while and finally bought when I saw a higher low confirmed on May 12. Our goal is to hold it until the project comes online and becomes profitable, approximately 5 years. Of course, it immediately tested my resolve by dropping 10%. One value play should not hurt too much, right? This is not something I am recommending, just something I did and why.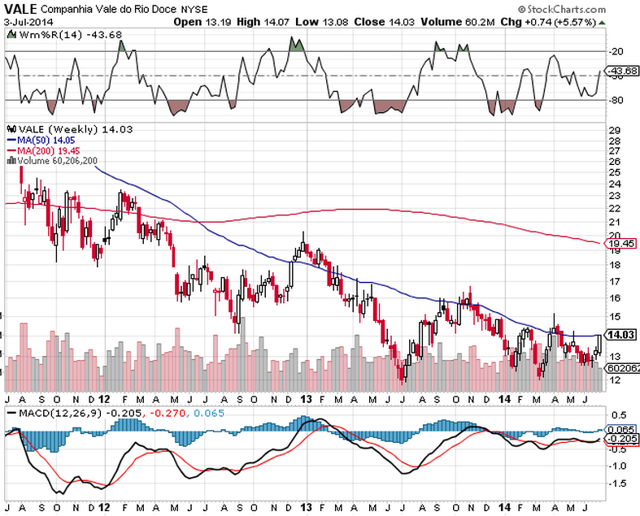 WisdomTree (WETF) was purchased as a trade which I intended to sell in April. Sadly, I let a 35% gain get away...again. As WETF fell, I sold half of my position at approximately even and purchased it back on June 11. I like to wait for that second bounce to confirm higher lows. It will be sold whenever I find a good long-term opportunity, the financials start to show weakness, or I have a gain that makes me happy, whichever comes first. Again, this is not something I am recommending, just something I did.
Last quarter I sold Goldcorp (GG) or (TSX :G) in order to allocate the funds to REITs and devote the account it was in solely to holding REITs. I thought that it was technically ready to turn around. Goldcorp has been one of my favorite trading stocks and I watch it every day. When buying opportunities in other accounts did not materialize and Goldcorp's share price went sideways for almost a month, I finally bought in again, May 20th. I currently have an 8% gain and am considering an exit. I should probably just stay out of trouble while I wait for those market dips I hope for, to move into long-term holdings, but sometimes I just can't. Too bad I did not choose Silver Wheaton (NYSE:SLW), another favorite trading stock, instead. Next time?
Before someone accuses me of not being a dividend-growth investor at all, let me tell you about the majority of my portfolio which is constructed of many of the usual suspects. I have a few lagging race horses. These horses are not lagging because of lack of gains, but mostly because only a fraction of my intended "full position" was purchased. There are great benefits to buying only part of what you wish to hold at a time. Averaging in allows you to buy more of a holding, quite possibly at a lower price and allows for diversification of your newly contributed cash and maybe even will expand your holdings. You never know which sector or company will have an issue or outperform. I do not usually average in on a schedule, but whenever I see a good buying opportunity. Some holdings have been waiting for their next buying opportunity for a long time. Others, such as Visa (V), which I added to May 6, have had several purchases over the last year.
I was able to double my position in General Mills (GIS) just last week, June 30th, averaging up. One of my goals this summer, now that I 'spring cleaned' the portfolio, is to gradually purchase more of desirable dividend-growth companies. With continual 52-week market highs this can be challenging. Being quick on the trigger with companies I have already determined are solid purchases has served me well in the past and it looks like it might again with GIS. Not being available to notice opportunities in stocks front and center on my buy list was a huge issue for me in working too much this spring.
Once again this year there is strong tension between holding cash earning nothing while missing out on getting dividend compounding initiated, contrasted with a correction eerily looming on the horizon. This does not bother me during much of the year as I always seem to find more opportunities than available money. But each spring, seeing the tax windfall in addition to several months of contributions sitting idle in the portfolio, causes frustration. It was a huge debate for me last year when I also had a larger cash position. I had been waiting for a dip in Johnson & Johnson (JNJ) but it seemed like a dip was never going to happen. I finally just jumped in. I have not regretted a purchase in a large-cap quality company and who would not want more JNJ at $87 now? Good thing I bought more whenever JNJ did dip as I have a slightly overweight (the way I want it) position for the long term at an attractive cost basis. Following that example, Clorox (CLX) was added to the portfolio April 10th.
With the drop in the Canadian dollar, and the outperformance of the S&P 500 versus the TSX, buying US companies has been less attractive this spring. Most of the portfolio action has been in Canadian stocks related to asset location, and I have added to Royal Bank (RY), Cineplex (CPXGF) or (TSX :CGX), and Crescent Point Energy (CPG). I also initiated a position in Alimentation Couche Tard (OTCPK:ANCUF) (TSX: ATD.B), a large convenience store chain. Unlike my other Canadian holdings, this is a growth stock with a paltry dividend.
I still have a large amount of cash awaiting deployment and I am looking for entry points in my holdings and watchlist.
The only yet-unmentioned sell this quarter was Agrium (AGU), back on April 9th as the last of the "spring cleaning".
Current Portfolio by Sector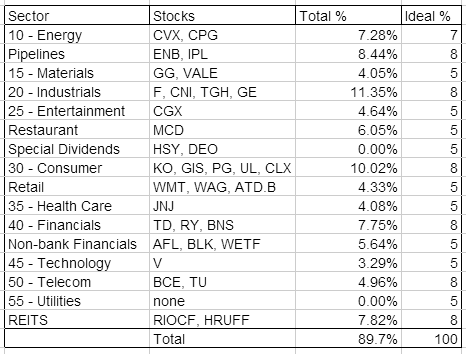 I am considering taking some profits in Inter Pipeline. Last year I sold half of Enbridge (ENB) as I felt it was getting overvalued and redeployed the funds with others added in the same sector into smaller, more regional, Inter Pipeline. I was right about Enbridge's correction, but should have purchased more ENB when the share price showed weakness. Now Inter Pipeline is almost twice the size of the ENB holding, becoming overvalued, and overweight in my portfolio to the point where it threatens to become the largest holding I have. I am considering trimming 1/3 of the holding to bring it more in line with other holdings. I have not taken any action yet, as I am still deciding what to do and when. Do I put that 1/3 back into ENB? Or another pipeline? Or allocate it to a different sector? If so, what? I am also considering that instead of a direct sell order, to add a trailing stop loss order to IPL in order to let it run until it shows weakness.
Inter Pipeline is a monthly dividend payer which yielded 4.9% when I purchased it. This is a stable quality company that I am happy to own, just maybe not so much of it right at the moment as the share price has been bolting as is clearly shown here in the FastGraph.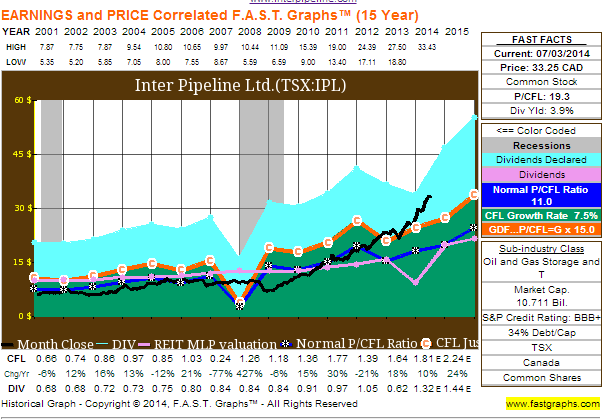 I am not sure why the FastGraph below shows a dividend cut because it has not happened. The cut indicated here may be just because of exchange rates which mess with dividends. Dividend information direct from the company here reflects what I have received. Dividend growth has been choppy and slow, over its history, but steady and more accelerated since I have owned it, since February 8, 2013.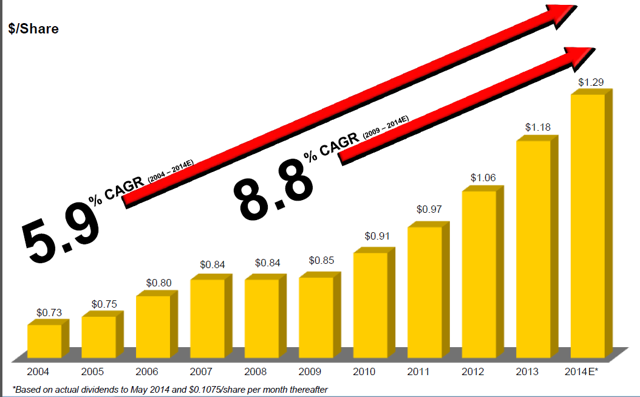 Inter Pipeline regularly gets positive reviews from portfolio managers I see interviewed on BNN who never seem to fail to describe their "quality management team." It has outperformed other popular Canadian pipelines, TransCanada (NYSE:TRP), Enbridge, and Pembina Pipeline (NYSE:PBA) over the past one-month, three-months, six-months and one-year periods.

Out of the nine analysts that cover the stock, five still consider it a buy and the other four call it a hold. Their 12-month price targets range from 30 to 35 - right where it trades now. Insiders were buying in the last month and earnings are expected to rise more quickly next year than they have.
I am happy with the company and holding it, just not as comfortable holding such a large position at this valuation. I would appreciate suggestions of how you would handle this dilemma. A good company, a great stock - but a double-sized position in an overvalued stock. What would you do?
Disclosure: The author is long MCD, JNJ, VALE, WETF, IPPLF, RY, BCE, CPXGF, RIOCF, CNI, HRUFF, CPG, V, GIS, TD, ENB, KO, TU, BNS, CLX, AFL, BLK, GG, TGH, GE, WMT, WAG, UL, PG. The author wrote this article themselves, and it expresses their own opinions. The author is not receiving compensation for it (other than from Seeking Alpha). The author has no business relationship with any company whose stock is mentioned in this article.