Analyst expectations for Apple (NASDAQ:AAPL) for the quarter ended June 30, 2014 are pretty high. Evercore analyst Rob Cihra sees iPhone sales at 35 million units or 12% above 2013 levels and has raised its price target for Apple stock to $115, joining a throng of other analysts who have raised their targets for the technology behemoth. If sales do come in at that level and are not inflated by discounted iPhone 4S units at low margins, Apple stock might well move higher. Where those sales come from will be interesting with Kantar reporting Apple is losing share in parts of Europe, the Americas and Japan as some impatient iPhone user's switch to larger screened Samsung devices. With all the attention on the iPhone outlook, it seems analysts have all but forgotten the iPad.
There is the rub.
The writing was on the wall for Apple's iPad in the third quarter of 2013. For the first time there was conclusive evidence that iPads were giving way to Android and Windows tablets as Apple's sales of the device stalled while the market for tablets surged.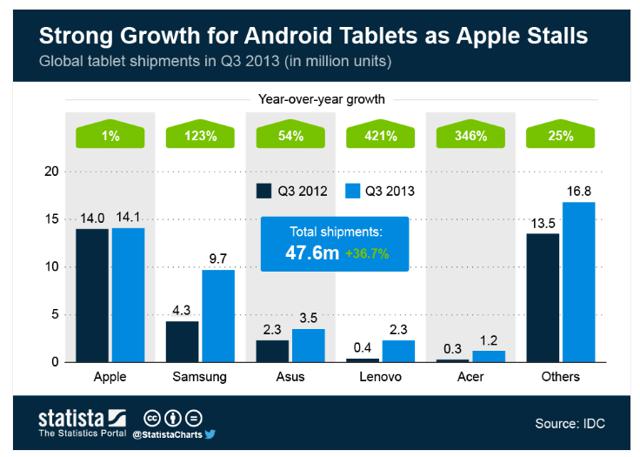 Apple's introduction of new models with faster processors; higher resolution screens; and, thinner and smaller form factors did little to stem share losses to competitors.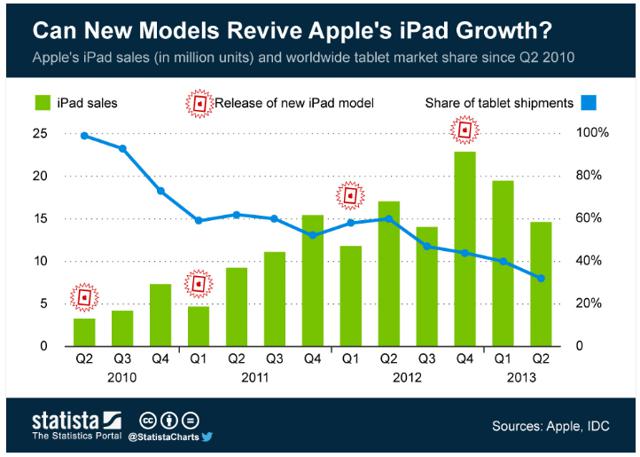 By the end of 2013, iPad market share was in steep decline.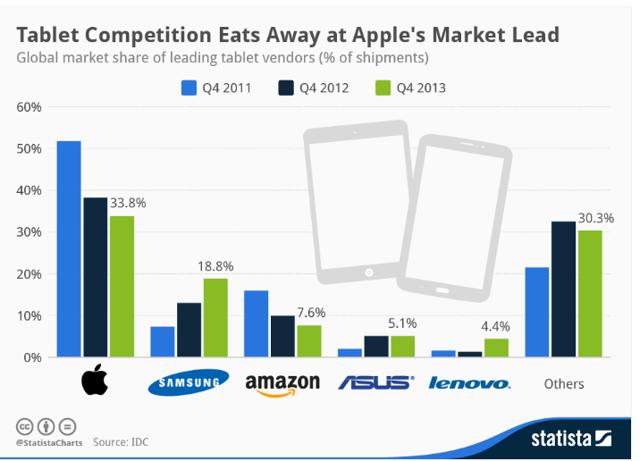 This year, Pacific Crest Securities sees the iPad contributing only 10% of Apple's profits.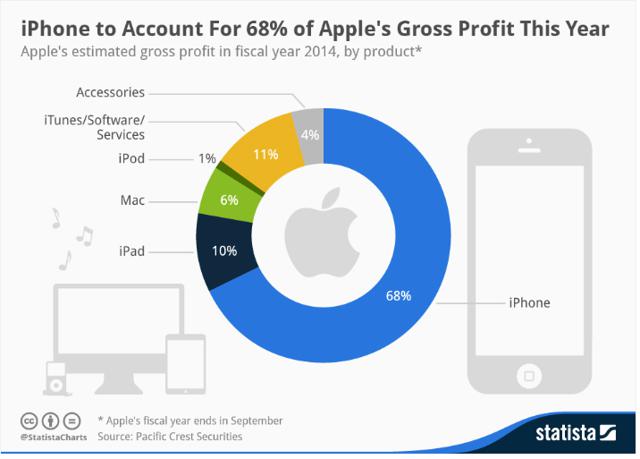 Even that 10% profit contribution seems to be at risk. Last quarter, Apple reported a decline in iPad sales to 16 million units versus 19 million a year previously, although inventory issues contributed to the decline.
Smelling blood perhaps, Samsung (OTC:SSNLF) has launched an all-out assault on the tablet market with the introduction of a line of very fast, very thin and very light tablets at form factors between 8 inches and 12 inches. The latest two models are positioned head on against the iPad and seem to beat the iPad on every metric as shown by the 10.5 inch model versus the iPad Air. The Samsung model is priced to match the iPad but offers a larger screen; higher resolution; better camera specifications; and, in thinner and weighs less.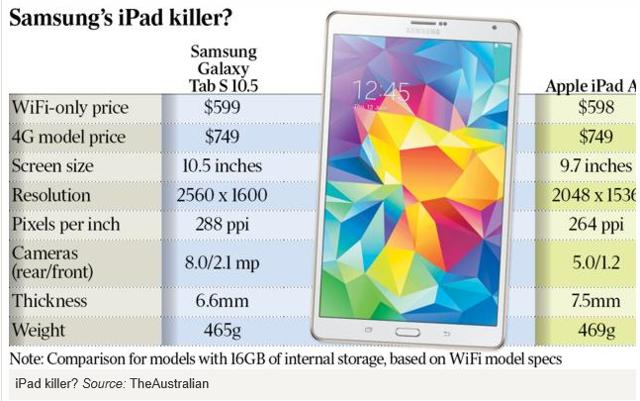 I expect the Samsung assault to take a meaningful bite out of the Apple sales figures for the September quarter, leaving Apple's fortunes riding pretty well entirely on the success of the iPhone 6.
Early indications are that the iPhone 6 will be well received, at least by Apple enthusiasts. Having said that, the bar was set pretty high by the fantastic launch of the iPhone 5S in 2013 and there may be a collision between Apple's highly anticipated new product and a saturated market showing signs of age. Success of the iPhone 6 is not assured by any means. Apple will have to persuade buyers it has solved the low battery life issue that has plagued all iPhone models to date and encouraged Samsung to launch its "wall huggers" ads which poke fun at iPhone users who need to spend excessive time near wall outlets to recharge their smartphones.
People who have to work a full 8 -hour day find the iPhone's short battery life a nuisance since they will have to recharge at some point, while the Samsung S5 has no problem lasting 8 hours or more.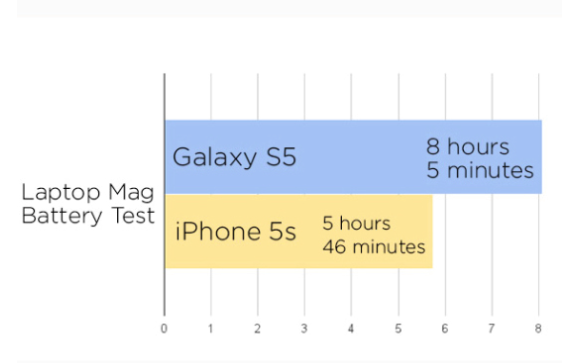 Source: Philip Elmer Dewitt
Samsung is not the only competitor taking a shot at Apple where it seems vulnerable. A plethora of new Android tablets are entering the market at all price points by fast growing competitors like Xiaomi who has a commanding position in the key China market. Xiaomi sold 50,000 of its new tablets in four minutes according to reports. In parallel, Microsoft's (NASDAQ:MSFT) Surface Pro 3 is a compelling tablet for serious users particularly in enterprise. Microsoft is positioning the new Surface as a laptop replacement rather than a tablet alternative, and offering a $650 trade in credit on a MacBook Air, following a $200 trade in offer for customers switching from an iPad to a Surface launched last September. While the iPad represents only 10% of Apple's forecast profit for 2014, it is a much larger percentage of Apple's costs with each iPad having a bill of materials of $274 for the iPad Air and a higher amount for earlier versions.
If Apple can't move the iPad volume, a build of unsold inventory can eat into margins quite quickly as heavy discounting becomes necessary to clear the product. As a result, the iPad may become Apple's Achilles heel later this year. The run up in Apple share price has fueled a lot of investor enthusiasm which seems to always involve rose colored glasses.
I am short the stock.
Disclosure: The author is short AAPL. The author wrote this article themselves, and it expresses their own opinions. The author is not receiving compensation for it (other than from Seeking Alpha). The author has no business relationship with any company whose stock is mentioned in this article.
Editor's Note: This article discusses one or more securities that do not trade on a major U.S. exchange. Please be aware of the risks associated with these stocks.